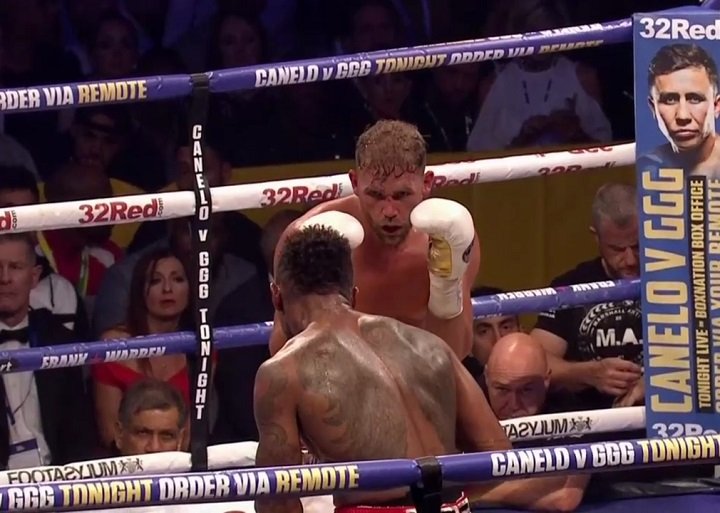 Billy Joe Saunders retained his WBO middleweight title last night, with a less than thrilling, but wide decision win over Willie Monroe Jr. and now the unbeaten southpaw is planning his next fight for December.
Saunders has long since been calling out Gennady Golovkin, the man who holds all the other belts at 160, but speaking at last night's post-fight presser, as quoted by Nick Parkinson of ESPN.com, Saunders said he doesn't think GGG – who of course boxed to a controversial draw with Canelo Alvarez in last night's massive bout – will be ready to fight again as soon as December.
Saunders has another name opponent in mind in case this turns out to be what happens: Amir Khan.
"Amir Khan has boxed at 160 pounds before and I would love that fight, what a fight that would be between me and him," Saunders said, referring to Khan's losing bout with Canelo, which actually took place at a catch-weight of 155 pounds. "I just want a good fight, a big fight, that's what I'm in boxing for. He's a very good name and I rate him. I've watched him for years and years. So if he's willing to come up to middleweight, like he did for Canelo, he might think he's got a chance of winning my world title."
Saunders calling out Khan might be a pretty big shock to many, seeing as how Saunders as never before spoken about wanting a fight with the former 140 pound champ. But stranger fights have happened (Canelo-Khan for example) and maybe Khan, who says he wants to fight again before the end of this year, will accept Saunders' challenge. Or maybe Khan will have bad memories of fighting anywhere near the middleweight limit and will opt to return to action as a welterweight.
Saunders, though, still thinks about that massive fight with GGG:
"I don't think they will be ready for December. Maybe Golovkin would have it because he's [nearly] 36 and that name alone would bring 25-percent [a better performance] out of me. If the aren't ready I want to be out again in December. I want Golovkin because he's the invincible man. He's nearly 36 and if I'm not going to beat him now I will never beat him."
But nobody yet knows what Golovkin's next move will be. Under rematch clause contract GGG is obligated to give Canelo a return fight should the Mexican star desire one. Time will tell, but if GGG does take any other fight than a Canelo rematch next, he might decide he wants that WBO belt that currently belongs to Saunders.