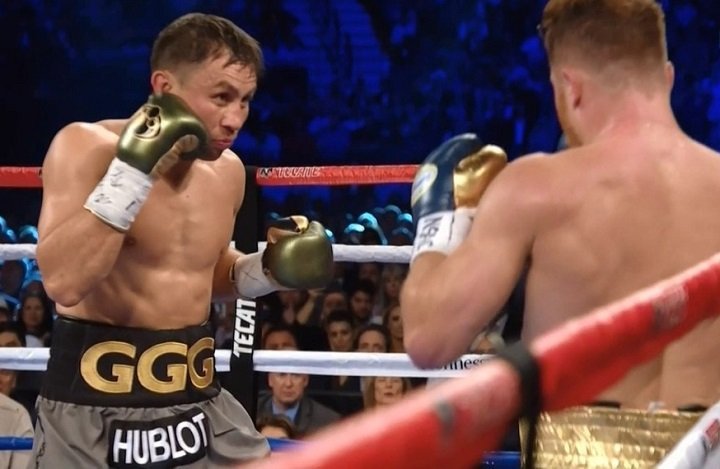 In a weird, unsettling way, it is perhaps fitting that after last night's massive world middleweight title fight showdown between Gennady Golovkin and Canelo Alvarez – called by many the biggest 160 pound title fight showdown since Sugar Ray Leonard-Marvin Hagler from 30 years ago – we were left with a hugely controversial decision.
The fierce debate has already begun: with many people calling the drawn verdict a disgrace, saying that GGG was robbed, with others still saying they feel Canelo deserved a close win; while others yet say they agree with the draw. There are indeed parallels between GGG D12 Canelo and Leonard WS12 Hagler.
Firstly, just like in the 1987 classic, one judge scored last night's fight incredibly wide; quite ironically exactly as wide as the judge who had Canelo winning last night, 118-110. Secondly, as with Leonard-Hagler, last night's classic seems destined to come down to what a person likes: relentless stalking/pressure and aggression (the tactics both GGG and Hagler adopted) or slick and clever boxing/fighting in spurts (the tactics Sugar Ray and Canelo adopted).
All these years later, for every single fan that tells you, yes, Sugar Ray won in 1987, there is yet another fan who will scream how Marvelous Marvin was robbed. And here we are seeing history repeat itself, with every fan that tells you GGG won being shouted down by a fan who insists that, no, Canelo won. The debate doesn't look like gong away any time soon. Maybe the argument will rage for three decades (and counting) as has been the case with Leonard-Hagler.
But as fans know, those two greats never fought a rematch; one that may well have settled the argument once and for all. This may well turn out to be the case here too – but we sure hope not. Already, the clamour for a rematch of last night's exciting, engrossing, gruelling and ultimately controversial fight is enormous.
As was the case after the April 1987 Super Fight.
To prove just how divided everyone is over last night's decision, two all-time greats – Thomas Hearns and Julio Cesar Chavez – have differing opinions on what the correct result should have been: as filmed by FightHub TV, Hearns said he felt the draw was the right verdict (Hearns also said, interestingly, that he thinks a rematch will be an "even better fight"), while Chavez said he had Canelo as a "clear winner."
Meanwhile, Teddy Atlas – who really went nuts live on air, literally screaming about how bad the result was; one he claims came about due to corruption within the sport he loves – is currently lambasting a result that angered him in a way only he can.