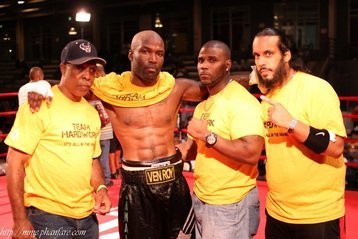 photo by hardworkpromotions.com – Saturday night was truly a great night for boxing fans hailing from the DC, Maryland, and Virginia area. Hardwork promoter and main event fighter Venroy July put on another exciting card to bring fans drama and knockouts. The venue was packed with people enjoying food, drinks, and the DJ.
Around 7:30 pm the first bout was started as we welcomed Baltimore's own Travis Reeves back home to take on Santos Martinez. Travis came out pumping the jab and placing good shots to the body and head. Then Travis landed a crisp right hand that sent Martinez crashing to the canvas. Martinez made the count but was unfit to continue in the fight. This was one of the many knockouts of night. Larry Recio from Landover, Maryland scored a first round knockout over Jose Felix in the first round. Edwin Reyes also scored a first round TKO over Chris Haney.
Demond Nicholson who trains with Headbangers Barry Hunter maintains his perfect record with a first round stoppage over David Rohn. Nicholson started slow measuring his shots and setting up his punches. He threw a crushing right hand to the body and down went Rohn, who was not able to recover from the shot. Nicholson showed real promise as fighter who is growing and looking to be a threat in the middleweight division.
Beltway boxer Jeremy Trussell suffered his first defeat of his career. He fought a tough battle with Taneal Gayco who dropped Trussell in the fourth round and the sixth and final round where the bout was stopped after Jeremy couldn't make the count. Although Trussell had hurt Gayco many times throughout the fight he couldnt capitalize on those opportunities.
The final bout of the night was with promoter Venroy July versus Quantis Graves. The bout was a very physical bout for both competitors, but no one made a big statement to standout and the judges scored the bout as a draw.
Other bouts included Dwayne McRae TKO victory over Jonte Willis in the second round and Alexandru Marin earned a unanimous decision over Alex Hipolito.