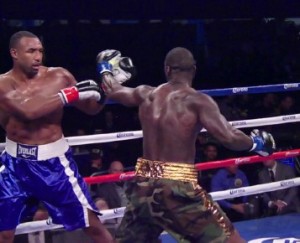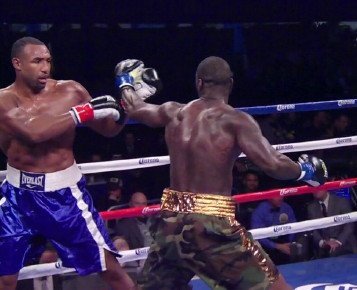 There's talk of unbeaten heavyweight contender #9 WBA Deontay Wilder (27-0, 27 KO's) fighting on the undercard of the Amir Khan vs. Julio Diaz card on April 27th at the Motorpoint Arena, Sheffield, Yorkshire, United Kingdom. Golden Boy Promotions is interested in trying to get 41-year-old Tony Thompson to face Wilder.
It's still up in the air whether Thompson will take the fight. There are rumors that the 6'6" Audley Harrison is someone that Golden Boy is looking at to put in with the 6'7" Wilder due to the interest the fight would attract from the British boxing fans.
Whether it's Audley Harrison or Tony Thompson that Wilder ends up facing on the Khan-Diaz card, it should be interesting to see how the 27-year-old Wilder deals with this step up fight. This will be Wilder's first real test of his five-year pro career, and at least boxing fans can finally stop complaining about his lack of competition.
That's been the one thing that's bothered boxing fans about the hard hitting Wilder. He's got all the talent in the world, but Golden Boy hasn't allowed him to test his talent against B or A level heavyweights for some reason. He's been kept in the slow lane against guys that haven't really helped his career any. You know this because he's been knocking everyone out in the 1st and 2nd rounds.
Normally a promoter will make adjustments when he sees that his prospect is destroying everyone in the early parts of their fights, but there hasn't been an improvement in Wilder's match-making up until possibly now. Let's be honest; Harrison is not much of an improvement from Wilder's fight against Kelvin Price, but he at least is someone that can give Wilder some different looks due to his huge 6'6" size and southpaw stance.
There's also the rumor that Harrison knocked Wilder down in a sparring session last year. If this is actually true then perhaps Harrison could give Wilder more of a test than some people might suspect, but then again it could be meaningless because Wilder playing the part of a sparring partner is a much different fighter than the one that would be looking to move his career ahead by fighting Harrison in the ring.