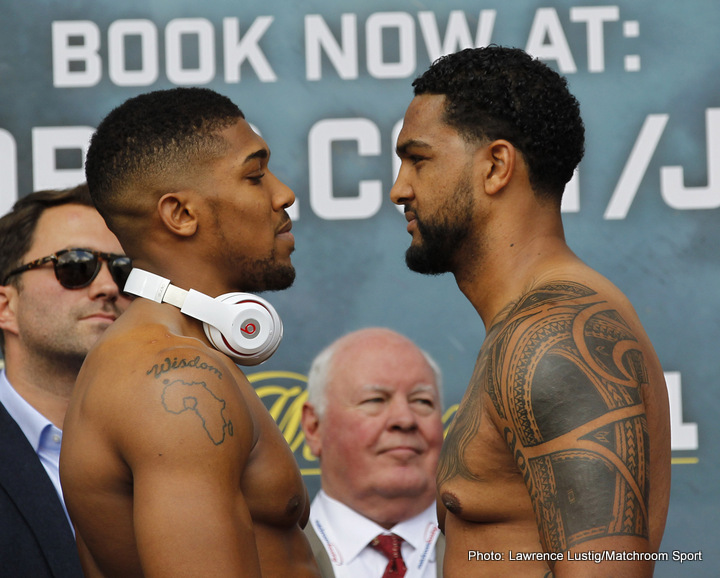 Anthony Joshua and Dominic Breazeale have weighed-in ahead of their IBF heavyweight title fight tomorrow night (one of three big heavyweight fights set for the summer that will still actually go ahead as planned: Deontay Wilder-Alexander Povetkin and Tyson Fury-Wladimir Klitschko II both falling apart due to a failed drugs test and a damaged ankle respectively) – and as expected, Joshua looked in tip-top shape.
The 16-0 defending champ tipped in at 17-stone, 2lbs (241-pounds) while the 17-0(15) challenger came in 14-pounds the heavier man at 18-stone, 2lbs (255-pounds). Breazeale, while not as ripped or as toned as Joshua, also looked in trim condition. Two big men who can punch, A.J and "Trouble" are both promising to win by way of a devastating KO. However, Joshua hinted that he may not come out as fast as he normally does tomorrow night.
"I just want to relax and enjoy myself," Joshua said as he stepped of the scale, as quoted by The Mail. "I want to control fights. Everyone knows when the bell rings I want to get them out of the ring as soon as possible. Normally I'm doing the stalking but this time I can go on the back foot and show off my boxing skills. I want to break him mentally."
Breazeale is not changing his prediction of a quick KO win:
"From the opening bell there will be big punches and I will knock out Anthony Joshua," the challenger vowed. "That's what I came here to do."
Breazeale does have a puncher's chance – of not too much more in the opinion of most experts barring WBC heavyweight ruler Deontay Wilder, who says he sees tomorrow's fight as a 50-50 fight – and it's highly likely he will come out swinging, trying to use his weight advantage to get home with a hard shot to Joshua's still largely untested chin. Of course this will leave Breazeale open, and Joshua has that great straight right hand. Joshua suggests he might box off the back foot, but as soon as he seen an opening, he is sure to capitalise.
Prediction: this one will be fun while it lasts, but it won't last long. Joshua to retain his bet for the first time via a KO that comes inside four exciting rounds.