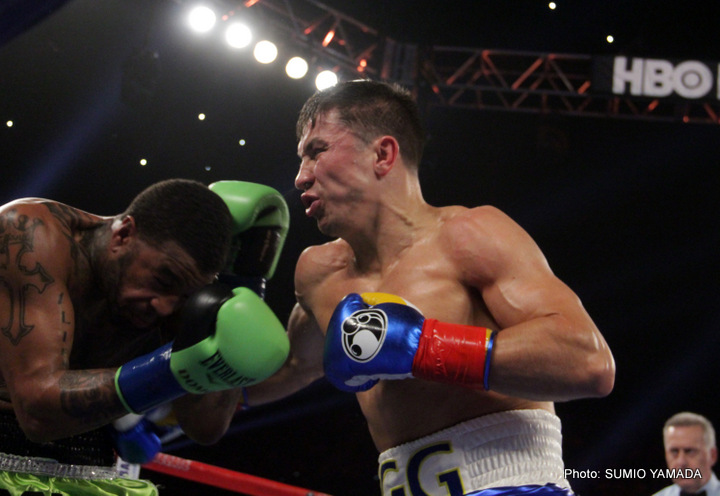 Share the post "Hearn says a Golovkin-Eubank Junior fight "is there to sign if they both want it""
Promoter Eddie Hearn says a fight between Gennady Golovkin and Chris Eubank Junior is desperately close to being made, with just "a few things to tie up but basically if everyone wants this fight then it's all there to sign." Speaking with Sky Sports, the Matchroom boss and promoter of British middleweight champ Eubank Jr said he sees the fight taking place in London in the autumn, probably in a big stadium.
Eubank Jr must first get past British title challenger Tom Doran tomorrow night, but assuming he does it could be the feared Triple-G next. And Hearn sees a massive fight, with a potential crowd of around 50,000.
"If Golovkin really wants this fight, and I believe he does, and if Eubank wants the fight, which he does, then there's a real chance of that fight happening in London in the autumn," Hearn said. "I think it would be a stadium fight. I think there would be the demand for 40-50,000 tickets."
No doubt, this fight would (will) be a massive occasion for British boxing and fan interest is assured. When the 22-1(17) Eubank Jr was first mentioned as a possible challenger for middleweight king Golovkin, most fans either sneered or laughed. But is it such a bad fight? Of course unbeaten puncher with incredible skills Golovkin will be a massive favourite to win, but the Eubanks – the fighter and the father and ex-fighter – have, for some time now, claimed they have the beating of GGG. And with a distinct lack of quality challengers out there for Golovkin to defend against (the fight we all want, between he and Canelo Alvarez now on hold for well over a year) – why not Eubank Junior?
Golovkin, 35-0(32) has never boxed as a pro in London, so at the very least this would/will be another box to tick on his C.V. And the brash cockiness and self belief Eubank Jr has would have to be fully knocked out of him before he either got stopped or pulled out. Or would/will the once-beaten contender and British champ become the first man to take Golovkin the full 12-rounds?
No doubt, there will be one massive crowd on hand to find out when this somewhat intriguing fight takes place.
Share the post "Hearn says a Golovkin-Eubank Junior fight "is there to sign if they both want it""