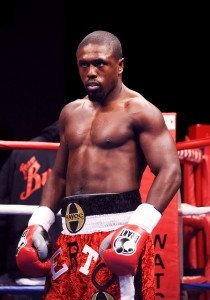 (Photo credit: Naoki Fakuda/Dibella) By Joseph Herron: On November 24th, Andre Berto and Cornelius Bundrage will return to the ring in a superb match-up for K 9's coveted IBF Junior Middleweight Championship.
With much media attention being focused on the upcoming Miguel Cotto vs. Austin Trout contest on December 1st, and the long awaited Vanes Martirosyan vs. Erislandy Lara match-up on November 10th, both fighters are anxious to make a resounding statement that would undoubtedly secure their spot among the elite of the packed 154 pound division.
Even though the title fight hasn't officially been announced, DiBella Entertainment's "Boxing Publicist", Kevin Rooney Jr. (4-2, 2 KOs), claims that it will definitely take place on Thanksgiving weekend.
"It's going to be a tremendous fight," states the Junior Middleweight fighter. "Andre is looking to re-establish himself as one of the top fighters in boxing. He's been cleared by the California State Athletic Commission to fight, and now he just wants get back in the ring to do what he does best."
"Andre has stated publicly that he feels like an animal in a cage right now that desperately wants to get out. He's looking forward to clearing his name and proving that he belongs in the big fights."
While Kevin recognizes the dangers in fighting a big puncher like K 9 Bundrage, the astute 27 year old believes that Berto will capture the IBF Junior Middleweight title.
"K 9 is a tough fighter and he's going to be throwing bombs for sure. I like K9. He's a good guy and he has the personality to really sell the fight. But I just think that Berto is on a completely different level as a fighter. This fight is a great opportunity for Andre to win his second world title in another division."
Although the venue hasn't been confirmed, the battle for the IBF 154 pound title should be announced within the next couple of weeks.
"All we're waiting on is the location," insists Kevin Rooney Jr. "Right now we're not sure if we're going to stage the bout on the east coast or do something out west. But it will happen on November 24th and it's going to be a tremendous fight."
Despite gaining the golden opportunity to fight for a major world title in the Junior Middleweight division, the boxing publicist isn't sure if Andre will elect to stay in one of the deepest divisions in boxing.
"Andre has fought higher than Welterweight in the amateurs, and he competed as a Middleweight in his first fight as a professional. But we'll have to see how he feels during the fight. If he feels tremendous and is able to take shots in a larger division, then I'm sure he'll decide to defend his title."
"But if he has trouble taking K 9's punches on fight night and doesn't feel comfortable at 154, then we'll have to think about making a change. But ultimately that decision will be made by his team. It really will be up to Andre and how the fight eventually plays out."
"Regardless, this gives Andre many more options for big fight opportunities. There are so many great fights to be made in either one of those two weight divisions. I think the different options give him a better chance of asserting himself as a major player in boxing once again."
After suffering a very serious bicep injury while preparing for the big rematch with Victor Ortiz, and subsequently testing positive for a banned substance while training for the rescheduled fight date, the former WBC Welterweight Champion will be entering the ring for the first time in 14 months on fight night.
Kevin recalls how difficult that period was for the proud Florida based fighter.
"Andre is a great guy and has always been a clean fighter. He was frustrated about the entire situation and was very sincere and forthcoming with everyone about what happened. He was upset with himself and it was a very tough time for him. But right now he's just concentrating on the future and not so much about looking in the past."
With all of the great 154 pound fighters clamoring for a major world title opportunity, this match-up could potentially experience some resistance among fight scribes. But a match-up between Berto and Bundrage is ultimately an exciting one which should provide the fight fans with great action throughout.
"Again, we're in the process of finalizing the location. But I think we should be ready to announce the fight during the first week of October. November 24th will be a great night of boxing."