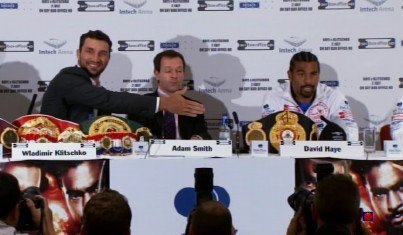 Back in March 2011, I wrote an article entitled the same as this one minus the "2.0." I opined that Haye's performance against Wladimir Klitschko in a match that unified three of the heavyweight belts (WBA, WBO and IBF) was disgraceful and shameful given all of the chest-pounding, insults and smack talk that allowed David Haye the opportunity to fight a Klitschko brother for a title belt.
To say Haye failed to live up to his bravado before the fight with Wladimir Klitschko is an understatement. Haye was excoriated around the globe for his pathetic performance and embarrassing attempt to blame the loss on a hurt toe, and, for flopping like a professional soccer player attempting to draw a penalty.
Now, Haye claims that he wants a fight against WBC heavyweight champion Vitali Klitschko before Dr. Ironfist retires from boxing. Bravado.
However, Haye won't fight Vitali in his native Ukraine because he feels it could be dangerous for him to travel there because of the rampant ant anti-black racism plaguing the Ukraine. "I've never been to Ukraine but I have heard it's very dangerous for a black man. There are crazy racists who have already sent me death threats. So Germany would be the best and safest place for me to beat Vitali and get out of the stadium alive." So says David Haye.
No bottle.
Again.
Has there ever been a reported incident of a black boxer killed or even attacked in the Ukraine? This is 2012. What era is Haye dreaming about? Do you think Jack Johnson, Joe Louis, Muhammad Ali or Lennox Lewis would even think about making such an excuse?
Does the ExcuseMaker really expect boxing fans to believe that Haye has no options to protect himself? Does the Ukraine forbid bodyguards? Couldn't Haye bring a coterie of accomplished bodyguards with him, or hire the best private security the Ukraine has to offer? Does Haye really expect us to believe the Ukraine is more racist than the United States, Germany or the U.K.?
These are all rhetorical questions, of course. This excuse is pure rubbish. As usual, Haye is all bravado and no bottle. It's a shame Lennox Lewis isn't still fighting. Lennox wouldn't utter the cowardly words of Haye in a million years.
Haye, please retire.
jakeameyers@gmail.com