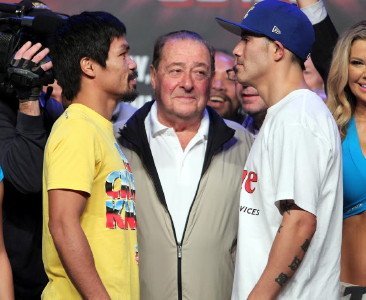 (Photo Credit: Top Rank/Chris Farina) Brandon Rios was chosen for a reason tonight. The pay per view welterweight feature fight in Macau, China is a chance for Manny Pacquiao to rebound his career against an opponent that is designed for him to win and win big. At his best, 2009 to 2010, Pacquiao absolutely demolishes Brandon Rios with relative ease minus the occasional hard connect. This fight has shades of his destruction of Ricky Hatton and his dominant and punishing decision over Antonio Margarito. Margarito of course was trained by Robert Garcia who will once again attempt to lead his fighter over Manny Pacquiao and his trainer Freddie Roach.
When a major pay per view event is announced usually the gut feeling is the correct feeling as most of these pay per view events have not been much of a mystery at announcement.  Then the hype machine gets put in motion and the fight begins to get closer in perception as people either become convinced it's a good fight or they want it to be a good fight and over think the outcome too much.  After the dust settles and the outcome has been decided the same people lash out in disappointment and feel robbed by the expensive pay per view price they paid for a fight that they "foresaw" when it was first signed despite getting wrapped into the prefight emotions.  When Top Rank Promotions announced that Manny Pacquiao's next fight would be against the former lightweight titlist Brandon Rios the gut feeling was this fight is a mismatch. 
               
The hype behind this fight is predicated on the idea that Manny Pacquiao is on the other side of his prime and following the knockout loss to Juan Manuel Marquez eleven months ago he might not have it anymore.  The HBO 24/7 episodes for Pacquiao have always been a balancing act, for some fights he either is distracted and someone like strength coach Alex Ariza was saying he was not focused.  While for some fights he has found God and abandoned all of his vices and is now training harder than he has in years.  Gathered from this installment the tone plays a doubled edged sword, according to trainer Freddie Roach he is already in fantastic shape for the fight and has been training hard; yet the storyline plays off the big knockout loss and whether he has it mentally. 
Going into this showdown in Macau, China there are several angles to consider as the fight approaches.  In the simplest language possible, Brandon Rios is tailor made for a prime Manny Pacquiao.  Rios resembles a much smaller Antonio Margarito, a guy who comes forward and likes to work the body and mix in uppercuts inside.  There is nothing too creative about his style; it's just very aggressive and very tough but largely predictable.  Fighters like Ricky Hatton, and Antonio Margarito, and Miguel Cotto to a degree were just not capable of applying the pressure they needed to apply to get the victory.  Cotto is without a doubt the best boxer of the bunch but even he was not able to win more than a few rounds and was ultimately stopped down the stretch after taking a real punishing beating.  The major question is how can Brandon Rios implement his plan better than his predecessors and what does he do better?
            
    From the beginning this fight appeared to be a mismatch because of the clash of styles.  Rios has always relied on his infighting abilities to prevail in fights that he can turn into a close quarters brawl.  Pacquiao on the other hand keeps his fights at mid to long range and is adept at creating angles.  Another signature of his, definitely instilled by Roach, is his discipline to not get stuck on the ropes or in the corners.  Those areas of the ring are where Rios is the strongest and where he is capable of doing his best damage.  Pacquiao likes to keep the fight in the center of the ring and that is where he will dominate and put Rios at the greatest danger.  Rios will have to be able to get Pacquiao to the ropes but risks the dangerous counters and fast left hands down the middle in order to do this.  Below will be Rios's keys outlined.
              
  Jab: The jab is important in any boxing match because it can set distance, offset an opponent's rhythm, and set up the rest of a fighter's offense.  Juan Manuel Marquez in four fights, Erik Morales in the first fight and a good portion of the second fight, and Tim Bradley to a degree were able to have success with the jab.  The jab is important because without it Pacquiao will be able to get into an offensive rhythm undisturbed and will be able to dish out his offense.  Rios is not particularly know for his jab as its not one of his signature punches.  However, in his last fight he was really able to rock Mike Alvarado in their rematch.  If he is able to land a hard jab that can disorient Pacquiao than maybe he will be able to get him along the ropes and do more damage.
  Body Attack: This obviously is not a surprise, it is one of Rios's strongest aspects of his game.  It also is an area where Pacquiao (most fighters in general) is vulnerable.  As previously mentioned, Rios comes from the same stable as Antonio Margarito and his trainer having had experience with dealing with Pacquiao will know how important this part is.  Margarito was decimated in his fight with Pacquiao but despite the eye injury and being totally outclassed he managed to sneak in a very sharp left hook to Pacquiao's body in that was without a doubt the closest he had been to going down in a long time.  Against Bradley, Pacquiao began to slow down as the fight closed; Bradley had also gone to the body during the fight.  If Rios can put some work in to Pacquiao's midsection he might be able to get him stationary enough to get inside and even drive him to the ropes. 
 
  Defense: Rios can take a big punch and he has proven that but in this fight it would not be wise to try and eat too many.  Rios game plan should rely on taking this fight into the deep waters and hoping a consistent body attack will slow Pacquiao down for later in the fight.  Rios is not a one punch knockout artist, he has early knockouts but those were at lightweight.   This is his first fight as a welterweight after really only having a short stay at light welterweight and his power may not carry up the way he hopes.  This means he will have to preserve himself down the stretch and that requires a good solid defense.  Rios keeps up a pretty good high guard and can defend against frontal assaults.  In the first fight with Mike Alvarado he was able to block a lot up the middle and forced Alvarado to sweep his right hand around the guard.  Pacquiao's best weapon is a straight left hand down the middle and if Rios keeps a tight high guard  there is a possibility he can negate some of the shots.
   Footwork: Footwork has been one of the key components of limiting Pacquiao's offense. He has been troubled the most by movers and guys who can limit the battles. Miguel Cotto after the second knockdown was able to move and use the ring and reduce the punishment he took in each round. Tim Bradley was able to move around the ring and limit Pacquiao to bursts of offense per round. Shane Mosley was able to maneuver around the ring and survive after an early knockdown. Now footwork is important in reducing Pacquiao's offense but this alone cannot win fights as Mosley and Cotto were soundly beaten and Bradley was defeated in most eyes. Rios is not able to use the footwork in the ways those fighters were able to along with the footwork Marquez was able to use. Rios is not a mobile counterpuncher therefore his footwork will not be for defense but for offense. His footwork will have to be able to cut the distance and trap Pacquiao at the extremities of the ring. Unfortunately, Rios can find himself very squared up and seemingly off balance when on the attack. He will need to be better tonight with his balance if he wants a chance. 
 
As for Pacquiao nothing indicates that he has lost much physically. Despite losing to Marquez he was very sharp and very quick. He was winning against Marquez in rounds for the first time in many observers' opinions as he needed a knockdown to pull off the second fight and the third fight was very controversial. Pacquiao since round one of the first fight had Marquez the most hurt he ever had him in the fifth round of their most recent fight. In that round he dropped him and broke his nose and looked a few punches away from maybe having the referee intervene. Before the right hand that settled the business Pacquiao was without a doubt winning the round and looked like he might have been on his way to winning the fight. Tonight conditioning should not be a factor. Pacquiao looks well prepared and trained. As for mindset, this might have been a question mark but he looks motivated after that scuffle between camps and Manny looks ready to get back at Rios.
In conclusion, Brandon Rios is a very good fighter in his own right but has been given this chance as a matchmaking opportunity for Pacquiao. Truth is Rios is coming up in weight, coming off a loss, and stylistically does not match up well against Pacquiao. For Rios to win he will have to be perfect and will have to get Manny's respect with his power. Against Alvarado he was able rock him in the rematch but was eventually beaten by the footwork and movement of Alvarado who was able to choose his exchanges and put Rios at a disadvantage. Rios still had his moments but was eventually defeated. Rios will have his moments but not enough to win. He will likely not get the chances in close to throw that left hook and those nasty uppercuts because Pacquiao simply will not go shoulder to shoulder with him and trade. From watching both Alvarado fights he does do a great job at setting up the overhand right in between Alvarado's punches. He did this well in the first fight in the lead up to the finale. Maybe, just maybe he connects on an over hand right before a Pacquiao left comes in and cashes in. At this moment in time it appears to be a mismatch but this is why they lace the gloves and get in the ring. Hopefully, Rios can perform and put in a solid performance.