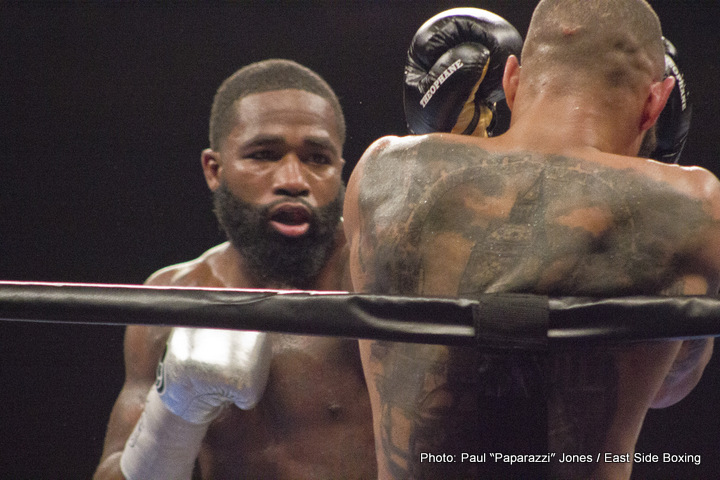 It's looking as though Ricky Burns and Adrien Broner will finally meet – in a fight that has been talked about for a few years – next February. Burns, the WBA 140-pound champ, is looking at making big money in his first title defence and the Scottish warrior's manager Alex Morrison told STV that the Broner fight is "99 percent certain, in Las Vegas."
Burns, 41-5-1(14) had a war with Keryl Relikh earlier this month, with Broner watching the battle won by the Scot, and soon Broner will get a chance to regain the belt Burns now holds. But first, "The Problem" wants to have a fight in December; itching to fight as he is after having spent time in jail and having been largely inactive this year.
It's not yet known who Broner, 32-2(24) will fight before the likely challenge of Burns, but his trainer Michael Stafford told RingTV.com that Broner sparred 12 rounds on Tuesday and really wants to get back in the ring ASAP.
"We'll hopefully be fighting before we fight Burns," Stafford told The Bible of Boxing. "It's been a while since Adrien fought, so he wants to get something going."
Broner might have to be at his sharpest if he's to defeat never say die warrior Burns. Burns is far from unbeatable of course, but no-one has had an easy time with him, and Burns seems to be a fighter who gets lucky on the scorecards every now and then (some saying he actually lost the Relikh fight). With the motivation he has to both fight and win in Las Vegas as his exciting career comes towards its end, Burns could prove a tough man to beat.
Is Broner, the younger man by six years in the Burns match-up, past his best? Has he had too many out of the ring distractions affecting him? Is Broner so cocky and big-headed that he will feel he has merely to turn up to defeat Burns?
If Broner does not give Burns his full attention, he may not get his old belt back. The differing styles of these two fighters could well give us a great fight next year.