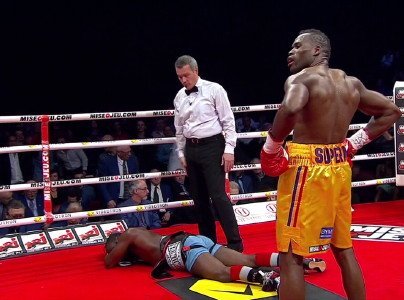 Having finally avenged his defeat against journeyman Darnell Boone by stopping him in the 6th round last Friday night, super middleweight contender Adonis Stevenson (20-1, 17 KO's) will now set his sights on WBC light heavyweight champion Chad Dawson (31-2, 17 KO's) for a title challenge on June 8th at the Bell Centre in Montreal, Canada. Stevenson's promoter Yvon Michel hopes to have negotiations completed between Stevenson and Dawson this week.
This is definitely the right time for the 35-year-old Stevenson to be fighting the 30-year-old Dawson because he's coming off of a 10th round TKO loss to WBA/WBC super middleweight champion Andre Ward last September, and the chances are that Dawson's confidence will be at an all-time low after that defeat.
Even if Dawson was confident for the Stevenson fight, it would still be a really tough match-up for Dawson because he struggled in the past when he faced a fighter with the same type of hand speed that Stevenson has in his loss to Jean Pascal in 2010. That doesn't mean that Dawson can't out-box Stevenson and keep him from landing his shots, but given how poor Dawson looked in his last fight against Ward, I think it's not likely. Dawson won't be able to beat Stevenson by boxing him from the outside. That won't work because Stevenson is a pressure fighter, and Dawson's jab isn't that great.
Dawson, 6'2", will have a three inch height advantage over Stevenson for this fight. The only way Dawson's height and reach advantage will work is if he's able to move around the ring like he used to be able do earlier in his career, but he's not that kind of fighter anymore. Dawson is mostly a stationary fighter now, and he's not capable of moving in circles to avoid Stevenson's pressure.
Dawson is going to have to unload on Stevenson with combinations if he wants to beat him. If Dawson can throw 80 to 100 punches per round, he'll likely win, but that's not likely to happen because he doesn't throw combinations anymore and he gasses out quickly when he does fight hard.