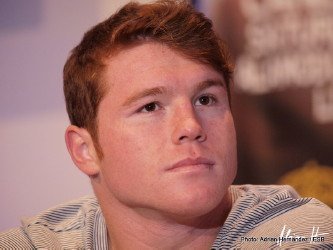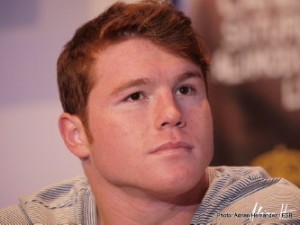 WBC junior middleweight champion Saul "Canelo" Alvarez (41-0-1, 30 KO's) plans on leaving no doubts as to who the better fighter is in the ring when he faces WBA junior middleweight champion Austin Trout (26-0, 14 KO's) next month at the Alamodome in San Antonio, Texas.
Canelo said to esnewsreporting.com "I'm preparing to win in a very convincing manner."
Canelo will have the crowd solidly on his side for this fight. There's already 30,000 tickets sold for the fight with a little less than a month to go before the April 20th fight. We could be looking at over 40,000 fans packing the Alamodome, and very few of them will be Trout's fans.
One thing that the 22-year-old Canelo has to worry about in this fight is his stamina. He's looked kind of faded late in his fights against Shane Mosley and Matthew Hatton, and he's much too young to be getting tired so early. He can't afford to fade against Trout because he'll end up losing the fight or putting himself into the situation where he wins and is given a controversial victory. We saw Trout shift into another gear in the last four rounds of his 12 round unanimous decision victory over Miguel Cotto last December when Cotto faded in the last four rounds.
Some boxing fans see Canelo as just a slightly bigger version of Cotto with the same stamina issues as him and the same plodding style of fighting. Trout is a definitely the better fighter when it comes to stamina, jab, and ability to get around the ring. Canelo fights at too slow of a pace like he's afraid to wear out. Against Trout, Canelo is going to have to fight at a faster pace because he's going to get out-boxed by the taller fighter if he just plods around the ring looking to throw body shots.