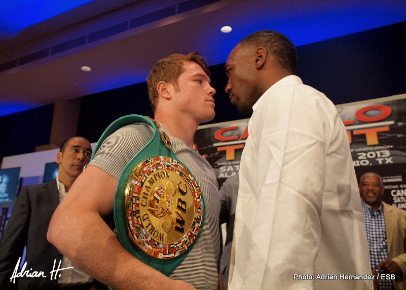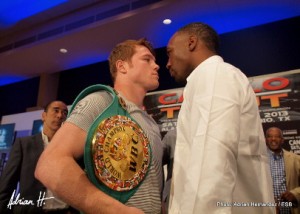 Both WBC junior middleweight champions Saul "Canelo" Alvarez and WBC champion Austin Trout were on target with their 30-day weigh-in for their April 20th fight at the Alamodome in San Antonio, Texas. Both Trout and Canelo weighed in at an identical 166.5 lbs. for the 30-day weigh-in.
At this point it's not about taking weight off for either of them. They can sweat the 12.5 pounds off to get down to the 154 pound weight limit on the day before the fight. At 166, these guys aren't huge for the junior middleweight division like say Julio Cesar Chavez Jr. is for the middleweight division.
Chavez Jr. puts on 20+ pounds when rehydrating for his fights, and comes into his fights basically as cruiserweight in size against smaller fighters. With Canelo and Trout, they're pretty much averaged sized junior middleweights. Canelo has had an advantage over many of his opponents in the last two years due to his promoters at Golden Boy's habit of matching him against welterweights or pumped up welterweights like Matthew Hatton, Alfonso Gomez, Shane Mosley, Kermit Cintron and Josesito Lopez.
It's unknown whether Golden Boy had done this on purpose in order to make sure Canelo wins and looks really good or if it's just something that happened due to Golden Boy seeing these fighters as being better known than the 154 pound fighters in the division. Whatever the case, Canelo is going to be fighting a real 154 pounder in the 27-year-old Trout on April 20th, and it should be a good test to see if Canelo can handle it or if he needs Golden Boy to put him back on a diet of welterweights to keep him winning.
Both Canelo and Trout are arguably big enough to compete at 160. Apart from Chavez Jr., the top fighters at 160, Peter Quillin, Daniel Geale and Sergio Martinez, all weigh around the same as Trout and Canelo. There isn't a lot of guys that that weight who rehydrating to 190. If Canelo and Trout fought at 160, they would fit in perfectly with the other fighters at that weight. The only difference is there is more talent at 160, and it would be a lot tougher for Canelo and Trout to find a place until Martinez retires.