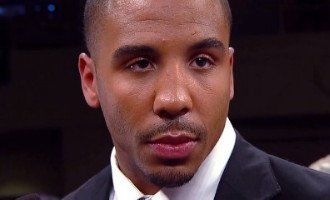 By Carlos Ortiz: Unbeaten light heavyweight Sullivan Barrera is hoping to get a fight against former WBA 168lb champion in March. However, Ward, 31, is starting to make noises on Twitter saying that Barrera won't be getting rich off him by getting a fight against him. Ward says there is no contract with Barrera, and he does not have any idea who his next opponent will be for March 26 on HBO.
The way Ward is talking, it's giving many boxing fans the belief that he does not fancy the idea of fighting Barrera and would prefer another fight. Barrera's trainer Abel Sanchez doesn't know who Ward can fight in the light heavyweight division that will make a statement, and he feels that Ward lacks the courage to take on Barrera.
"I think that all the Ward talk about 'pound for pound' greatness, calling out fighters without any intention of following through, now he has made the move to 175, all that talk should be backed up," Sanchez said to ringtv.com. "Barrera has 17 fights; he is no killer yet. If Ward is afraid to fight Barrera, who can he fight to make the statement that he belongs at 175 or that he is worthy of a Kovalev fight?"
It might not be a situation where Ward is afraid of Barrera. It could be a case of Barrera wanting too much money. It's difficult to say for sure. The only way to know for sure is if Ward moves on and faces an arguably lesser name like Marco Antonio Periban, a fighter who has been mentioned as a possibility for Ward's next fight.
Premature information being leaked to the media. I don't know who my next opponent for my next fight is. I have no contract.

— Andre S.O.G. Ward (@andreward) January 9, 2016
If Periban received the same money that Barrera was going to get, then you have to assume that Barrera was seen as too much of a risk for Ward to take. There's no shame in Ward opting to take a lesser threat than Barrera. It makes perfectly good sense for Ward to veer around a dangerous puncher like Barrera to face a soft target like Periban.
@andreward ??? you have no more excuse no break nail signing contract & pull out combat #jcpenney #jayz #rocnation pic.twitter.com/VDttzypNg0

— Sullivan Barrera (@sullivanbarrera) January 10, 2016
You have to remember that Ward has been mostly inactive for the last couple of years, and he's not had enough fights to be ready for a tough opponent like Barrera. Ward faced Paul Smith last June, but Smith is nowhere near as good as Barrera. The Ward-Smith fight was more of an exhibition fight than a real match-up, because Smith is not on the radar screen when compared to the talented light heavyweights in the division.
Ward got nothing from the Smith fight, and he's still essentially a very ring rusty fighter that is not ready to fight a dangerous fighter like Barrera. Periban is the perfect opponent for Ward right now, and I believe HBO will agree to a fight between the two.