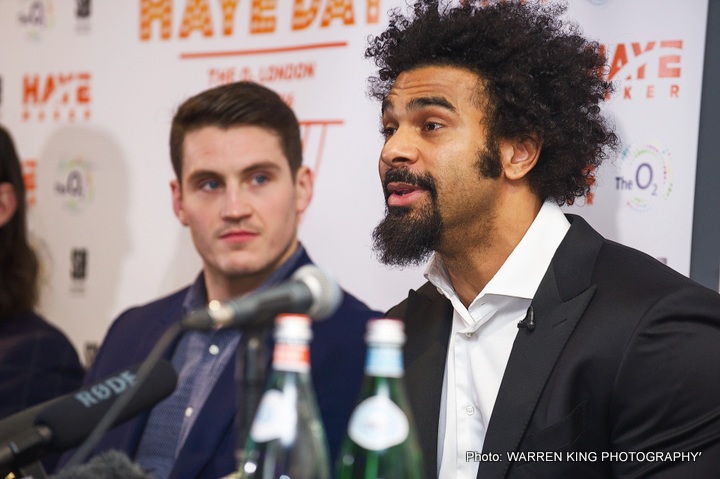 By Carlos Ortiz: David Haye (26-2, 24 KOs) will be clearing over three years of ring rust out of his systems this Saturday night in fighting Mark De Mori (30-1-2, 26 KOs) at the O2 Arena in London, UK. This is small step for the 35-year-old Haye, whose goal is to reclaim the heavyweight championship of the world.
Haye wants to win all the belts in the division, and he's ready to face champions Tyson Fury, Deontay Wilder and face the winner of the Vyachaslav Glaszkov – Charles Martin fight. Along the way, Haye wants to take the popular British heavyweight champion Anthony Joshua's scalp and add it to his collection of big names he's beaten during his career.
Haye has been out of action because of a string of injuries that have flowed one after another. It's a surprise that Haye is even able to come back after the serious shoulder injury he suffered two years ago. It's a credit to Haye that he was able to rehab his shoulder and do the work that he needed to do for him to get back in training to resume his career.
Many fighters would have given up if they suffered the kind of shoulder injury that Haye did. He resisted the advice that was given to him about him retiring and instead stuck with his rehab and was able to bring his surgically repaired shoulder back to 100 percent of what it was before the injury.
"My motivation is exactly the same as at the moment I knocked down Chisora; to be heavyweight champion of the word," Haye said to the telegraph.co.uk. "Along the way, the money comes. Even if there was no money in boxing, this is what I would do, because this is what I'm meant to do. Some fights you don't earn big, but they can set up bigger paydays later on. This fight is about me getting back on the map and proving to the fans that I'm healthy and that I can do this," Haye said.
De Mori, 33, does not figure to be a real risk for Haye, but you never know. Haye has been out of the ring for a long time, and things change when you've been inactive for as long as he's been. You can look at Haye and see right away that he's aged since the last time he fought in 2012 in beating Dereck Chisora by a 5th round knockout.
Haye no longer looks youthful like he was in 2012, and he has a decidedly older look to him now. You can right off that 40 is just around the corner for him. This is why he doesn't plan on taking things slowly with his comeback. He's fighting a top 10 guy right away with De Mori, and he plans on better fighters each time he gets inside the ring.