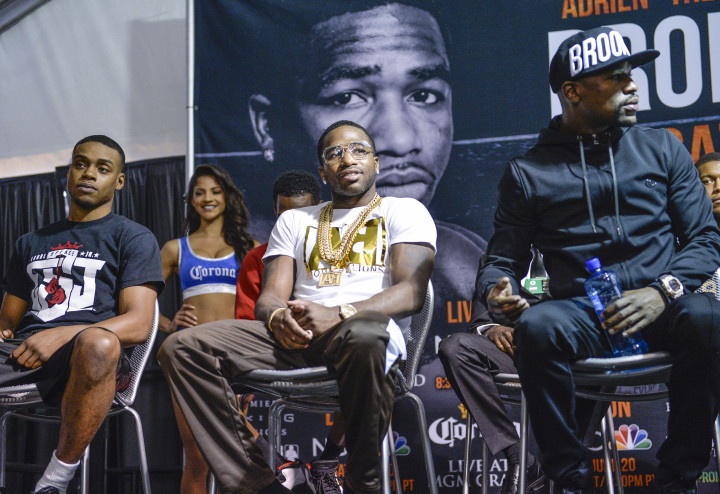 Share the post "AB = About Bull**** ! We're Gonna Punish Him Says Kenny Porter"
(Photo credit: Idris Erba/Mayweather Promotions) He's been accused by Shawn Porter of being quiet in the build up to their 144 lb catchweight contest, though at yesterday's presser ahead of their fight Saturday, Adrien Broner was anything but – and at last seized the opportunity to show us all once again what an arrogant, classless human being he can be.
Evidently going too far for some – and looking like an immature teenager out to impress an older child as his mentor Floyd Mayweather looked on – Broner took pot shots at both Porter and his father and trainer, Kenny – essentially accusing the Snr Porter of misappropriating his son's money to directly benefit himself.
He also said;
"Since they are both getting a cheque off of me, if I kick both their asses, do I get paid twice?"
"You probably do need to be paid twice to pay all that child support" the elder Porter quipped back in reference to Broner's five children.
After the verbal sparring between the two camps calmed a little, fighthubtv caught up with Kenny Porter to discuss proceedings and he has promised that come Saturday night, Adrien Broner will be punished – and they plan on that punishment being relentless.
He said;
"AB? 'About Bulls***'
"He (Broner) just trying to detract from the fact he gonna have to deal with a dog on Saturday night. The truth is they gonna get down and the best man gonna win – but I know who the best man is coming into the fight. All my confidence is with Shawn."
"He putting it all out there to take attention off of what he really gotta deal with – and that is Shawn. He really has to deal with Shawn but he's talking about me to take the attention away from him."
"If this kid doesn't run, duck, dodge, hide, hold on Saturday night, I will be shocked. He might even climb out the ring – they got 3 choices : He can quit. The referee can stop it, or his corner can throw the towel in."
"But we trying to punish him, that is our intent. Not a knockout, punish him – punishment is different from a knockout, if it were a knockout, that'd be letting him off easy. Punishing means every time he go down, we gonna wait for him to get up and do it to him again."
Twitter @Undilutedpoison
Share the post "AB = About Bull**** ! We're Gonna Punish Him Says Kenny Porter"