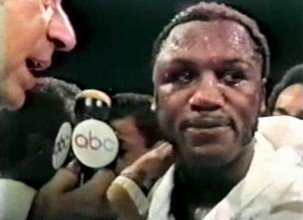 A long 45 years ago today, a young and undefeated fighter from Texas named George Foreman met a near 3-1 betting favourite in the form of the likewise unbeaten "Smokin'" Joe Frazier, as the Philadelphia warrior attempted to defend his world title for a fifth time.The two punchers met in Kingston, Jamaica in a bout dubbed "The Sunshine Showdown," and those fans who witnessed the fight saw a shockingly violent affair, where the 24-year-old challenger with the 37-0 record utterly annihilated the 29-0 world ruler.
Expected to have too much for the unbeaten but largely untested Foreman, Frazier was instead knocked down three times in the very first round and then another three times in the second-round. This wholly unexpected sight inspired commentator Howard Cosell to bellow out the now famous words, "Down goes Frazier! Down goes Frazier!" The final knockdown Foreman scored literally lifted Joe clean off his feet. Had the world ever seen a more freakishly powerful heavyweight?
Before the fight, when he was awaiting the first bell and was giving Frazier his best attempt at a mean stare-down, Foreman, as he later confessed, was standing on shaky legs. So afraid of the formidable fighting talents of Frazier was he, the former street mugger was unsure of himself and his chances of winning.
"I had seen a lot of Joe Frazier from having fought on his under-card so many times," Foreman recalled years later. "I knew that there was no way you could hurt him. I remembered Jerry Quarry fighting Frazier, and he was putting it on Frazier like nothing. But Frazier just went back to the corner and went, 'oooh!' as though he liked it! Joe Frazier was like a machine. If you hit him, he liked it. If you missed him, he got angry and came after you."
Foreman, though, had no need to feel any fear. The fight was a complete mismatch from the first bell. Frazier, so much the shorter man, had no chance against the lethal howitzers that kept coming and coming and coming. Frazier, completely unable to get into any kind of rhythm, was as aggressive as ever, but his straight-ahead advances simply made him a lamb to the slaughter. It all looked so effortless for the young Texan monster.
So much so that afterwards, after the shock of seeing the man who had taken Muhammad Ali's unbeaten record bounced around like a basketball for 5-and-a-half minutes had subsided, people wondered if Foreman was as good as he looked. Was Frazier a shot fighter, ready for the taking, with "Big George" merely the man who was in the right place at the right time? We wouldn't be sure for a long time, but today there is no questioning Foreman's greatness, nor is there any way we can call his win a win over a spent force. Frazier's sheer hell of a fight with Ali over two years after Jamaica proved that.
What made Foreman's win so easy was the sheer styles of the two men. Simply put, Joe was made for George. That, along with Foreman's uncommon punching power saw to it that Frazier lost and lost so badly.
Would Foreman's style, power and sheer toughness have proven too much for another heavyweight great, one he came so close to fighting in the 1990s? We will never know. But had Foreman and Tyson actually met, maybe the commentator, whoever he might have been, would have been able to copy Cosell's famous sound-bite: "Down goes Tyson! Down goes Tyson!"