David Benavidez predicts a bloody battle that ends in an early knockout victory for him against Ronald Ellis in their WBC super middleweight title eliminator match on Showtime from the Mohegan Sun Casino in Uncasville, Connecticut.
The unbeaten Benavidez (23-0, 20 KOs) won't be playing around with #8 WBC Ellis (18-1-2, 12 KOs) when he gets in the ring with him tonight, and he says he wants to put him under duress right away to batter him until the fight is halted.
Benavidez is coming off a seven-month layoff after losing his WBC 168-lb belt in failing to make weight for a simple title defense against Roamer Alexis Angulo last year in August.
Canelo Alvarez now holds Benavidez's WBC belt, and he chose not to look his way when he decided to face WBO 168-lb champion Billy Joe Saunders next.
Benavidez feels that Canelo could have easily chosen to face him next instead of Saunders, but he decided not to.
One way for Benavidez to force Canelo to fight him or give up his WBC belt is for him to become the mandatory for that title, which is what he'll be doing tonight against the 31-year-old Ellis.
Benavidez says after he becomes the WBC mandatory, his next move will become the WBA mandatory, which will further put pressure on Canelo to face him.
That way, if Canelo decides to vacate the WBC title to avoid Benavidez or if he uses his Franchise tag, he'll be the WBA mandatory as well.
Benavidez predicting stoppage
"I'm just going to go in there and do what I always do," said Benavidez to Tobin on his fight tonight against Ronald Ellis. "23 fights with 20 knockouts, I already know what to do.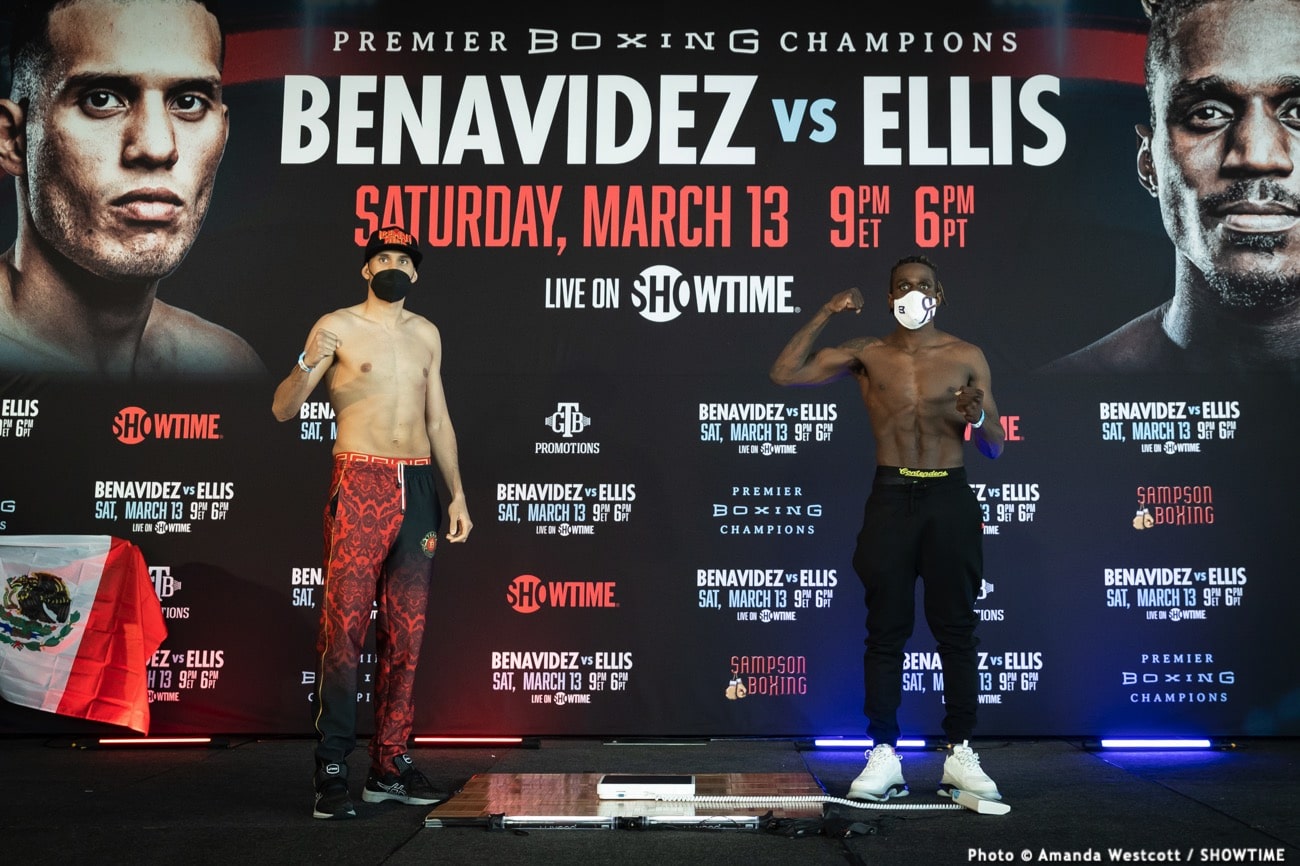 "Whether there's pressure or no pressure, I'm just going out and doing what I love.
"It's going to be a violent, bloody fight, but I like stoppages, and I like knocking people out, so I got to give the fans they want to see too," continued Benavidez about his fight against Ellis. "I feel like I'm going t stop him before round six.
"The sparring sessions have been perfect. It's the main event on Showtime. I got to show out and perform like I always do.
"They're going to have to come see me either way because, after that, Canelo's fight runs out, and they get their fights in.
"After Canelo fights Caleb Plant and Caleb Plant fights Canelo, who else is left for them to face? People want to see some great fights, and I feel like I'm here and I'm one of the best super middleweights in the world," said Benavidez.
Ellis has never been knocked out before during his 10-year professional career, but he's not faced any offensive threats like Benavidez. His three toughest opponents are as follows:
Matt Korobov – RTD 4 win – Ankle injury
DeAndre Ware – MD 10 loss
Immanuwel Aleem – MD 10 win
Junior Younan – Draw 10
There's a good possibility that Benavidez will knockout Ellis tonight, as long as he can cut off the ring on him to force him to battle.
If Ellis chooses to go into the survival mode early on, he might survive the full 12 rounds by moving and fighting like a sparring partner.
Fans want Canelo to fight Benavidez
"People want to see me against Canelo," said Benavidez. "They want to see me against Caleb Plant.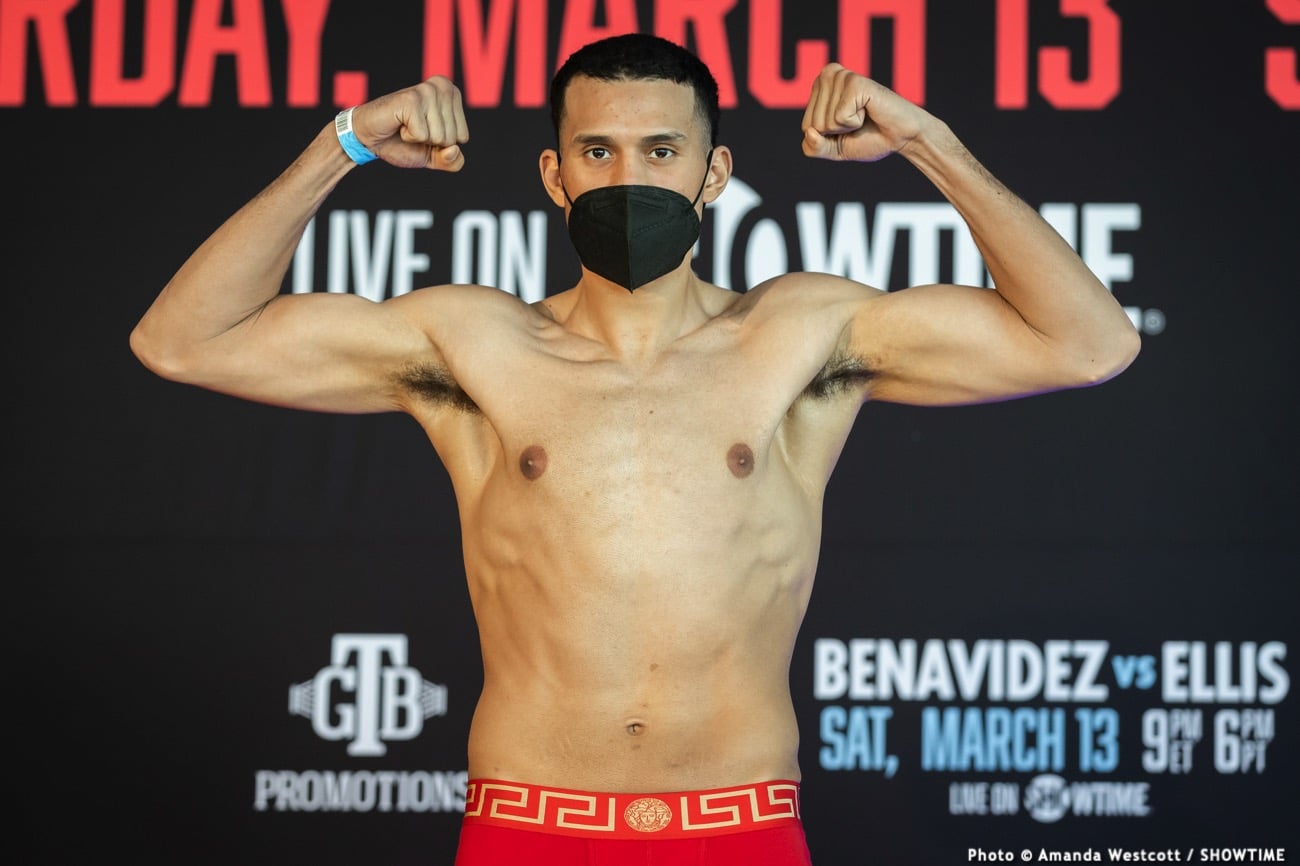 "Okay, they can skip me one time; maybe, there are going to be good fights in the future, though.
"I feel like I'm in a good position either way. I'm ready to fight anybody. I've been professional for eight years already, I'm barely 24-years-old, so I'm a young veteran in this game.
"I just want to spice things up; I want more excitement, I want to get some fights where I don't know what is going to happen.
"So that way, when you train, you elevate yourself to a different level. That's what I need. I need someone to motivate me more than I'm already motivated so that I can get to that next level.
"The fans want to see all these fights, so why not? Let's make them happen.
"I feel like this is the best I've ever felt, but I know this isn't my prime yet. The reason I feel like this is because I've worked my a** off since I was 15-years-old.
"I've been doing strength & conditioning since I was 13-years-old, up until now, and I work harder than these other boxers out there.
"I let my work speak for itself, but I'm very excited. I want to get to the level of Pacquiao. Pacquiao is extremely strong, throwing crazy combinations, throwing crazy speed.
"He didn't start like that. He worked his way up. Pacquiao is my idol, and I know if I keep working one day, I can get to his level. I feel really great right now.
"I feel like I'm in a good position mentally and physically to reach for the stars," Benavidez said.
Boxing fans in the U.S are more interested in seeing Canelo Alvarez fight Benavidez, 24, than WBO strap holder Billy Joe Saunders or IBF champion Caleb Plant.
Saunders and Plant are dull finesse fighters, who have little power, and will be looking to box Canelo the entire fight. You know what you're going to get with Saunders and Plant, and it's not going to be interesting to watch.
Saunders' promoter Eddie Hearn has repeatedly said that he has the best shot at beating Canelo of all the fighters in the 168lb division, but that's just him selling his fighters. Benavidez clearly has the best shot of beating Alvarez of anyone, and the next best guy is perhaps Edgar Berlanga.
Plant and Saunders have about as much shot of beating Canelo as Avni Yildirim, Rocky Fielding, and Callum Smith all did. Those are three guys that Canelo has been padding his record against lately.
Second title eliminator an option
"My job is to get the titles," said Benavidez. "I feel like I'm already up there. This fight [against Ronald Ellis] is going to be a title eliminator.
"I'm going to win that, maybe, and then I fight another title eliminator with the WBA. So it's his [Canelo Alvarez's] decision if he wants to fight me or not.
"He only has two other fighters left [Billy Joe Saunders and Caleb Plant].
"There's not going to be anyone else for him to fight. Like I said with Caleb Plant. People are going to call for it.
"If he doesn't accept the fight and vacates the titles, which I don't think he's going to, I'm going for the titles either way.
"I don't care who has them; I don't care who is in front of me. My goal is to get to the titles, and that's exactly what we're going to do.
"I think it's going to be a good fight; I think it's going to be a tougher fight than people think," said Benavidez when asked about the May 8th fight between Billy Joe Saunders and Canelo.
"Billy Joe, he's a great boxer, and he has a lot of experience. He's fought a lot of good people, so it's not going t be easy to get to him.
"Billy Joe Saunders is a good fighter, but I feel he doesn't have the power and strength to keep Canelo off of him.
"Canelo is resistant to the attack. So you're going to need good power to keep Canelo off of him. Man, I think it's probably going to be a good fight. I'm excited to watch it too.
"Benavidez, I'm so impressed with that kid. I'm curious to see how he progresses and to see if he's ready for that level of fight yet," said Chris Algieri to Fino Boxing about David Benavidez taking on Canelo Alvarez.
Canelo can use his WBC Franchise tag to avoid Benavidez indefinitely, which is why it's self-defeating for him to be fighting a WBC title eliminator.
It's a useless move for Benavidez because it doesn't guarantee that Canelo will fight him. It makes more sense for Benavidez to fight a WBA title eliminator because then Canelo would be forced to either face him or look bad in vacating his title.
Prediction
Ellis doesn't have any chance of winning apart from an injury by Benavidez. We're going to see Benavidez walking Ellis down and punishing him with shots to the head and body until he takes a knee and is counted out. This fight will likely be over by the fourth or fifth round.
Ellis isn't in the same class as guys Benavidez has beaten in the past, like Anthony Dirrell, Ronald Gavril, or Denis Douglin.