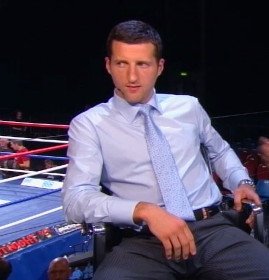 By James Slater: Earlier this week, when the news broke that Carl Froch would be defending his IBF super-middleweight title at his hometown arena, The F.M in Nottingham, there was speculation over who "The Cobra" would be facing.
A number of names were mentioned, including Philly's Yusaf Mack, but in a news piece in The Daily Star it was reported that Mack was unwilling to put pen to paper and accept the terms offered to him. Well, according to a new piece on Ringtv.com, it appears as though 32-year-old Mack, 31-4-2(17) has had a change of heart and has agreed to the November fight.
Ringtv.com reports that the fight is a done deal for Nov. 17th, and that Froch will then fight former IBF champ Lucian Bute in a contractually agreed rematch at a date to be confirmed. If it is Mack next for Froch, some fans may well moan a little, as used as they are to seeing 35-year-old Froch, 29-2(21) fight the very best (Froch's last eight fights being, in order, Jean Pascal, Jermain Taylor, Andre Dirrell, Mikkel Kessler, Arthur Abraham, Glen Johnson, Andre Ward and, last time out, the 5th-round stoppage win over Bute – a crazy resume if ever there was one!)
But Froch, having his second fight in a row at home, is more deserving than most when it comes to having an "easy" fight. But this is to perhaps pay a disservice to the tough and experienced Mack.
For while the man known as "Mack Attack" has lost almost every time he has stepped up in class (stoppage losses to Alejandro Berrio, Librado Andrade, Glen Johnson and, most recently, back in June of last year, Tavoris Cloud), Mack has skills, punching power and plenty of heart. Wins over Chris Henry, Otis Griffin and a faded Omar Sheika (a points win in April of this year) aren't too shabby and Mack can at least be expected to come in and give his all against Froch. There's no doubt Mack will enter the ring as a considerable underdog though.
It is tough to get excited about this match-up, but again, Froch is deserving of a less strenuous task for once. Assuming he remains focused on the job in hand and doesn't look ahead to the bigger fights that will come next year, Froch should be able to get Mack out of there before the halfway mark. Then, after he's dealt with Bute for a second time (I just cannot see Bute bouncing back and getting revenge over the man who so ruthlessly and comprehensively destroyed him in May), Froch will hopefully get it on with Kessler in another, far more compelling rematch.
Froch-Kessler II just has to happen and, even if he's at his absolute best, Yusaf Mack will be unable to derail Froch's plans.