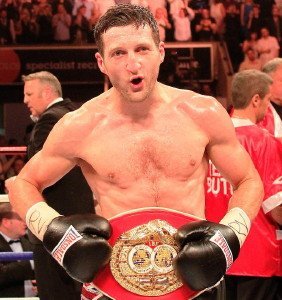 HOBOKEN, N.J. (October 30, 2012) — With a rematch against former World champion Lucian Bute still on the cards, as well as potential grudge rematches against Andre Ward and Mikkel Kessler in International Boxing Federation (IBF) super middleweight champion Carl "The Cobra's" Froch's future, the 34-year-old British favorite admitted that his November 17th title defense against Yusaf Mack, headlining the "True Brit" pay-per-view event (in the U.S.), could be his last fight at home in Nottingham, England.
"If the Bute fight happens," Froch explained, "it will be in Canada, and rematches with Ward and Kessler could well happen in America and Denmark, so this could well be my last fight in Nottingham."
Froch and Mack headline an exciting night of boxing on Nov. 17 with Tony Bellew aiming to seal his second World light heavyweight title shot in a World Boxing Council (WBC) title eliminator against Argentine invader Roberto Bolonti.
"True Brit," presented by Matchroom Boxing, will be distributed in the United States by Integrated Sports Media for live viewing at 3:00 PM/ET – 12:00 PM/PT on both cable and satellite pay-per-view via iN Demand, DIRECTV, DISH Network and Avail-TVN for a suggested retail price of only $29.95.
"True Brit" will also be available to view via Fight Now TV, America's only 24-hour combat sports and entertainment channel, on Cablevision channel 464 as part of the iO Gold package.
Froch (29-2, 21 KOs), rated by The Ring Magazine as the No. 1 contender in the world, captured the IBF title in his last fight on May 26 with an impressive fifth-round technical knockout of previously undefeated champion Bute (30-1). In the past four years, his last eight fights have been against a Who's Who of the 168-pound division with victories over Bute, Glen Johnson (DEC12), Arthur Abraham (DEC12), Andre Dirrell (DEC12), Jermain Taylor (TKO12) and Jean Pascal (DEC12). Froch's only losses were by 12-round decisions to unbeaten World Boxing Council (WBC)/World Boxing Association (WBA) king Ward in the final of the Super Six Tournament, and four-time World champion Kessler during the aforementioned tournament. Seven of his last eight opponents, excluding Dirrell, have been world champion.
IBF No.5-ranked Mack (31-4, 17 KOs) has been fighting as a light heavyweight since 2008. He lost his only world title shot to IBF 175-pound champion Tavoris Cloud by eighth-round technical knockout in 2006.
"I'm in fantastic shape and itching to get in there again," Froch said. "The Bute fight was special and the best night of my career, but there's no chance I'll take my foot off the pedal on November 17. Yusaf is a dangerous customer and he has nothing to lose coming here and everything to gain. Yusaf has fought for a World title at light heavyweight and he is going to be doing everything he can to prove himself at super middleweight."
Bellew (18-1, 12 KOs) and South American champion Bolonti (30-1, 19 KOs) will fight in the 12-round co-feature, an official WBC eliminator to become champion "Bad" Chad Dawson's mandatory challenger, with the vacant World Boxing Council (WBC) Silver light heavyweight championship on the line.
Bellew, rated No. 10 by The Ring Magazine and No. 14 by the World Boxing Organization (WBO), has lost only once as a professional, last year in his only World title challenge fight to undefeated WBO champion Nathan Cleverly by 12-round majority decision.
Bolonti will be going for his 27th consecutive victory on Nov. 17. Fighting outside of his native Buenos Aires, Argentina for the first time, Bolonti is rated No. 5 by the WBC, No. 10 by the WBA and IBF.
The PPV card, pending time restrictions, will also showcase some of Britain's top, young fighters, including bantamweight prospect Khalid "Kal" Yafai (3-0, 2 KOs), a 2008 Great Britain Olympian, vs. TBA, lightweight Scott "Scotty" Cardle (5-0, 1 KO) vs. Joe Elfidh (7-2), former European middleweight champion Kerry Hope (17-4, 1 KO) in a six-round tune-up vs. TBA prior to his December 8th showdown with Darren Barker, lightweight Martin J. Ward (2-0) vs. TBA, middleweight Ryan "Tank" Aston (7-1, 3 KOs) vs. Tyan Booth (11-6-1, 2 KOs), and featherweight Leigh "Leigh-thal" Wood (4-0, 1 KO) vs. Gavin Reid (6-16-1, 3 KOs). All fights and fighters are subject to change.
Go online to www.integratedsportsmedia.com, www.fightnow.com for more information about the "True Grit" PPV. Follow Integrated Sports on Twitter @integratedppv and Fight Now TV @fightnowtv.
Judgment Night for New Boys
Rarely in the Irish boxing domestic scene do fight fans witness two pugilists undertake such an important fight so early in their careers as will be the case this Saturday night at the National Basketball Arena.
One of the many highly anticipated clashes on the South Dublin "Rumble in Dublin" fight night will see two pro-game novices Noel O Brien and Brandon Peake clash in a contest that will have direct implications on what direction their careers take.
For 34 year old O Brien who has his sights set on landing an Irish title he undertakes his second outing as a professional knowing a win is a must if his domestic ambitions are to be realised.
With an impressive amateur career consisting of over 100 ruckuses that produced two Irish titles at underage level, Noel "Zuas" O Brien turned professional in 2011 following as substantial sabbatical from his beloved sport.
Trained by two times European bronze medalist Phil Sutcliffe since the age of ten the Dubliner returns to the venue of his first and only professional contest knowing he faces a tough night, but that only a win will do if he is to make strides towards the Irish title he craves.
"I'm looking forward to Saturday night and getting back in the ring; it's been too long since my last fight. I am expecting a tough night from Brandon Peake, I know he lost his first fight to Michael Waldron and I'm sure he has no intention on losing two in a row".
"I am just focused on what I need to do on the night, I have prepared very well for this fight and I don't allow the idea of not winning enter my mind, I came back to win an Irish title and if that's to happen I will be required to leave the Basketball Arena on Saturday night with my second professional win".
After a disappointing debut loss to fellow Ballyhaunis pugilist Michael Waldron last month in Castlebar another defeat for 18 year old Peake will surly leave the youngster pondering his fighting future.
Following an amateur career that brought success at County and Provincial levels and a National under-21 semi-final appearance, the Mayo youngster finds himself facing the possibility of a second professional loss, but a buoyant Peake believes he is better prepared this time around.
"It just didn't happen for me on my debut but I am really looking forward to appearing in Dublin on such a quality card. I have put a lot of hard work in the gym and we have been working on areas of my boxing and I am confident of an improved performance in Dublin on Saturday night".
Also in action on what will be an action packed night of professional boxing is Anthony Cacace who will top the bill against Mickey Coveney for the Irish Super Featherweight title.
Tallaght local Robbie Long who is now trained by former stable-mate Eddie Hyland will clash with Belfast's Joe Hillerby. Pro fledgling Ray Ginley will take on the experienced John Waldron. Ireland's only professional female fighter Christina McMahon will fight for her first title on a ten fight card that will also feature Stephen Reynolds, Brendan Fitzpatrick, Luke Wilton and James Tennyson.
Tickets for the "Rumble in Dublin" fight night are priced at €25, €35 & €45 now on sale from Stephen Sharpe on 087-9537526 or from www.greenjab.ie.