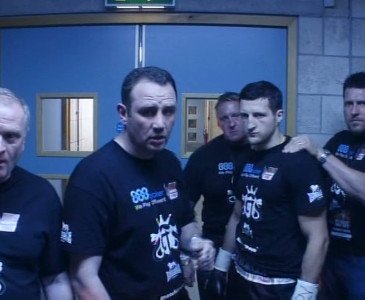 By Michael Collins: Having beaten Carl Froch (29-2, 21 KO's) soundly in the Super Six finals last December, WBA/WBC super middleweight champion Andre Ward (26-0, 14 KO's) says he has absolutely zero interest in following Froch's fight tonight against American light heavyweight Yusaf Mack (31-4-2, 17 KO's) in Nottingham, England.
Ward said on his twitter: "Cobra fans seem a bit upset that I'm not watching. Sorry folks…NOT INTERESTED! I'm not watching Froch vs Mack. You guys can tell me what happens. Honestly, really not interested in the fight. Looking forward to the HBO fights tonight!! I'm picking [Adrien] Broner and [Seth] Mitchell. They both should be good fights. Froch fans keep saying it wasn't him in the ring the night we fought…then who was it…his twin brother??!! Froch Fans: Ride with your guy, but the things you say have to make since…ok??!! Froch said he wasn't himself when we fought, because he was HOME SICK. Question: Why do I HAVE TO rematch Froch in the UK?? #IWonTheFirstOne Talk to me UK!!"
Ward takes issue with the excuses that Froch has made about his loss to him last December in which Froch said he wasn't at his best in that fight and that if he had fought the way he had in his win over IBF super middleweight champion Lucian Bute then he would have beaten Ward. It doesn't make sense because Froch appeared to be the same fighter in the Bute fight as he was in the Ward bout. The only difference was Ward was just way too good. The judges scored the Froch-Ward fight as follows: 115-113, 118-110 and 115-113. The second judge seemed to have it on the ball but the other two that scored it 115-113 seemed to be watching another fight that night because Ward totally dominated Froch.
For some reason Froch wants Ward to come over to the UK to fight him instead of Froch, the loser of their fight, coming to the U.S to fight Ward in a rematch. It makes no sense for a winner of a fight having to travel to the loser's hometown to fight. What's up with that?