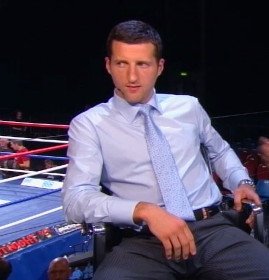 By Michael Collins: There are reportedly only 500 tickets left for the November 17th clash between IBF super middleweight champion Carl Froch and his light heavyweight opponent Yusaf Mack for the Nottingham Arena in Nottingham, England. Over 9000 tickets have already been sold and the 35-year-old Froch is counting on the last 500 getting scooped up well before the fight next month. Froch wants it to be extra loud for the visiting American Mack just like it was for Froch's last opponent former IBF super middleweight champion Lucian Bute, who seemed unnerved by the crowd noise and ended up losing badly to Froch.
Froch said to Sy Sports News "The atmosphere against Bute was absolutely electric – the best I've ever boxed in front of. Mack will not have seen anything like it in his life…the fans will raise the roof for me."
Froch hadn't fought in Nottingham since beating Andre Dirrell there by a controversial decision in October 2009 in the Super Six tournament. The crowd was plenty loud during that fight but Froch fought poorly, missing punching all night, and doing quite a bit of ugly fouling that he got away with. The crowd didn't help Froch in that respect, and his victory was viewed different depending on what part of the world you came from.
It wasn't good stuff from Froch in that fight. But his promoter Eddie Hearn has picked out a vulnerable fighter in 32-year-old Mack, so Froch should be able to win this fight without any problems. Mack will likely give Froch a tougher fight than Bute did, however. So if Froch and Hearn were thinking that Mack would simply roll over and kick his legs in the air for him they could be in for a big disappointment. Mack is going to test Froch's chin early and we could see Froch stagger a little if Mack hits him cleanly. Froch has been hurt before in past fights, and Mack has got the power to stun him if he connects.
Froch says this could be his last fight in Nottingham, because he plans on fighting Lucian Bute, Mikkel Kessler and then Andre Ward. He's not saying the retirement word yet, but that appears to be the direction he'll be going in if he's able to sweep those last three fights. It's highly unlikely that Froch will get through those three fights without taking two or even three losses unfortunately. Ward has his number, and Kessler appears to be a level above Froch as well. And Bute might surprise Froch next April by fighting at a much higher level in Montreal compared to the way he fought in Nottingham.