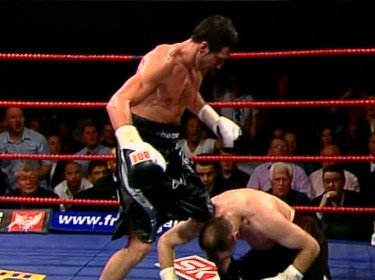 By James Slater: British warrior and reigning International Boxing Federation (IBF) super-middleweight Carl Froch has not in any way said he will definitely retire after his planned rematches with Lucian Bute and Mikkel Kessler, but the 35-year-old will not be around forever and "The Cobra" has hinted that he would look at going out, on top, if he were to avenge his loss to Kessler next year, after having first taken care of next challenger Yusaf Mack and then, in a contractually-bound return, Bute.
Froch, who says he will not neglect serious training duties for the Nov. 17th defence against former light-heavyweight title challenger Mack, said in an interview with The Sun that a 2013 hometown win over Kessler would be "the pinnacle for me," and that to finish his career in such a way would be "unbelievable."
If this is the way Froch goes out, with three more bouts (which he of course feels would be wins) and then retirement at age 36 or 37, would the Nottingham man be Hall of Fame worthy should he quit with a 32-2 record?
Let's look at Froch's list of achievements:
He is currently a three-time champ: two-time WBC super-middleweight champ and current IBF 168-pound boss. He holds wins over: Jean Pascal, Jermain Taylor, Andre Dirrell, Arthur Abraham, Glen Johnson and Bute. Froch has lost only to Andre Ward and Kessler, both defeats coming on points.
If the Bute win is repeated and if the Kessler loss is avenged, it would be some resume Froch would boast. Sure, his critics would point to the loss to Ward – a loss that will likely go un-reversed – and argue that Froch lost his biggest fight, but look at some of the fighters who are on The Hall – did they defeat every single fighter they ever faced? No.
Froch has fought away from home on a number of occasions, he has upset the odds more than a few times and he has can boast a list of top, back-to-back opposition that is really quite amazing (no easy fights for Froch). A runner-up in the "Super Six," Froch has also shown longevity; first becoming a champion in 2008 and still being on top some four years (and counting) later.
Comprehensive wins over Mack, Bute (again) and Kessler would make it tough for the experts not to vote Froch in to The Hall when the times comes. He may not be a first ballot choice, but if this particular battling Brit keeps a clean sheet between now and walking away, Froch should, in my opinion, get the call for Canastota.
What say you guys?