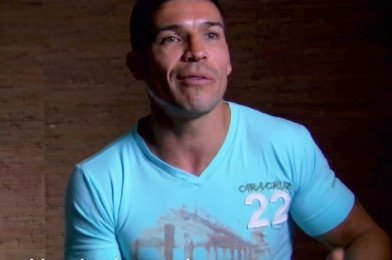 By Rob Smith: Former WBC middleweight champion Sergio Martinez (49-2-2, 28 KO's) says he can already seen the outcome of his September 15th fight against Julio Cesar Chavez Jr. (46-0-1, 32 KO's) and he doesn't see the fight ending well for the 26-year-old son of boxing legend Julio Cesar Chavez Jr. Martinez plans on getting the hulking 180 pound Chavez Jr. out of there early to make a nice clean win without any controversy.
Martinez said "I go over it in my mind and can see it. I can see him [Chavez Jr] on his knees right in front of me…I know the fight will end early. I know I'm going to knock him out."
With his power and speed, Martinez is going to make it difficult for Chavez Jr. to do the same kinds of things he's been doing in his recent bouts against more stationary fighters. Chavez Jr. has really had his way against guys with little ability to move like Andy Lee, Peter Manfredo Jr and Marco Antonio Rubio. Lee isn't that bad when it comes to getting around the ring, but in his case he was fighting Chavez Jr. in a small ring in El Paso, and he compounded it by choosing to slug with him instead of trying staying on the outside.