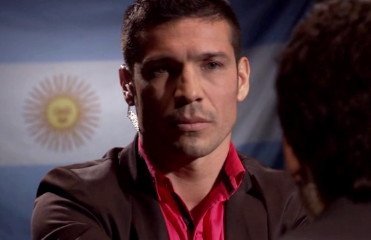 By Rob Smith: Sergio Martinez (49-2-2, 28 KO's) has some really big hopes for what a win over WBC middleweight champion Julio Cesar Chavez Jr (46-0-1, 32 KO's) will potentially do for him when he meets Chavez Jr. on September 15th in Las Vegas, Nevada. Martinez, 37, sees a victory over the young 26-year-old Chavez Jr. as something that could open doors for him to land a big fight against Floyd Mayweather Jr. and if not it could put him on the doorstep to a big money fight.
Martinez said on Max Kellerman's Face off on HBO to Chavez Jr "After I beat you, I will be nipping on Mayweather's heals."
So is Martinez deluded about his aspirations of wanting to get a big money fight against Mayweather? We've seen Robert Guerrero talking up a fight with Mayweather recently, and it's pretty clear that Guerrero has no chances of ever landing that fight unless Mayweather wants decides on taking an easy stay fight. The 37-year-old Martinez could also be kidding himself if he thinks that Mayweather will show any interest in fighting him.
It's possible but it may not be if Martinez keeps knocking everyone out like he's been doing lately. To be sure, he's showing signs of aging in his past couple of fights, but his power is still very much there.
Would Mayweatehr be interested in taking on a guy that's lost a couple of steps but who still hits incredibly hard? I think it would be a really dangerous fight for Mayweather, because he's no longer hard to hit like he used. Mayweather now fights flat-footed and he's mixing it up more than he ever did. If you let the hard hitting Martinez hit you with his powerful left hands something bad could happen in an instant.
We saw how Mayweather was hurt by Shane Mosley in their fight in 2010. Martinez hits harder than Mosley and he wouldn't run out of gas after two rounds like Mosley did. Martinez would still keep blasting away at Mayweather round after round and he could knock him out if he landed a perfect shot.