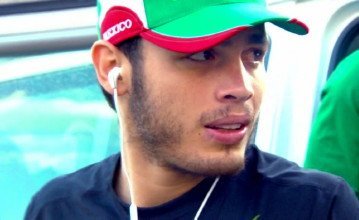 By James Stillerman – Sergio "Maravilla" Martinez, 49-2-2, 28 KOs squares off against Julio Caesar Chavez Jr., 46-0-1, 32KOs for the WBC middleweight title and the right to be claimed the best middleweight pugilist in the world on September 15th at the Thomas Mack Center in Las Vegas, Nevada, in a twelve round main event. This is an intriguing matchup of a young towering undefeated and upcoming fighter in Chavez Jr. versus the smaller crafty season veteran in Martinez, who is considered by many boxing experts as the best fighter in the world not named Floyd Mayweather or Manny Pacquiao.
Adding excitement to this bout is the fact that both men greatly despise one another other and have repeatedly said that they will end the boxing career of the other fighter in the ring, making it appear that this fight will be an all out action packed event.
Martinez has a significant advantage in experience compared to Chavez Jr. He has fought the vastly superior competition against the likes of Paul Williams, Kelly Pavlik, Kermit Cintron, Serhiy Dzinziruk and Darren Baker.
Martinez won all of those bouts in convincing fashion except for a controversial draw with Cintron, a fight he should have won and a contentious loss to Paul Williams which he got revenge in the rematch by knocking out Williams in the second round. Chavez Jr. has defeated Andy Lee, Marco Rubio and Peter Manfredo and dominated these fights; however none of these fighters are on the same level as Martinez`s competition.
Chavez Jr. has greatly improved his boxing skills in his couple of outing with the addition of world class trainer, Freddy Roach while Martinez has not looked as good as he normally is in his last couple of outings, although Martinez`s last couple of opponents are better than the ones Chavez Jr. has fought. Chavez Jr. is eleven years younger than Martinez, 26 years old compared to 37 years old, meaning he has less wear and tear on his body and is the fresher fighter coming into this bout allowing him to have a slight edge in stamina. He`s also the much bigger fighter in the ring in terms of size and strength and has also been known to add significant amounts of weight after the weight-ins, giving him a distinct advantage in power.
This should be a great back and forth action packed fight that goes the full twelve rounds. In the end, Martinez`s better boxing skills, defense and experience will help him overcome Chavez Jr. `s advantage in power, allowing him to emerge victorious and give Chavez Jr. his first professional loss.
Another important fight in the middleweight division is Felix "Leonidas" Sturm 37-2-2, 16KOs who takes on Daniel "Real Deal"Geale 27-1, 15KOs on September 1st at the Koenig Pilsener Arena, Oberhausen, Nordrhein-Westfalen in Germany with the WBA and IBF titles on the line in this twelve round bout. Sturm, the long-time reigning WBA champion is unbeaten in his last fourteen fights and along the way has defeated Sebastian Zbik, Matthew Macklin and Randy Griffin. His last lost was to Javier Castillejo back on July 15, 2006, but he got revenge by defeating Castillejo in the rematch, allowing him to retain the WBA strap. Meanwhile, Geale the IBF belt holder has won five consecutive bouts since his only lost to Anthony Mundine. Geale has defeated Sebastian Sylvester allowing him to garner the IBF title and he beat Roman Karmazin.
This unification bout should be a fairly competitive bout with both fighters deserving credit for finally taking a significant step up in competition compared with who they have fought in the past and risking their belts in order to unify a part of the middleweight division. Geale has great tempo by being active for most of the fight, is a scrappy fighter that always fights hard and is a slightly harder puncher than Sturm. Nevertheless, Strum should be able to prevail in this bout because he`s the more experienced and talented of the two fighters with a better jab and has the fought the much better opposition. It`ll also be extremely difficult for Geale to prevail in Germany over Sturm, in his home country unless he wins by a knockout, which will mostly likely not happen.
Hopefully the winner of these two fights will face one another in a unification bout. Then the winner of that bout faces off against WBO belt holder, Dimitry Pirog unifying this division for the first time since Bernard Hopkins and Jermain Taylor did it from 2004 – 2005.
In the supper middleweight division, WBA belt holder, Andre Ward 25-0, 13KOs takes on WBC light heavyweight champion, Chad Dawson 31-1, 17KOs in a match up of two of the top ten pound for pound boxers in the sport. This fight takes place on September 8th at the Oracle Arena in California in a twelve round super middleweight bout.
Undefeated Ward has taken on the best fighters boxing has to offer and not only has he won those fights but he has dominated them, rarely losing a round in the process. The former Gold Medal Olympian and Super Six Champion defeated Carl Froch, Sakio Bika, Arthur Abraham and Mikkel Kessler. Opposing him will be Chad Dawson who has also beaten world class fighters like Antonio Traver, Glen Johnson and in his lasting outing, future Hall of Famer, Bernard Hopkins. His lone professional loss was to Jean Pascal but since the lost, he`s unbeaten in his last three outings.
Ward will be facing the most powerful puncher to date in Dawson who fought most of his career at the light heavyweight division, seven pounds heavier than the supper middleweight division. However, Ward should prevail in this close tactical counter punching fight because he has looked nearly unbeatable in his last couple of fights and has done it against stellar competition. He also has more speed and better defense than Dawson and has fought the slightly better opposition over his career. The winner of this bout will undoubtedly move up the list of the best pound for pound fighters in the world.