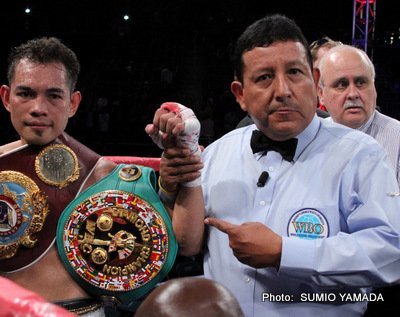 By Joseph Herron – Since bursting onto the big stage of boxing with one crushing left hook to the chin of the most feared Flyweight in the world circa 2007, Nonito Donaire has been one of the most dominant fighters in boxing. With lightning fast reflexes and freakish power for a lower weight division fighter, "The Filipino Flash" has made twenty nine consecutive victories look like an easy month at the office.
But like many dominant fighters of years past, Nonito Donaire currently finds himself in somewhat of a boxing quandary.
It seems the 29 year old fighter's reputation has preceded his presence in the ring since placing a dent in the face of Fernando Montiel on HBO last year; not only to his opposition, but to the fans of boxing as well.
Since destroying the three division world champion on February 19th, 2011, most of Nonito's opponents have receded into a timid and unwilling shell while standing in the ring with the pound for pound fighter. Although it's an amazing testament to the talents of the proud Filipino pugilist, it doesn't make for a very eventful evening of boxing.
After Donaire's third championship victory in the Super Bantamweight division on Saturday, October 13th, his opponent admitted that his reluctance in the ring was intentional.
"The difference in the fight was the speed and I had to be careful," stated Toshiaki Nishioka. "I had never faced a fighter with the speed of Donaire."