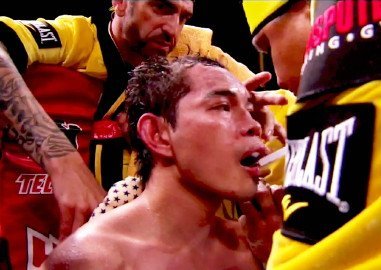 By Rob Smith: WBO super bantamweight champion Nonito Donaire (31-1, 20 KO's) has been selected as Fighter of the Year for 2012. Donaire got the nod over 39-old Juan Manuel Marquez, who fought only twice in 2012 compared to the four times that Donaire fought. Donaire's selection was based on wins over Jorge Arce, Wilfredo Vazquez Jr., Jeffrey Mathebula and Toshiaki Nishioka.
Two of those fighters – Arce and Nishioka – were well respected fighters and at were at one time high quality fighters. Vazquez Jr. is one of the best fighters in the 122 pound division, although far from the best. Mathebula had recently won the IBF title against Takalani Ndovu by a 12 round split decision.
Donaire dominating Arce and Toshiaki, but struggled against Vazquez Jr. and Mathebula in wins that weren't really impressive or even close to being impressive.
It looks like Donaire got the 2012 Fighter of the Year award based on activity level because he four times during 2012 and for his wins over the aging stars Arce and Nishioka. Watching Donaire's performances against Vazquez Jr. and Mathebula, it would be impossible for me to give Donaire fighter of the year for those victories because Donaire really struggled in those fights and he didn't look worthy of Fighter of the Year based on those two fights.
As far as beating Arce and Nishioka goes, I don't think it was a big deal that Donaire beat these guys. Both Nishioka and Arce were faded fighters when Donaire fought them, and I would have had an incredibly hard time seeing Arce or Nishioka lasting 12 rounds against the better fighters in the super bantamweight division like Guillermo Rigondeaux and Abner Mares.
Indeed, I think those fighters would have wiped out Nishioka and Arce without any problems, and I also think that Rigondeaux and Mares would have beaten Donaire's other two opponents for 2012 Vazquez Jr. and Mathebula. In other words, I don't think Donaire's victories over those guys are deserving of him getting the 2012 Fighter of the year award.
When giving out an award like Fighter of the Year, you need to focus on looking which fighters had the quality opponents and impressive performances. I don't see any quality on Donaire's 2012 resume. Maybe if Arce and Nishioka were 7 years younger, we might be talking about decent quality, but not now. 36-year-old Toshiaka was way his prime and the same with Arce.
I think Juan Manuel Marquez deserved the award, and if not him, then Robert Guerrero. Those guys have quality victories and weren't beating up on old guys.