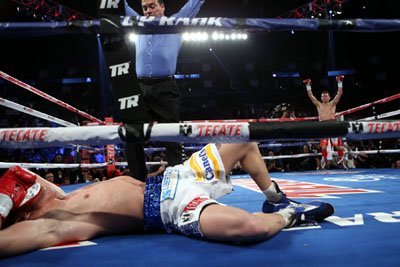 By Bill Phanco, Photo: Chris Farina – Top Tank — In a dreadful mismatch, WBO super bantamweight champion Nonito Donaire (31-1, 20 KO's) totally annihilated a smaller and older Jorge Arce (61-7-2, 46 KO's) in stopping him in the 3rd round in front of a large crowd at the Toyota Center in Houston, Texas. Arce was down three times in the fight and put out of his misery with a hard left hook in the 3rd round that knocked him out.
Arce, 33, was down once in the 1st round and another two times in the 3rd round.In an interview after the fight. Arce said he was retiring. He made a reported $800,000 for the fight.
The first knockdown occurred in the 1st round when Donaire bumped into Arce, sending him to the canvas. The referee blew the call and scored it as a knockdown. Arce did very little in the round and just looked like he was afraid to get hit.
In the 2nd, Arce came out a lot more aggressive and was immediately dropped by a right hand from Donaire. After the knockdown, Arce was a little more aggressive as the took the fight to Donaire, but the action was still largely controlled by Donaire with his left hook, jabs and occasional rights.
Donaire staggered Arce in the 3rd round with a short right hand and then put him down. A badly hurt Arce staggered back to his feet and was met with a left/right combination followed by a big left hook that knocked him down and out. The fight was then halted by referee Lawrence Cole at 2:59 of the round.
After the fight Donaire said he's interested in facing WBC supper bantamweight champion Abner Mares, but if he can't get that fight then he wants WBA champion Guillermo Rigondeaux.
Other boxing results on the card:
Victor Terrazas SD 8 Juan Ruiz
Jose Felix Jr TKO 3 Meacher Major
Cedric Agnew UD 6 Alfredo Contreras
Sukhrab Shidaev KO 3 Jose Trevino
Saul Rodriguez UD 4 Pablo Brates
Tremaine Williams UD 4 Rafael Casias