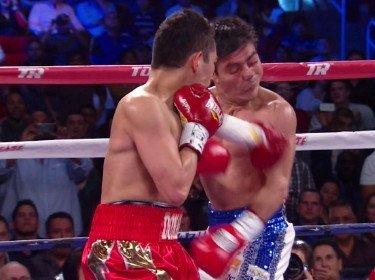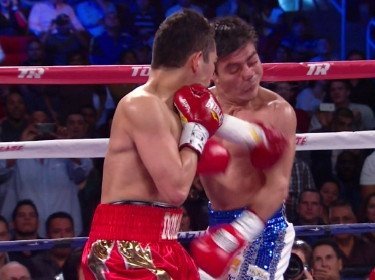 By Joseph Herron — After annihilating five-division world titlist Jorge Arce this past Saturday night at the Toyota Center in Houston, Texas, boxing fans around the world are anxious to see who Nonito Donaire will step in the ring with in 2013.
Most fight fans and boxing scribes have been clamoring for a Super Bantamweight showdown with WBC title holder Abner Mares or WBA champ Guillermo Rigondeaux. While the matchmaking for Donaire has most recently been decided by boxing manager extraordinaire Cameron Dunkin and Hall of Fame promoter Bob Arum, "The Filipino Flash" claims that he is and always has been ready to take on the best fighters in boxing.
"As much as you want to fight someone, sometimes it just doesn't happen in the boxing industry. It's really not up to you unless you're a Pacquiao or a Mayweather," insists Nonito Donaire. "At this point in my career, I just tell my handlers that I want to fight this guy, and they see if they can make it happen."
"If it's not possible at the time, then they just send over the contract that says you're fighting this person or that person. If they place Mares or Rigondeaux on that dotted line next to my name, then that's who I'll meet in the ring. That's the way it usually is with me. It doesn't matter who it is. If your name is on the contract, then that's who I'm going to fight. It's just a blessing to be able to fight as often as I have been."
In an era in which most superstars of the sport average only two appearances per year, the 30 year old fighter feels it's important for the faces of boxing to fight regularly.
"The only reason why the top fighters of the sport don't fight more frequently is because of money. For the amount of money that the top fighters make per bout, they should fight more often. But a lot of people just don't have that mentality."
"For me, it makes me a better fighter to stay as active as possible. If you've been in the industry for a long, long time, it's hard to go to the gym every day and stay sharp and motivated if you don't have a fight scheduled. But if you do have a fight on the boxing calendar, you have to train. You have to stay focused and determined. That's ultimately why I chose to fight for a fourth time this year."
"Because I've stayed so active, I feel great and feel like I'm always improving. For the health of the sport, the elite fighters should do the same thing. It gives fans something special to look forward to."
After staying active and experimenting with different fight tactics over his previous four bouts in 2012, Nonito truly believes that he will prove to be a difficult outing for any fighter he faces next year.
"I've shown over the past year that I'm a very resourceful and versatile fighter. I have the confidence in my abilities that I will come out victorious every time I step in the ring. I don't think there's anyone who can come close with the style that I've been creating."
"I really don't concern myself with what other fighters feel they bring to the ring. It could be Rigondeaux or Mares…I'm going to go out there and execute my fight plan and not worry about what they can do."
"In the past, I've tried to study other fighters and their fight styles and have found myself anticipating too much in the ring. I fight better if I don't know what they're going to do. I would much rather see it the way I do in the ring and not from viewing their previous fights with other opponents. Because they've never been in the ring with fighter who fights like me, it doesn't do me any good to really examine their previous fights."
"As long as I know their general fight style, I can be successful in the ring. With my style, I'm confident with what I can do. I really doesn't matter who it is. It could be Mares who would probably try to smother me, or Rigondeaux who would more than likely try to box me; I feel with the style I've created, I can adapt to anyone."
"I'm a very versatile fighter. I can fight in multiple styles. The style that I'm fighting with at this time, being smart and setting my shots up properly, anyone will fall…it doesn't matter who it is."
In recent media workouts, which customarily occur during the week of a big fight, Nonito has become renowned for his uncanny ability to accurately emulate the fight styles of other popular boxers. The Filipino fighter claims to have developed this skill early in his career.
"I've simulated fight styles since I was little," claims the four division world champion. "The best way for me to learn how to fight was by looking at someone doing it and copying their style, rather than being told how to do something."
"Like Sugar Ray Leonard, for instance. I fought like Leonard growing up. De la Hoya, Trinidad, Jones, Tyson…I fought like all of those guys when I was younger. That's how I learned how to fight and that's why I'm so versatile in the ring today."
"I was never good at receiving instruction. I was always better at replicating styles and that's how I learned. That was the foundation of my fight style and I eventually made it my own when I learned how to box properly."
"That's actually why I really don't like to study an upcoming opponent too meticulously, because I start fighting like my opposing fighter. The more I watch the other guy, the more I start to resemble his style…and I don't want to fight like that person."
Regardless of what style Nonito adopts in the ring on any given night, the pound for pound fighter insists he will be ready to battle any of the top Super Bantamweight fighters in 2013…if it fits within the plans of the boxing triumvirate: HBO, Cameron Dunkin, and Top Rank.
"I'm willing to face anyone in boxing, but it's ultimately up to Cameron and Top Rank. I wish it were as easy as me telling them who I wanted to fight. But money is the ultimate decision maker in the sport. If HBO is willing to buy a certain match-up, then that's the fight that gets made. It's as simple as that."
"I'm just keeping it real. Top Rank has been really good to me and Cameron is the best manager on the planet, as well as being a great friend. They have done a lot for my career and I owe them a great deal…so a fight ultimately gets made if it makes the most sense, or cents, to them."
"It really doesn't matter if it makes the most sense to me or the fans. It's entirely up to the networks, my promoter, and my manager."
"We ultimately hope that the fans enjoy whatever fights are made, but that's the process. But I'll be ready for whoever they put in the ring with me in 2013."