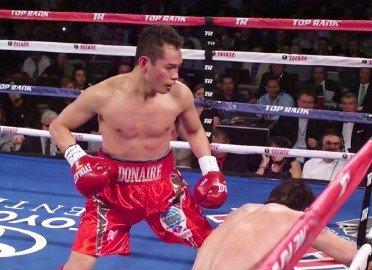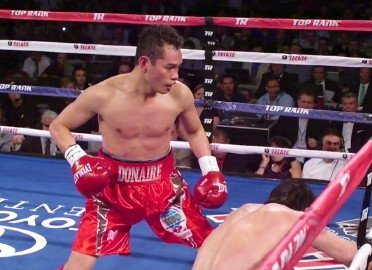 By Rob Smith: Top Rank promoter Bob Arum says he made an offer to Golden Boy Promotions for a fight between his fighter WBO super bantamweight champion Nonito Donaire (31-1, 20 KO's) and their fighter WBC super bantamweight champion Abner Mares, but Golden Boy didn't agree to the offer, according to RingTV.
Arum is now looking to match Donaire against his other top super bantamweight WBA champ Guillermo Rigondeaux (11-0, 8 KO's) on April 27th at the Mandalay Bay Resort & Casino, in Las Vegas, Nevada, USA.
This could end up a much tougher fight for the 30-year-old Donaire by virtue of Rigondeaux's superior speed, counter punching, power and defensive boxing skills. Rigondeaux doesn't leave himself open nearly as much as Mares typically does thanks to his much more cautious style of fighting. Mares would have been a perfect opponent for Donaire with his aggressive brawling style of fighting. That match-up would have given Donaire a lot of chances to land his big left hook shots.
Donaire's trainer Robert Garcia sees Rigondeaux as a more difficult match-up owing to his skills. Garcia still thinks Donaire will win but he believes it's going to be a much more difficult fight.
For Donaire to win he's going to have to take a lot of power off of his left hook for the reason that Rigondeaux likes to counter fighters that load up on their shots. He knows how to block a left hook and it's going to be tough for Donaire if that weapon is taken away from him. Donaire has a good right hand but his main weapon his left hook. Without that, Donaire isn't that special.
We saw Donaire get badly marked up against Wilfredo Vazquez Jr. last year in their fight, and he wasn't able to land his left hooks in that fight with any regularity. We also saw Omar Narvaez take Donaire's left hook away from him in 2011, and Donaire looked mediocre in beating him.
You've got to figure that Rigondeaux, a fighter with two Olympic gold medals and 400 amateur fights, will know how to take away Donaire's left hook. This could be a really interesting fight if Donaire only has his right hand to try and fend off Rigondeaux's power shots.
If Donaire insists on loading up with every shot he throws, he could end up getting taken out on a body shot by Rigondeaux. Donaire may have the best power in the super bantamweight division, but Rigondeaux is arguably the best body puncher in all of boxing. Donaire hasn't fought anyone like that before, and it's going to be interesting to see how he reacts to getting hit hard in the midsection each time he loads up on a big shot.