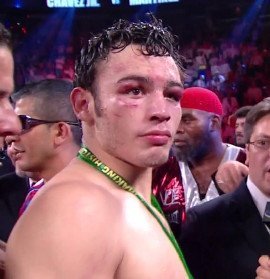 By Joseph Herron: Be careful what you ask for in boxing, because you just might get it. After the drama filled conclusion of Top Rank's main event at the Thomas & Mack Center in Las Vegas, Nevada, on September 15th, many questions remain concerning the heated rivalry between former WBC Middleweight Champion Julio Cesar Chavez Jr. and universally recognized 160 pound king Sergio "Maravilla" Martinez.
While the Argentine sharpshooter dominated JCC Jr. for eleven rounds of their twelve round battle, the epic final stanza opened the door for a lucrative rematch in the minds of many devoted fight fans.
Followers of the 26 year old fighter claim that an immediate rematch is a boxing imperative for true Middleweight supremacy. Junior's supporters allege that Martinez was saved by the final bell of their epic showdown, and a rematch in "Chavez Country" would result in a decisive and resounding KO.
Although the Chavez faithful are confident that an additional crack at Maravilla will yield a big victory in Cowboy Stadium, most fight scribes are in agreement that Sergio Martinez would defeat JCC Junior more convincingly if the two fighters met for a second time.
Because Chavez Jr. didn't lose very much credibility with the fight public after punishing Martinez for one round out of twelve, would it ultimately be more advantageous for the young fighter to bypass a dangerous rematch with the much faster Maravilla?
Julio's scenario isn't unprecedented.
When Mexican Super Middleweight Librado Andrade initially fought former IBF title holder Lucian Bute in October of 2008, most fight fans and boxing scribes anticipated a one sided contest, dominated by the quicker and more technically proficient defending champion.
What they saw four years ago was Bute dominating ten rounds of the championship bout, and Andrade coming on in the final minutes of action; almost knocking out the favored combatant in an eventual losing effort.
With only seconds remaining in the fight, Andrade floored the fleet footed Champ, who was seemingly saved by the hometown referee. The incumbent title holder received a very long count from the third man in charge and rose from the canvas on beaten, wobbly legs to officially end the contest with a unanimous but controversial victory.
Most onlookers believed that the Mexican fighter merely ran out of time and would surely prevail in a return bout. For months Andrade's supporters clamored for a rematch, hoping to even the score and become a world champion in one of the most talent filled divisions of boxing.
When Andrade finally received his highly anticipated second shot at Lucian Bute in November of 2009, the hard-nosed Mexican fighter was severely overmatched and brutally stopped in just four rounds. The brave Super Middleweight contender never regained his short lived popularity that stemmed from his controversial first fight with Bute.
After being knocked out in the heavily publicized rematch, Librado Andrade lost his image of being a tough, rugged, and iron-chinned contender. He was no longer viewed as a potential title challenger and was lightly regarded thereafter.
Would Julio Cesar Chavez Jr. suffer a similar outcome from an eventual return bout with Maravilla?
If Chavez elects to completely bypass a second match with Sergio Martinez, it's possible that he could carry his valiant but losing effort with him like a red badge of courage for the remainder of his career; just as current WBC Heavyweight Champion Vitali Klitschko did in June of 2003.
After dropping a 6 round TKO loss to lineal Heavyweight Champion Lennox Lewis, due to a gruesome cut over his left eye, Vitali Klitchko gained global recognition for his brave and warrior-like effort. His desire to continue after suffering one of the most brutal cuts in the history of Heavyweight boxing was viewed by millions of fight fans on HBO World Champion Boxing.
As a result, the impactful performance is currently regarded by many as Vitali's biggest "moral victory" to date. The WBC Heavyweight Champion is also considered by most to be one of the toughest fighters in the sport.
Should Chavez take advantage of his chivalrous efforts in the final round of Saturday night's main event and avoid a dangerous but compelling rematch with Maravilla?
It could be the smartest move of his young and promising fight career.