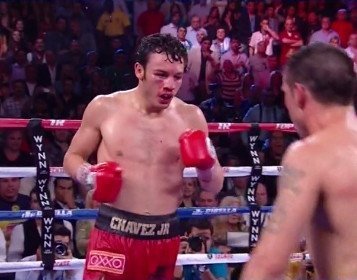 By Marcus Richardson: If WBC president Jose Sulaiman gets his way there won't be an immediate rematch between former WBC middleweight champion Julio Cesar Chavez Jr. (46-1-1, 32 KO's) and newly crowned WBC champion Sergio Martinez (50-2-2, 28 KO's) in early 2013. Sulaiman says that the WBC doesn't allow immediate rematches for one-sided fights like the September 15th fight where Chavez Jr. took a real pounding in losing by a lopsided 12 round decision to the 37-year-old Martinez.
Sulaiman said to fightnews.com "The WBC is not in favor of immediate rematches, unless there is overwhelming public demand due to some unusual circumstances in the first fight. The fight was one-sided…There was no unusual circumstances to necessitate an immediate rematch."
Of course there wasn't. It's painfully obvious that this is just an opportunity for Chavez Jr., Martinez and Top Rank to make a lot of money in a rematch that could take place at the Cowboys Stadium in Texas. It's not a fight that's in high demand but rather a fight that would do well because all of Chavez Jr's fights do well. Id venture to guess that Chavez Jr. could fight at the Cowboys Stadium against pretty much any middleweight in the division and the fight would pack in at least 40,000 fans and do well on HBO pay per view. That's just because of how popular Chavez Jr. is and not because his fight against Martinez last September 15th was an exciting one. Other than the last minute of the 12th round, the fight was completely one-sided with Chavez Jr. getting dominated.
Bob Arum, Chavez Jr's promoter, needs to do him a big favor by forgetting about the rematch with Martinez. Sulaiman seems to have his head screwed on straight by saying there's no need for a Chavez Jr-Martinez rematch. He's obviously seeing things from a long term perspective instead of just for the short term money that can be made on the fight. Chavez Jr. can make a lot more money simply by putting him in winnable situations against guys that don't move a great deal. That's the smart thing to do.
A Chavez Jr-Martinez rematch could mess Chavez Jr's popularity up and also possibly shorten his career by having him take another beating and another loss. Sulaiman seems to understand that it might not be a good idea to let Chavez Jr. take this fight, at least not immediately. If Martinez ages some more then it would be a good fight, but right now he's still fighting at too high of a level for Chavez Jr. to have good chance of beating him. To be sure, Chavez Jr. would have a chance of winning in a rematch next year, but it wouldn't be a safe bet.
If Chavez Jr and Top Rank really wants the Martinez rematch then I imagine Sulaiman will cave in and let the fight happen despite the likelihood that the rematch will be even more one-sided then the first fight. Chavez Jr. and Top Rank will make a lot of money for the fight, as will Martinez. I don't think it's a smart idea as I mentioned but it'll probably happen if they really want this fight.