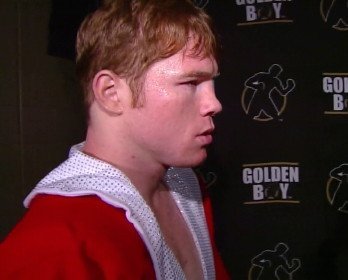 By Joseph Herron – On November 10th, at the Wynn Las Vegas, Vanes Martirosyan will finally face Erislandy Lara in a highly anticipated WBC Junior Middleweight title eliminator, which should place the eventual winner in a Championship contest opposite current WBC title holder Saul "Canelo" Alvarez in 2013.
While many fighters and boxing scribes alike have characterized the WBC's involvement with Canelo's championship run as unscrupulous, the president of the WBC has assured boxing fans and all three fighters involved with the 154 pound mini tournament that the eventual mandatory challenger for the WBC Junior Middleweight crown will indeed receive their deserved title opportunity immediately following the conclusion of the big November 10th event.
"Saul Alvarez must defend his title against the winner of the November 10th contest between Vanes Martirosyan and Erislandy Lara," asserts Don Jose Sulaiman. "If he does not want to face the winner immediately after the conclusion of the contest, then he will have to forfeit the title."
"If Golden Boy Promotions has an already existing fight on the schedule before the November 10th winner has been decided, then we will allow Alvarez to defend the title as the WBC Junior Middleweight Champion. But he must immediately face the mandatory challenger following a successful title defense in his succeeding contest or relinquish the belt."
While Sulaiman and company have been heavily criticized by a portion of the boxing media for favoring specific fighters of a certain nationality or ethnic distinction, the WBC have recently shown an ability to intercede and enforce their by-laws when necessary.
"When many people were criticizing the WBC for not enforcing the rules concerning the Middleweight championship earlier this year, we upheld the laws of the WBC and the matter was concluded with a championship fight between Julio Cesar Chavez Jr. and Sergio Martinez on September 15th."
"The WBC is prepared to enforce the rules in this situation within the Junior Middleweight division as well. Without respect for the laws that govern the WBC Championship, the title would not be recognized any longer and the WBC would fall to the bottom of the mountain."
With very few television dates remaining on the 2012 Showtime event calendar, it will be interesting to see if Golden Boy Promotions squeezes in another voluntary title defense for Canelo Alvarez by year's end.