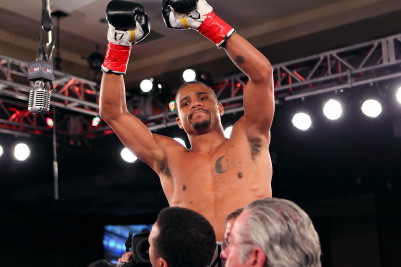 (Photo credit: Tom Casino/SHOWTIME) CABAZON, Calif. (Dec. 31, 2011) – Jermain Taylor and Andre Dirrell made triumphant returns to the ring Friday, both winning by knockout during a special edition of ShoBox: The New Generation on SHOWTIME®.
Taylor (29-4-1, 18 KOs), of Little Rock, Ark., registered an eighth-round knockout over game but outclassed Jessie Nicklow (22-3-3, 8 KOs), of Baltimore, Md., in the main event at Morongo Casino Resort & Spa.
Dirrell (20-1, 14 KOs), of Flint, Mich., scored two knockdowns en route a second-round knockout over Darryl Cunningham (24-3, 10 KOs), of Detroit, in the co-feature.
Taylor was making his first start in 26 months; Dirrell his first in 21.
In the opening bout of the telecast, former Cuban amateur standout Luis "El Leon" Garcia (12-0, 9 KOs) of Cork, Ireland, won his United States debut and dealt southpaw Alexander "The Great" Johnson (12-1, 5 KOs, 1 NC) of Oxon Hill, Md., his first defeat on a lopsided eight-round decision.
Taylor, a former undisputed world middleweight champion, did not drop the much smaller Nicklow and he had a point deducted for a late hit after the bell sounded in the sixth.
But Taylor, making his first start since Oct. 17, 2009, was in total command and well ahead on points (69-63 on all three scorecards after seven completed rounds) when the referee stopped the match 36 seconds into the eighth. Nicklow was adamant that he could have continued but the outcome had long been decided and he had taken a beating.
"I felt a little rusty but as the rounds went by I got more comfortable,'' Taylor said. "I wanted to try and go in there and have some fun. We'll see where I go from here. There is no timetable. But I'm not going to walk from it. I'll fight anybody.''
Regarding the late hit, Taylor said, "I got a little frustrated with him leading with his head so much, but it is something that will never happen again. I apologize to all my fans. It was very unprofessional of me.''
Dirrell floored Cunningham two times in the second round before the bout was stopped at 2:05. Dirrell's first knockdown came from a long left hand, the second from a short right hook.
"I am just so happy to be back,'' said Dirrell after this first fight since March 27, 2010. "I wanted it to go further, but I felt really good. My hands felt lighter, my feet felt fast. I'd say I fought at about 99.5 percent, which was more than I could ask for.
"Time will tell what I do next, but I'm going to continue to work hard. There is such a small window. I'm 28 years old. I'm just going to continue to push forward.
"But I can finally see the big picture again.''
Garcia, who recently turned 24, is a boxer you may want to keep an eye on in 2012. Performing with poise, he thoroughly dismantled Johnson, winning every round, even though he, like Taylor and Dirrell, was coming off a lengthy layoff.
"This was my first fight in over 13 months and I was a little rusty but I am happy to get the win and looking forward to fighting again very soon in the states,'' said Garcia after triumphing by the scores of 80-71 and 80-72 twice. "I promise that I'll give the fans a much better show next time.''
The tripleheader will re-air this week as follows:
DAY CHANNEL
Tuesday, Jan. 3, at 10 p.m. ET/PT SHO EXTREME
Friday's fights will be available ON DEMAND beginning Monday, Jan. 2.
Curt Menefee called the action from ringside with Steve Farhood and Antonio Tarver serving as expert analysts. The executive producer of ShoBox is Gordon Hall with Richard Gaughan producing and Rick Phillips directing.
Upcoming in 2012: ShoBox returns next Friday, Jan. 6, during a Free Preview Weekend on SHOWTIME (11 p.m. ET/PT, delayed on the West Coast) with a doubleheader featuring lightweights. In the main event at Fantasy Springs Resort Casino at Indio, Calif., unbeaten southpaw Luis Ramos (20-0, nine KOs) of Santa Ana, Calif., faces Raymundo Beltran (25-5, 17 KOs) of Los Mochis, Mex. Undefeated prospects Michael "The Artist" Perez (15-0-1, 9 KO's) of Newark, N.J., and Omar "Panterita" Figueroa Jr. (13-0-1, 10 KO's) of Weslaco, Tex., clash in the co-feature.
On Friday, Jan. 20, on ShoBox (11 p.m. ET/PT), World Boxing Association (WBA) super bantamweight champion Rico Ramos (20-0, 11 KOs), of Whittier, Calif., will defend against 2000 and 2004 Olympic Games gold medalist and WBA interim champion Guillermo Rigondeaux (8-0, 6 KOs), of Miami, Fla., by way of Cuba, at the Pearl at Palms Casino Resort in Las Vegas, Nev.
In the main event on SHOWTIME CHAMPIONSHIP BOXING on Saturday, Feb. 11 (10 p.m. ET/PT), former world champions "Vicious" Victor Ortiz (29-3-2, 22 KO's), of Ventura, Calif., and Andre Berto (28-1, 22 KO's), of Winter Haven, Fla., will slug it out in a rematch of one of 2011's most exciting and memorable fights at the MGM Grand Garden Arena in Las Vegas, Nev.
For information on SHOWTIME Sports, including exclusive behind-the-scenes video and photo galleries, complete telecast information and more, please visit the website at http://sports.SHO.com.
Jonathan Gonzalez and Badou Jack Named to ESPN Top Prospects List for 2011
Warriors Boxing is proud to announce that two of its young fighters, junior middleweight Jonathan "Mantequilla" Gonzalez and super middleweight Badou Jack "The Ripper", have been named to ESPN Columnist Dan Rafael's Super 25 list of the best prospects of 2011.
22-year-old Gonzalez, co-promoted by Warriors along with Gary Shaw Productions, is 14-0, 13 KOs. 28-year-old Jack, co-promoted by Warriors along with Lou DiBella, is 9-0, 8 KOs.
According to the esteemed columnist Rafael, Gonzalez is "…a strong volume puncher who loves to bull forward and look for knockouts. But he can also box and fights in a confident, relaxed manner. He picked up his most notable victory in June, when he broke down onetime contender Richard Gutierrez in impressive fashion to win a lopsided decision on Showtime's "ShoBox" in New York on the eve of the annual Puerto Rican Day parade."
Rafael describes Jack as "…a bit of a project, but he can fight and is a crowd-pleasing, come-forward fighter with solid power. Although born in Sweden and now living in Las Vegas, he was the first boxer to make the Olympics for the African country of Gambia (his father's native nation) in 2008. He turned pro in 2009 and fought in Europe but fought only once in 2010 before relocating to the United States, where he has won all four of his 2011 bouts, each by knockout.
"Being included in a list like this bodes very well for both guys," said their promoter, Leon Margules, President of Warriors Boxing. "Dan is one of the premier writers in the sport and he knows his stuff. Superstars and world champions have appeared on his yearly list before ascending to the top of the sport and we're very happy Jonathan and Badou have both been included in such esteemed company."
The Fight To Ireland – WBF Gaelic/Celtic Championship Inaugural North American Event Announced
The World Boxing Federation has announced "The FIGHT to IRELAND" to support their newly created regional European title, the new WBF Gaelic/Celtic Championships.
The FIGHT to IRELAND is a direct road to IRELAND, now American Professional Fighters can compete to earn the right to represent North America in the World Boxing Federation Gaelic/Celtic Championships.
The Fight to Ireland w ill be promoted nationally by Alex Beadle, President of the Georgia Boxing Association. Mr. Beadle stated "this is a great opportunity for Irish American/ Celtic fighters to compete to fight in their home country.
Irish American fighters have contributed greatly toward early American boxing history and we (fighters and fight fans) are forever grateful.
It is an honor to promote a title that embraces the heritage of some of the most feared fighters in history.
It is our goal to finale The Fight to Ireland each year on St. Patrick's Day. We believe Irish and boxing goes hand and glove, unless you ask the late great Irish bare knuckle champion Dan Donnelly who probably would say he could do without the gloves".
On behalf of myself WBF North American Coordinator Alan Santana, WBF President Howard Goldberg, WBF Irish Republic Representative David Walshe, WBF European Coordinator Olaf Schroeder and The World Boxing Federation welcomes Mr. Beadle and his team to build our WBF Gaelic/Celtic Championships here in North America.
The first fight is scheduled to begin March 17th St. Patrick's Day in Savannah, GA. The WBF Gaelic/Celtic Championships is open to the six original Celtic nations are Ireland, Scotland, Wales, Cornwall, Brittany and the Isle of Man, however Gaelic people also have roots in parts of Spain, Portugal, France and Nova Scotia.
Credit for the creation of these championships goes to new WBF Irish Republic Representative David Walshe, who reasons: "The criteria to qualify for an Irish title restricts many non-Irish-based boxers the opportunity to fight for what is seen in their eyes as a very important title because of their Irish lineage.
The WBF Gaelic Celtic Championships, however, includes hundreds of boxers
all over the world and gives them a chance to box for an Irish-connected title."
EVENT SUMMARY
The Fight to Ireland begins with the World Boxing Federation's inaugural Gaelic /Celtic Title. This title is offered to the six original Celtic nations Ireland, Scotland, Wales, Cornwall, Brittany and the Isle of Man. Regardless of citizenship American boxers with Celtic heritage is the mark for eligibility to fight for this prestigious World Title.
The World Boxing Federation has approved the winner of this fight an ANNUAL guaranteed title fight in Ireland. Ireland has been the origin of boxing for some of the most feared fighters' in history.
With Ireland's deep rooted boxing heritage and North America's National celebration of St.Patrick's Day, we believe this to be an excellent opportunity to promote the FIGHT to IRELAND in front of millions of spectators looking to embrace a true Irish-American past time.
The FIGHT to IRELAND's global vision is to have the best Celtic/American fighter become the State Parade Champion then represent America and his great family name in the biggest fight in Ireland. To achieve this, we embrace sponsors' willing to have their products and services, showcased and associated with the professional global boxing.
The Debut FIGHT to IRELAND will be fought on St.Patrick's Day in Savannah Georgia.The city of Savannah host the second largest St.Patrick's Day celebration outside of Ireland. This event draws approximately 600,000 spectators and national media coverage. The FIGHT to IRELAND will be interwined inside the national coverage of the St. Patrick's Day parade equipped with a "GBA fight float" with a pre-negotiated position behind the world famous Budweiser Clydesdales horses. The live event will be covered by FoxSouth seen in 10 million homes in over 7 states.