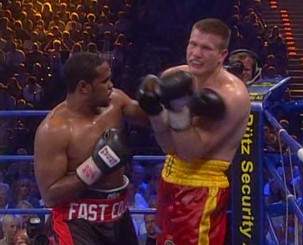 In a bout that has the makings of a match made in boxing heaven, former World Boxing Organization (WBO) Heavyweight Champion Sergei "White Wolf" Liakhovich takes on top Heavyweight Contender "Fast" Eddie Chambers to open the new NBC Sports Network's Fight Night on January 21, 2012, at 9pm, at Asylum Arena in Philadelphia.
Sergei is a native of Belarus and grew up in the former Soviet Union. He attributes his upbringing to the type of fighter and person he is today. "Growing up in Belarus was the best life lesson for me. It prepared me for all the challenges that life brings." "It made me stronger and hungrier for a better life." Someone once said 'sports does not build character, it reveals it,' growing up in Belarus definitely helped build my character!"
Since he was 12 years old, Liakhovich always dreamed of becoming a professional boxer. When Sergei was young he would cut out articles from newspapers and magazines which featured fighters like Mike Tyson and Evander Holyfield. He envisaged becoming a boxing icon. "I knew that the United States was the most important place to be in order to make it big in professional boxing. When I was 23, I obtained one of my goals by coming to the US, it wasn't easy. Becoming World Champion at 29 was the next big accomplishment, now I intend to continue the dream by becoming a world champion again" Sergei said.
Liakhovich
Commenting about fighting in a city with a rich boxing heritage, Liakhovich said, "Philadelphia has so much boxing history and true boxing fans. I grew up in the working class city, so this feels like going home to me. One of the biggest compliments you can have as a fighter is when you can turn a crowd that comes to support the home town guy into your own fans by the end of the fight. It happened in Pittsburgh when I fought Brewster and I think it will happen again in Philly."
Sergei is pleased to be on NBC Sports Network's inaugural Fight Night show, "I am so excited to have the opportunity to be in the main event on NBC Sports Network's opening show. NBC is an important part of worldwide TV and to be chosen for this show was a privilege. Anyone who knows me knows that I give my all each time I step in the ring. I promise you nothing less on January 21st. In fact, since our styles match perfectly, when Chambers and I mix it up, it will be a night boxing fans will talk about!"
_____________________
Promoted by Main Events, Peltz Boxing Promotions and Goossen Tutor, the non-televised undercard fights will begin at 7 p.m. Televised fights will begin at 9 p.m.Tickets are priced at $45 and $65 can be purchased by calling Peltz Boxing, (215) 765-0922.
MSG NETWORK TO RE-TELECAST WBA HEAVYWEIGHT WORLD TITLE BOUT: ALEXANDER POVETKIN VS. CEDRIC BOSWELL
New York, NY (December 30, 2011) – MSG Network will ring in the New Year with a special re-telecast of the WBA Heavyweight world title bout between Alexander Povetkin versus Cedric Boswell. The fight, which originally aired on EPIX, will debut on MSG Network on Tuesday, January 3 at 8:00 p.m.
Undefeated heavyweight Povetkin scored an eighth round knockout of Boswell to successfully defend his WBA heavyweight title on December 3 at the Hartwell Arena in Helsinki, Finland. Boswell, after 17 years as a professional boxer, finally got his world title shot, but after suffering an injured shoulder early in the fight he eventually fell to the increasing pressure and barrage of punches from the Russian champion in the eighth round. The fight was Povetkin's first defense of his WBA title.
Povetkin improved to 23-0 (16 KOs), while Boswell (35-2, 26 KOs) lost for the first time since 2003.
The broadcast team consists of former MSG boxing broadcaster and current WNBC sports reporter Bruce Beck, ESPN.com's Dan Rafael and legendary trainer Freddie Roach, who called the original EPIX broadcast from the MSG Network studios.
New world rankings signal GB's emergence as a power in amateur boxing
Great Britain's status as an emerging power in amateur boxing has been confirmed in the newly published world rankings from the international governing body, AIBA, which put seven members of the GB Boxing squad in the top five in the world in their respective weight categories.
The new rankings for men place six members of the GB squad in the top five in the world in their class.
Light welterweight, Tom Stalker is ranked number one in the world at 64kg following his medal winning performances at the European Championships and the World Championships, which saw him qualify for the 2012 Olympic Games.
The other four boxers that have qualified for London are also ranked in the top five in the world in their weight divisions.
Flyweight Andrew Selby is ranked number two in the world at 52kg and Luke Campbell and Fred Evans are ranked number three in the world at Bantamweight (56kg) and Welterweight (69kg) respectively.
Super heavyweight (91+kg), Anthony Joshua, has improved his ranking from 46 to number four in the world following his spectacular arrival on the international scene that culminated in a silver medal at the World Championships in Baku.
The five Olympic qualifiers are joined by Khalid Yafai who is ranked number four in the world at Flyweight but was denied a place at 2012 following defeat by Andrew Selby in an Olympic Box-off.
In the women's version, Nicola Adams is ranked three in the World at Flyweight (51kg) although she is expected to improve on this when they are next updated as a result of her gold medal victory in the 2011 European Championships in October.
The rankings reflect a year of unprecedented success for GB Boxing. At the European Championships in June 2011, Fred Evans and Andrew Selby won gold and Tom Stalker and Charlie Edwards took silver and bronze.
In the autumn the men went on to record Great Britain's best ever performances at the World Championships in Baku when Andrew Selby, Luke Campbell and Anthony Joshua won silver and Tom Stalker secured bronze.
In October 2011, Nicola Adams became Great Britain's first ever female European Champion and was joined on the podium by Natasha Jonas and Savannah Marshall who won bronze medals in the 64kg and 75kg categories.
The GB squad finished the year in style with a stunning five gold medal winning performance at the Olympic test event held at London's Excel Arena.
GB Boxing's Performance Director, Rob McCracken, said: "The squad has performed very well in 2011 and to win 11 medals at three major tournaments (men's World Championships and European Championships and the women's European Championships) and have five boxers qualified for the Olympic Games is a superb achievement and a fitting reward for the hard work of the boxers, the coaches and the support staff.
"All of the men and women in the squad have made significant progress in the last 12 months and the results they have achieved show they are accomplished international performers that can challenge for a medal in every tournament they enter. It augurs very well for next year and as long as the boxers continue to work hard and maintain their levels of performance then we have every reason to feel confident as we head into 2012."
The new rankings can be viewed at http://www.aiba.org/default.aspx?pId=4248.