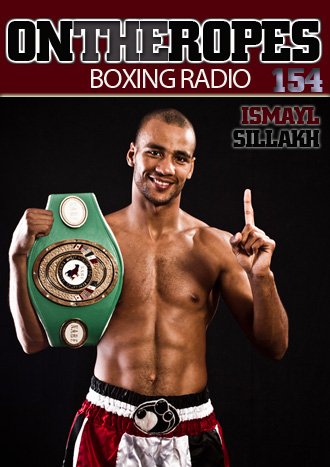 by Geoffrey Ciani (Exclusive Interview by Jenna J & Geoffrey Ciani) – This week's 154th edition of On the Ropes Boxing Radio featured an exclusive interview with light heavyweight contender Ismayl Sillakj (17-0, 14 KOs), who has been ordered by the WBC to square off against former champion Jean Pascal (26-2-1, 16 KOs) for the mandatory position to challenge for the title. Sillakh spoke about his career and the possibility of facing Pascal. He also shared his views on a wide variety of topics including his sparring sessions with Andre Ward, the Bernard Hopkins-Chad Dawson fight and whether he believes there will be a rematch, a potential fight between Hopkins and Lucian Bute, how he believes Floyd Mayweather's jail sentence might affect his career, whether he believes Mayweather will ever fight Pacquiao, and more! Here is what Sillakh had to say in the interview:
Regarding the recent WBC which ordered a Hopkins-Dawson rematch and how it affects him:
"Yes I was at the WBC convention. So the WBC made a decision for me and Jean Pascal to fight in a final elimination fight. So I hope Jean Pascal will take this fight and we will fight. The WBC is the most respected boxing organization, and I believe that Jean Pascal is not so big of a superstar to not go with this decision."
On where he sees himself in the title picture in the event Bernard Hopkins is stripped of the WBC title for not having a rematch with Chad Dawson:
"Yeah if it's true it would be great. I'm ready! I've spent 18 years in boxing. You know I had 317 amateur fights. So I've proven something with my boxing skills and everything to fight for a title fight. So I'm ready, and I'm hoping to fight for the title in a fight with Chad Dawson. I'll beat him."
Regarding what advantages he feels he holds over Chad Dawson:
"I'm young, strong, and fast so I just need to use my abilities and use my skills."
On whether he feels his skills and talents are underrated by the boxing public:
"No. I just don't know. I like boxing. I learned boxing from the Ukranian and Russian because I was born in the Ukraine. That's why when I moved to the US and my trainer Shaheed Saluki has given me more of an American style. So I got a mixture."
His views on getting the opportunity to fight on ESPN2's Friday Night Fights when he put on a great performance beating Yordanis Despaigne and what he believes that did for his career:
"It was a good fight for me, not for the Cuban guy. We both had good amateur careers so it was a good opportunity for me to show all of my skills on ESPN on nationwide television. It was a good opportunity for the future, and now I'm number two. I think after this fight people at the WBC and everybody felt he's not just another boxer. I can be a champion."
On whether he really feels he is ready for a title shot right now at age 26:
"Yeah, I'm ready! Like I said before I have 18 years in boxing. Nobody can surprise me in the ring. I'm ready."
Regarding his transition from amateur boxing (where he had over 300 victories) into the professional ranks:
"Yeah it was different. You know professional boxing is like a different sport. It's not just boxing without head gear and different gloves. It's different training stuff and everything is different for me. I actually always go to watch boxing. I love boxing and after the fight in 1992 when I was just 7 years old, with Evander Holyfield and Riddick Bowe. It was for the title shot and I saw this fight and I was like, wow! I want to be heavyweight champion of the world! So I hope in the future I can be heavyweight champion."
His views on the disappointing fight between Bernard Hopkins and Chad Dawson which was recently ruled a no contest:
"You know for this fight I thought Chad Dawson was in good, good shape. He was focused and he came into the ring to win. The first round was hard for Hopkins. I think maybe in his mind he understood that, and then that's what happened."
Whether he believes a rematch between Hopkins and Dawson will actually happen:
"No. I don't think so. Hopkins is a superstar. You know. He's a legend, so he's done it. He was in a fight with a guy who could beat him and he already knows. I don't think the fight will happen. I think Bernard will just leave the title and go down and fight with Lucian Bute."
His views on Jean Pascal as a boxer:
"Jean Pascal is a good fighter. I think he's just like I said before. He's a good fighter, a good puncher, but he's not a superstar and he makes a lot of mistakes. He's wild! He's not like a Floyd Mayweather who you can miss him. You will hit him a lot when you fight him. He's just a basic wild fighter. He goes in there, and fights, fights, comes in throwing a punch and wants to knock you out. So I don't think he's a guy who can beat me. I got good technique. So I just need to move a lot and punch him, and I think I'll knock Pascal out."
Whether he believes a victory against Pascal can help become better known amongst boxing fans:
" Yes of course! Of course I want Pascal and then somebody. I will just go step by step. I came to America to make my dream come true. My American dream would be to be champion, but Jean Pascal is just another step."
On how he sees a fight between Bernard Hopkins and Lucian Bute playing out:
"Oh! It's a good fight because I like Lucian Bute as a boxer, but then Bernard Hopkins like I said before is a superstar and a really smart boxer. I think Lucian. It's a good fight, but Bute I think Bute would win by decision."
His views on Super Six Champion Andre Ward and whether he sees Ward becoming a major player in the light heavyweight division within the next two years:
"Yes. Andre Ward is a good great fighter. I was in his camp like a year ago, and you know I saw him a couple of times and was like ah! Andre Ward is good, but not so good. But when I sparred with him, he is good. (laughs) He's a good, fast, very smart boxer, so if he comes to the light heavyweight division it's good opposition. He's good. And I think if Ward fights Lucian Bute he will beat him easy because he's too strong."
Regarding which boxers in the sport today he most enjoys watching:
"Floyd Mayweather. For me he's, not like an idol, but I respect him as a boxer and a businessman, but not like with the issues with his wife and his father, but you know as a boxer."
On how he feels Floyd Mayweather's jail sentence will affect his boxing career:
"It's bad. Yeah you know. It's bad because I know he trains everyday and he likes to keep in shape. I don't know. It's bad, but it is what it is. So as boxing fans we just need to wait, but it's bad because I think his fight on May won't happen against Pacquiao."
Whether he believes Mayweather's next fight will be against Manny Pacquiao:
"I hope so! (laughs) Like many fans around the world, we want to see Mayweather and Pacquiao. So we'll see, but Pacquiao needs to finish with Marquez before a Mayweather fight. So."
On what he considers to be his greatest strength that he brings into the ring:
"My skills. (laughs) Like I said I've had 18 years in boxing so I know a lot. I got pretty good power, I got speed, and I bring my brain into the ring. I think a lot."
On when we can expect to see him back inside the ring:
"Oh I don't know. We'll wait for the decision. Now we'll wait for Jean Pascal what he decides, and what our promoters do to make a decision for the next fight. We'll just wait."
***
For those interested in listening to the Ismayl Sillakh interview in its entirety, it begins approximately thirty-two minutes into the program.
RIGHT CLICK and 'SAVE AS' TO DOWNLOAD EPISODE #154
***
To learn more about "On the Ropes Boxing Radio":
Visit our official Website:
http://www.ontheropesboxingradio.com
Subscribe to our show on i-tunes:
http://itunes.apple.com/us/podcast/on-the-ropes/id427474189
Join our Facebook Group:
http://www.facebook.com/group.php?gid=231954175413&ref=ts
Or Follow us on Twitter:
http://twitter.com/JennaOnTheRopes
http://twitter.com/CianiOnTheRopes
To contact Geoffrey Ciani or Jenna J:
ontheropes@boxing247.com
To read more by Ciani or Jenna please visit The Mushroom Mag:
http://www.eatthemushroom.com/mag