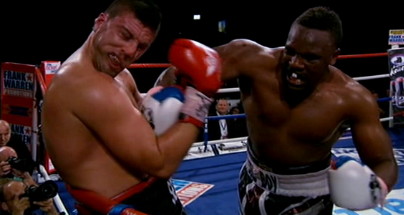 By James Slater: This coming weekend, in what is a huge, huge two days for boxing, three British fighters will very much go into the lion's den. The odds-makers say no when fans ask if Martin Murray can take Felix Sturm's WBA middleweight crown in Germany, if Dereck Chisora can win the vacant European heavyweight crown against Robert Helenius in Finland, and if John Murray can snatch the WBA lightweight crown from Brandon Rios in New York.
All three men, fine fighters in their own right, know they are up against it and are expected to lose, but all three warriors are convinced they have what it takes to be able to crush the odds so heavily stacked against them.
Unbeaten 29-year-old Martin Murray of St Helens is the first of the heroic trio to attempt to shake up the sport in a big way. Set to challenge the experienced Sturm, 36-2-1(15), Murray, 23-0(10) has, in the minds of some people, the toughest job of the three scheduled fights. Sturm is hard enough to beat at the best of times (just two losses in his long career) – in his homeland he is practically impossible to defeat by any other means than a stoppage. Another gutsy Brit, in Matthew Macklin, discovered this back in a June thriller, and now Murray tries to go one better than his countryman.
Can Murray win? On the cards, no way. By stoppage? No again. This fight has come a little too early for the man who has claimed the British and Commonwealth belts, and he will fall gallantly in the 8th or 9th-round.
Next into the ring attempting to silence the critics will be Zimbabwe-born London heavyweight Dereck Chisora. The former British champ promises he will be in far better shape than he was for his sole pro loss, which came at the hands of Tyson Fury in the summer – and judging by the photos I've seen on the net, "Del Boy" has kept his word.
The 27-year-old with the 15-1(9) record has not only predicted a win (saying he can beat "anyone when I'm at my best"), but Chisora has predicted a KO win. Helenius, 16-0(11) has caught the eye of fans with his stoppage wins over Sam Peter and Serhei Liakhovich. These same fans feel Chisora will also fall.
Me? I have a feeling Chisora will pull this one off. I see a points win for "Del Boy."
Manchester's John Murray is widely expected to get stopped by the on-fire Brandon "Bam Bam" Rios, and in quick time at that. Stopped in the 8th-round of his last fight, by countryman Kevin Mitchell, the 26-year-old admits himself his shot at the WBA lightweight title came out of the blue. Determined to make the absolute most of his chance against the 28-0-1(21) star, Murray says he has "gone back to basics in the gym," and that the Mitchell loss was "one of the best things that could've happened to him."
Vastly proven at European level, the 31-1(18) challenger feels he can make it all the way to world champion. This fight (set to take place on the most-stacked card of the year: with the guaranteed thrillers that are Cotto-Margarito II and Rodriguez-Wolak II topping the sizzling card in New York) has barnburner written all over it. But can Murray, who loves a war even if he says he plans to win by using lots of movement on Saturday night, pull off a win?
I don't think the WBA crown will change hands, but I do feel Rios will get far, far more than he bargained for from Murray. Nobody's pushover, Murray will do his part in a FOTY candidate. I go for Rios to dig deep and win a cracker of a battle in around nine or ten all-actions rounds.