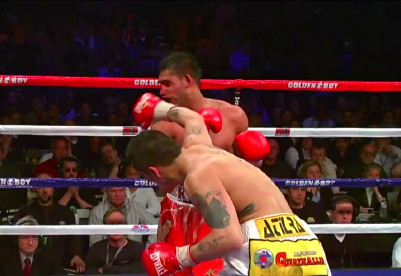 By James Slater: Golden Boy CEO Richard Schaefer has told Ringtv.com that Marcos Maidana and Devon Alexander "have agreed to fight," and that the bout targeted for January or February will be fought up at welterweight; which means Maidana will be making his 147-pound debut and Alexander will be returning to the weight he fought at at the start of his pro career (Maidana did box up at 151 back in a 2005 fight).
Schaefer said he is currently working on both the date and the TV network the fight will be shown on. Schaefer also said he expects the fight to be "another toe-to-toe battle." Kevin Cunningham, trainer of former World Boxing Council (WBC) 140-pound champ Alexander, also says he expects a war, "because there won't be a whole lot of boxing and moving from Devon."
It may seem odd that Schaefer and Cunningham are expecting a slugfest. To me, Maidana (and out and out banger) against Alexander (a slick-boxing southpaw) has the distinct look of a boxer Vs. puncher affair – and maybe a most exciting one at that. Former two-time interim World Boxing Association (WBA) 140-pound boss Maidana will, in my opinion, come out on top if Alexander opts to stand and fight with him; which is what Cunningham seems to feel will be the case.
Last seen scraping a very close, debatable split decision win over another puncher, in Lucas Matthysse in June, 24-year-old Alexander improved to 22-1(13) – his sole loss coming via 10th-round TD to Tim Bradley (when, in the eyes of some fans, Alexander chose to quit). Alexander was put down by Matthysse, and this could spell trouble for the Saint Louis man ahead of his anticipated war with Maidana – a man who can hit harder than his fellow Argentine.
It's not clear why Maidana, 31-2(28) and Alexander have decided to leave (for the time being at least) the talent-rich 140-pound division. Both men managed to make the light-welterweight limit quite recently (although Maidana has struggled to do so for a couple of his fights), and it was thought both guys would continue to pursue the big fights at the weight. Still, there are some huge fights that can be made at 147 (with Amir Khan soon to invade the welters) and the winner of Maidana and Alexander will be in a position to be able to call for a big name.
If Alexander uses his skills and looks to outbox the oft-crude slugger from Argentina, I give the younger man by four years a decent shot at winning. But if Alexander cannot avoid being dragged into a slugfest, or if he chooses to fight Maidana that way, I give him only a slim shot at victory. Maidana has flattened 28 fighters: if Alexander stands and trades with him, Maidana will see that number rise to 29!