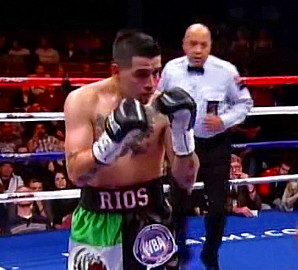 Manchester ace John Murray is aiming to follow in the footsteps of Ricky Hatton and conquer America this Saturday night.
Murray has already held the British and European titles, but the 26-year-old now takes a big step up to world level when he faces World Boxing Association (WBA) World Lightweight Champion Brandon Rios at Madison Square Garden in New York, live and exclusive on BoxNation (Sky platform Ch. 456).
"This is by far the biggest bout of my career to date," said Murray. "To be fighting in the 'Mecca' of boxing, Madison Square Garden, for the world title is the whole reason I got into this sport in the first place,"
"If you don't want to have nights like this then there is no point being in this game. I've fought over in America in the past and have won each time, so I aim to continue that run on December 3rd against Rios."
"Hatton had many great nights in America and I hope that I'm the next Manchester fighter who can win there."
Murray's last bout was a cracking encounter against British rival Kevin Mitchell, which the latter won, but he feels that he has come back stronger from defeat and it will help him beat Rios.
"This is a great stage for me to bounce back after my defeat to Mitchell," he said. "Since that loss we've been back in the gym and have gone back to basics,"
"I've been working on moving my feet and legs a lot more, I think the loss was the kick-up-the-bum I needed to reignite my motivation for the sport. Training and sparring have been going extremely well and I'm looking forward to just getting back in the ring and putting on a good show."
Murray knows that if he is to bring the world title back to Manchester with him, he will need to be at his best against the unbeaten American.
"Rios is a very good fighter and is the champion for a reason, he is very good coming forward, but at times he tends to neglect his defense a little bit and I'm going to try and exploit that and keep myself tight,"
"The loss to Mitchell comes into play once again because it has made me look at my defence to improve it and get myself sharper. I feel like if I had this fight before l lost I would just go in there and have a fight with him, but now I want to try and be a little bit smarter."
Rios v Murray is part of a huge night of boxing LIVE on BoxNation (Sky Platform Ch. 456) this Saturday night that starts in Helsinki, Finland, with Britain's Derek Chisora challenging Robert Helenius for the Vacant European Heavyweight title and WBA Word Heavyweight Champion Alexander Povetkin defending his title against Cedric Boswell. Then LIVE from New York's Madison Square Garden, Rios v Murray plus the long awaited rematch between WBA Super World Light-Middleweight Champion Miguel Cotto and Margarito.
WBO CONGRATULATES JORGE "TRAVIESO" ARCE FOR HIS FIFTH CROWN- FOUR WITH THE WBO
SAN JUAN, PUERTO RICO- World Boxing Organization (WBO) President Francisco "Paco" Valcarcel, congratulated Jorge "Travieso" Arce for his achievement becoming the first Mexican ever to win world titles in five different weight divisions, four of them for the WBO.
"(The WBO) We want to congratulate Travieso Arce for make history and become the first Mexican boxer with titles in five divisions. We will honor Arce also because he is the first boxer with four WBO titles in different weights", Valcarcel said.
Arce (59-6-2, 45 KOs) won his fifth title, the WBO Bantamweight belt, last Saturday wehn beat Angky Angkotta (25-5, 14 KOs) by unanimous decision at the Plaza de Toros Rea in Mazatlán, Sinaloa, México. Arce, from Los Mochis, Sinaloa, Mexico, has held world titles on 108, 112, 115, 118 and 122 pounds.
Title Shot For Nathan Weise, Faces Steve O'Meara On 14th December
One of the most exciting young prospects from Johnny Eames' always excellent TRAD TKO stable, 'Sugar' Nathan Weise, gets his first taste of Championship action – when he challenges West Drayton's Steve O'Meara for the Southern Area Light Middleweight title on December 14th.
Weise-O'Meara will be chief support to the Lee Selby versus John Simpson British Featherweight title clash at Francis and George Warren's Queensberry Promotions event at York Hall in Bethnal Green on Wednesday, 14th December and broadcast live on BoxNation (Sky platform Channel 456 & Virgin 546).
Speaking earlier Weise made it clear that he intends to emulate TRAD TKO gym mates; Southern Area Lightweight Champion Ben Murphy, Southern Area Middleweight Champion Billy Joe Saunders, British Cruiserweight Champion Leon 'Solid' Williams, British Welterweight Champion Colin Lynes and WBO Inter-Continental Lightweight Champion Kevin Mitchell, who all bought back titles to the famous Canning Town gym this year.
"First of all I want to thank my manager, Johnny Eames, for getting me the opportunity to fight for the Southern Area title.
My last fight I drew against former Champ Ryan Toms, who Steve O'Meara beat to get the title.
If it wasn't for the knockdown I would have won the fight, but that's boxing for you. It only takes one punch.
I showed heart and got up and got myself back in the fight. As I said if it wasn't for the knockdown I would have won.
I can see this fight being a whole different type of fight, as I don't think O'Meara's as big a puncher as Ryan Toms, even though he stopped him in the first round his record doesn't say he's a big puncher, he's more of a stylist boxer.
I see this fight being more of a chess match, but he's a champion so I'm going to have to put it on him, take it to him and take the fight from him.
My trainer, Mark Tibbs, has had me training so hard in the gym in preparation for this fight, training's spot on.
I only boxed just over three weeks ago so really I've been training for this fight for seven or eight weeks already. I'm going to be in tip top shape, I'm ready to go
You know what they say 'styles makes fights' and I just can't wait to get in there and win the Southern Area title.
I'm not going to say I am going to stop him but I'm going to outwork him out hustle him and bring the title back to the TRAD TKO gym, where it belongs, and have a good Christmas."
Nathan Weise versus Steve O'Meara for the Southern Area Light Middleweight Championship takes place on the Francis and George Warren's Queensberry Promotions event at York Hall, Bethnal Green, London, on Wednesday 14th December 2011 and broadcast live on BoxNation (Sky platform Channel 456 & Virgin 546)
Tickets, priced £40 (Standard Seated) and £60 (Ringside) are available on-line at www.tkoboxoffice.com. Tickets are also available in person from Nathan at the TRAD TKO Boxing Gym, Gillian House, Stephenson Street, Canning Town, London E16 4SA.