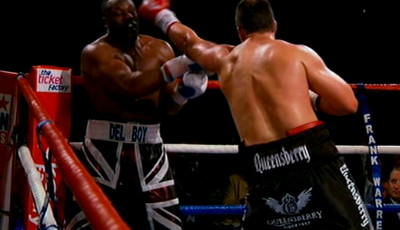 By James Slater: An interesting, potentially exciting British heavyweight match-up is scheduled for January 13th at York Hall in London. On the under-card of the Leon Williams-Tony Conquest British cruiserweight title meeting, Larry Olubamiwo will face former Commonwealth ruler Sam Sexton in a non-title affair.
33-year-old Olubamiwo, 10-2(9) was supposed to have fought former British champ Dereck Chicora a while back, only for "The War Machine" to pull out of the fight with an illness. That match-up looks unlikely to be rescheduled – what with "Del Boy" going in with world-ranked contender Robert Helenius this Saturday, in a European title fight, and with big Larry getting the Sexton chance.
27-year-old Sexton, 14-2(6) has fought just once since losing by 9th-round stoppage to Chisora (picking up a six-round points win in October, having had over a year out of the ring), and the Norwich man will know he has to beat Olubamiwo or face becoming a forgotten fighter. Londoner Olubamiwo knows his very career will also be on the line come Jan. 13th, and both men will surely be motivated in a huge way.
Sexton, twice a stoppage winner over tough, durable Martin Rogan, is a better boxer than Olubamiwo and he has the more proven chin. It is, however, the magnificently-muscled Olubamiwo who has the edge in punching power. The early rounds of this one could well prove to be very exciting. Olubamiwo has not fought since being stopped inside a round by John McDermott back in February, so he too could be rusty come next January.
It's easy to envisage Olubamiwo coming out fast against Sexton, looking to land a bomb before the former amateur talent gets into his groove and begins outboxing his man. But will "The War Machine" run into a hard shot as he tries to get Sexton out of there? It was quite alarming the way Olubamiwo's chin let him down so badly against McDermott; a man who is not known as a murderous puncher. Sexton can hit as hard, if not even harder than "Big Bad John," so anything could happen if and when the younger man manages to connect with his rival's chin.
This fight, in my opinion, has very little chance of going to the halfway stage, let alone the full distance. Had Sexton been more active, I'd pick him to win with some ease. But will Sexton's inactivity hurt him?
The fight is set for Friday the 13th, and the January night could well turn out to be a nightmare for the loser. As powerful as he is, Olubamiwo looks like getting stopped once again unless he does manage to land something big early on. I go for Sexton to win by stoppage in around four lively rounds.