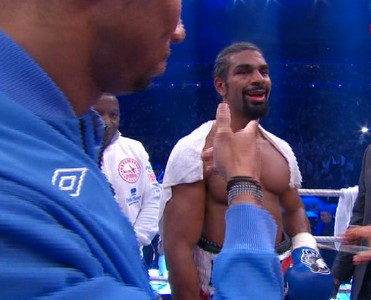 By James Slater: David Haye has spoken publicly about the talked of fight between he and WBC heavyweight king Vitali Klitschko. Speaking with BBC Sport's Hardtalk program, the former cruiserweight and World Boxing Association (WBA) heavyweight ruler confirmed that he and Klitschko are "in talks."
For days now, we have read stories that suggest Haye will end his short-lived "retirement" and fight 40-year-old Vitali; with March being the date being put forward. Haye says he is now training, making sure he is "in good shape if the fight does happen."
"I haven't seen a contract but there's definitely talks going on," Haye told Hardtalk. "I said before I retired I would love that fight and there's a date in March that's already been talked about. Whether it happens or not I don't know.
"The last bout (against younger brother Wladimir) was a 50/50 [purse split]. This time I don't deserve that. I don't have a title, but what I do bring is excitement and I bring value – but I don't believe it's 50/50."
On the subject of the purse split for the potential fight, Haye said that "if they give me what I believe I deserve and if the date for the TV networks all comes together, then it would be something I would seriously consider."
But what does Haye, a wide points loser to Wladimir back in July, feel he deserves? Will Haye price himself out? Off the top of my head, I'd say Haye is deserving of around a 60/40 split in champ Vitali's fight. Still, it's not proven easy for Haye to negotiate with the Klitschkos in the past. Manager Bernd Boente spoke recently of how a suitable British TV deal being reached is vital if the fight is to happen. Clearly then, there is a lot of work to do before the fight gets made.
But will fight fans get excited even if a March date can be reached? The fight would still be a big deal (after all, who else could Vitali fight?), but not as huge a promotion as Wladimir-Haye was.
Haye can be an exciting fighter, and if he has been stung by the criticism he received after his disappointing effort against Wladimir, maybe he will come out all guns blazing against the older, slower brother. Such tactics could, of course, prove dangerous – but in no way would the fight be boring if Haye came out chucking bombs! Let's hope that's what "The Hayemaker" is training for.