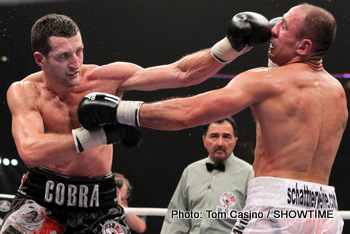 By James Slater – click here to watch the full fight! – Fans were witness to a brilliant, virtuoso performance from Britain's Carl Froch tonight in Helsinki, Finland, as "The Cobra" won a near shutout over the mighty Arthur Abraham. Using his formidable and underrated boxing skills, the 33-year-old regained his WBC super-middleweight title with a commanding unanimous decision; winning over the German-based warrior via scores of 120-108 (X2) and 119-109.
Froch is now 27-1(20). 30-year-old Abraham, the former middleweight king, is now 31-2(25).
Expected to be a FOTY candidate, tonight's fight was instead too one-sided for that; shockingly so. For even Froch's biggest fans cannot have predicted the way he totally dominated and outclassed Abraham. Coming out boxing from the opening bell and beating Abraham with speed and brains, Froch hardly put a foot wrong..
"King" Arthur adopted his normal high-held guard, but he was simply outboxed all night as he did so. Froch looked masterful as he threw a ton of left jabs, right hands and hooks to the head, uppercuts to the chin, as well as good body work and hard left hands up and down.
Soon marking up Abraham's face, the loser's eyes showing wear and tear by the middle rounds, Froch looked like he was enjoying himself in there. Abraham, despite remaining dangerous and trying right to the very end, was unable to cope with the hand-speed of the former champion. And, as astonishing as it was, Abraham lost round after round after round.
Known as a slow starter, Abraham was expected to do more work in this fight, but he was simply not allowed to do so. By the 5th, it was apparent Froch was giving his man a boxing lesson, and the older man had Abraham covering up on various occasions. Indeed, at times it looked like Froch might get the stoppage win. In the 7th, 8th and 9th rounds Abraham was noticeably hurt, his knees dipping from head shots and the German almost doubling over from hard body shots. Froch's stiff left jab also snapped Abraham's head back at times.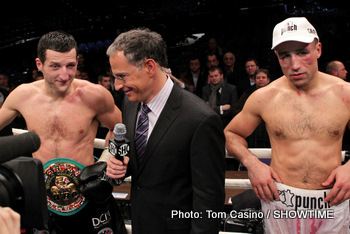 Refusing to give up and getting by due to his sheer heart and rock chin, Abraham, when it looked like he might go home without having won a single round, at last got home with some punches in the 12th and final round. Yes, it took him that long to get anything decent going! With the fight well and truly in the bag – and with Abraham having tried his best to get points docked off Froch by claiming a low blow (none landed) and a rabbit punch (of this Froch was guilty) – Froch was careless in the last round. Tagged by a hard right to the head at the start of the session, Froch for a second looked as though he just might fall victim to the traditional late Abraham attack.
But it was not to be. Froch got back to his boxing, even though he ate another hard right, and jabbed his way to the final bell.
The fight had way too much one-way traffic for it to be remembered as one of the great ones, but Froch's incredible display – a display that made a very good fighter look anything but – will be talked about in the U.K for a long time.
Who will fans choose to look at now when it comes to the likely "Super Six" winner!?