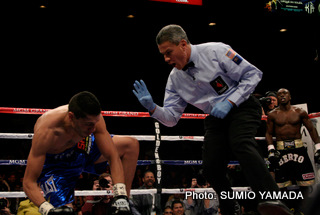 By Paul Strauss: HBO's Larry Merchant cautioned fans early on that Jason Litzau, from St. Paul, MN was a 13-1 underdog. In mentioning that fact, Larry added that he might be a very good 13-1 underdog, and that Cabellero might have taken him too lightly. JIm Lampley quickly pointed out that Cabellero had trouble making weight, even though he was moving up in weight for this fight. Lampley explained that Cabellero had to ride the stationary bicycle to take off last minute weight. Not a good sign.
The fight itself was not a thing of beauty, but Cabellero often times turns his fights into fights. Then he can exercise his superior height and reach advantages. But, that wasn't the case this night. On this night after a few rounds, his corner advised him to stop doing that (brawling) and to box, have some fun and show what you can do (skill). His usual tactics of elbowing, stiff arming and leaning on opponents wasn't working an opponent bigger than he was used to seeing..
Litzau was giving back as good as he was getting. He managed a few elbows himself, mixed in with a few glove heals, and a refusal to be muscled around. Cabellero didn't like it and looked frustrated at times. Both fighters were fortunate that Referee Joe Cortez kept his warnings verbal, expressing his reluctance to issue a point penalty.
Initially in the fight, Litzau missed big looping right hands by a wide margin. Cabellero kept getting under them by leaing down and to his right. Eventually Litzau started to shorten up that punch, which then started connecting to the left side of Cabellero's head, and sometimes to the back of his head. Celestino didn't like that either. To add to his misery, Litzau would at times drive Cabellero back with his own stiff arm, and then fire off another right, followed by a good left hook. A few of the hooks landed sharp and crisp and had Cabellero shook up a bit.
The results were still doubltful, though. Fans couldn't help but think that in a close fight, the benefit of the doublt would go to Cabellero, and there were several times when Celestino would unleash a mult-punch combination that wasn't answered by Litzau. Also, it would have been hard for the judges not to think that Litzau was going to get caught with a big punch. His defense is not good. He doesn't keep his hands up when in the danger zone, and he doesn't move his head enough.
Cabellero knew about those defensive weaknesses, and obviously felt confident he good take advantage of them, because at fight time he actually weighed more than Litzau, who is normally the bigger man. That's what is called over confidence. That mistake cost him timing and accuracy. For example, he fired off several good looking straight right hand shots when Litzau was open, but because his timing was off he missed the punches.
The numbers showed Litzau was a bit busier and threw more punches, but Cabellero was more accurrate. Litzau managed to come on at the right times, though, which was close to the end of rounds. It's fresh in the minds of judges when they write down their scores. Litzau deserved the win, but up until it was actually announced, there was a scary amount of doubt in the minds of even his fans. They were holding their breath. Not until the SD was announced in his favor did the people gasp out with joy.
One judge had it 96-94 for Litzau, one judge had the same score for Cabellero, but the third judge had it 97-93 for Litzau. It's a huge win for Jason "The American Boy" Litzau, and for Minnesota's boxing fans in general. Jason is the first real contender they've had in quite some time, and his exciting upset win will be a big shot in the arm for everyone back in the Northstar state.
In the Michael Katsidis and Juan Manuel Marquez battle, someone could be heard to say, "Why bother knocking down Marquez? He's just going to get up and beat you up!" That's what happen with Katsidis. He fought his usuall active high volume punch type of fight. He knew he was up against a wily veteran, one of the best, but he also knew he had to keep the pressure on him and try to wear him down. It's a hard task, because either way he's going to get you as Juan "Baby Bull" Diaz found out. In their first fight, he tried to use his youth and high punch style to overwhelm Marquez. He got knocked out. In the second fight, he tried to fight smarter and box Marquez. The result was he got outboxed and outpointed.
Against Katsidis, Marquez threw a good right hand that Michael got under (down and around), and came back up with his left hook. Marquez intended to follow with his own left hook, but he neglected to bring back his right for protection. Katsidis' left hook got to him first, and it was right on target. Down went Marquez, flat on his back. He came close to hitting his head on the canvas too, but not quite. He beat the count, and managed to avoid anymore serious damage, and by the end of the round he was once again controlling the action.
Michael made sure there was a lot of fireworks throughout the bout with his exciting style, but as the fight progressed Juan Manuel Marquez got sharper and sharper. Once he starts landing those patented shots up the middle, the end is usually not far away, and that's what happened in this fight. He got Michael hurt with a hard shot, and then just took him apart with pinpoint precision. Katsidis became a helpless target, and Referee Kenny Bayless wisely stepped in and called a halt to the action at 2:14 of the ninth round.
In the post-fight interview, Marquez (not surprisingly) expressed a desire to fight Manny Pacquiao.
Michael Katsidis expressed appreciation for Marquez' skill and said he learned from the fight and will improve in spite of the loss. Larry Merchant said, "Without becoming maudlin" and then went on to ask Michael how difficult it was for him to even follow through with the fight after having lost his brother.
Michael answered with a prayer to his brother explaining how he missed him. It was a touching scene, and both Michael and Larry had tears in their eyes as a result.
In the Super Six fight, Carl Froch totally outclassed Arthur Abraham. He fought a smart fight, using his jab, body shots, and quick combinations to win every round. He didn't try to knock out the King. Rather, he would step in with a quick shot, or light combination, and then quickly get out of range. Abraham was left with trying an occasional wild off balance swing. It was probably Froch's best showing ever, and maybe one of Arthur's worst. Two judges had the fight a shut-out, and the third gave Arthur one round.
The King is dead, and Froch moves on to fight Glen Johnson. In the post-fight, Carl said he sometimes says somethings "tongue in cheek" about his opponents to help build up the fight. But, that he didn't ever intend to hurt anyone, and that he had a lot of respect for Johnson. He pointed out what he has done in the past, and what he just did to Allan Green. He promised to not take him lightly, and that he would be ready for a tough, dangerous fight. Now, if they could just keep his girl friend quiet at ringside!
Everyone expected the Andre Ward versus Sakio Bika fight to be ugly, and the fight lived up to those expectations. There were a lot of head clashes, elbow shots, holding, wrestling and general attempts to intimidate. The latter didn't work in either with either fighter. Neither of these guys wilts easily.
Ward won because his punches were shorter and sharper, and his angles and leverage were superior.
He didn't come away unscathed though. He had cuts over both eyes…….the left due to a clash of heads, and the one over the right due to a punch.
As the fight progressed, Ward landed more jabs, left hooks, and quick lead right hands. Bika got in a few of his own jabs, and he did land some good left hooks of his own. Hence, the cut over the right eye of Ward. However, all in all Ward controlled things, and the judges agreed. One judge scored it a shut-out, and the other two gave Bika two rounds.
Now, Ward goes back to fighting in the Super Six, and will face another awkward fighter named Arthur Abraham. Ward said that he expected to see a similar Abraham to the one that lost tonight against Froch. Ward explained that it's too late for Abraham to change at this late stage in his career. The point was he expects Abraham to fight out of his shell, and be very conservative with his punches, hoping to land the big one. Ward will be ready.
What can you say about Andre Berto. The big puncher Freddy Hernandez got hit with the big punch.
Berto caught him with a clean right hand shot in the very first round, and soon thereafter the fight was over. A TKO at 2:07 of the first round for the WBC Welterweight Title. Berto helped improve his chances immensely for a fight with Manny Pacquiao.