King Arthur Abraham, Mahir Oral, Sebastian Sylvester, Frank Shabani and Alexander Frenkel all participated in a public work-out in Berlin´s Axel-Springer Passage today. On Saturday, they will display their talents in the Max-Schmeling-Halle. "I am in great shape," King Arthur told reporters. "I really look forward to fighting in Berlin. It will be a tough night for Mahir Oral." Abraham did some skipping exercises before proving his punching power when working the pads with Ulli Wegner. "I want to please my hometown fans on Saturday," the undefeated IBF Middleweight Champion (29-0, 23 KOs) added. Oral (25-1, 10 KOs) also looked very confident. "If I make the most of my advantage in height and reach, everything will be possible," he said..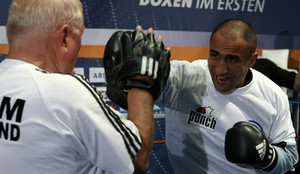 Meanwhile, IBF International Middleweight Champion Sebastian Sylvester (30-3, 15 KOs) is preparing for a tough fight. He will take on Lajuan Simon (21-1, 12 KOs), who comes off a points loss against King Arthur. "The winner will be the number 2 in the IBF rankings. That is a great opportunity," the Hurricane said. "I will take care of business on Saturday." Sylvester looked strong when working out with coach Karsten Rower today.
Alexander Frenkel and Frank Shabani also participated in the work-out. Frenkel (17-0, 13 KOs) will be looking for the 18th win in as many fights when he takes on Argentina´s Rodolfo De Dominicis (15-1, 11 KOs). Frank Shabani (17-0, 6 KOs), who is coached by Otto Ramin, will clash with Leonard Bundu (18-0, 6 KOs) for the EU welterweight title.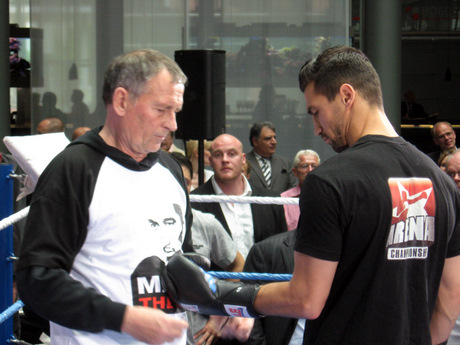 Mahir Oral ready for Arthur Abraham
He is in the best shape of his life! With only four days to go until his world championship clash with IBF titlist Arthur Abraham at Berlin's Max-Schmeling-Halle challenger Mahir Oral is confident of dethroning the "king". At the public workout at Axel-Springer-Passage in Berlin the "lion" showed a little bit of what he will have to offer this Saturday.
"I couldn't be better prepared", states Mahir. "No matter how the fight will end there are no excuses at all. I am ready for twelve tough rounds and I am sure that if the fight goes the distance the winner can only be Mahir Oral. I will take Arthur's belt to Hamburg with me. I heard he wants to move up to super middleweight after this fight so he doesn't need the title anymore anyways. When I heard that Arthur had already decided that this will be his last fight at 160 lbs I asked myself: 'Doesn't this guy want a rematch?' Other than Arthur I have no problems with the weight at all. I am almost in the limit already."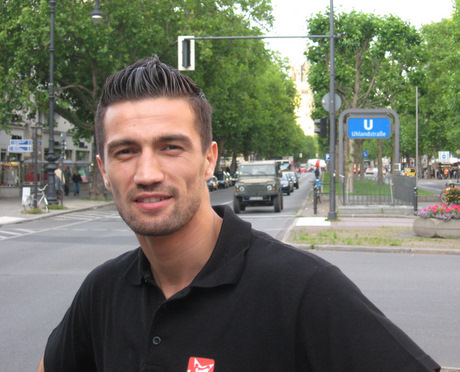 Promoter Ahmet Öner is expecting a tough fight: "Abraham probably thinks it will be a walk in the park. But I know Mahir. He already surprised me twice – for instance when he beat Domenico Spada in Hamburg who is currently ranked #1 by the WBC. Why shouldn't Mahir be able to pull the upset? But, of course, we all know that it will be hard for him as Arthur is the best and strongest middleweight in the world today."
Says Mahir's trainer Hans-Jürgen Witte: "We know that Mahir is going into this fight as the underdog. But I have seen lots of underdogs actually beating the kings in my life. We will just wait for Saturday and see what happens in the ring."
The IBF middleweight championship bout will be broadcasted live in Germany on ARD and in the US on Showtime.