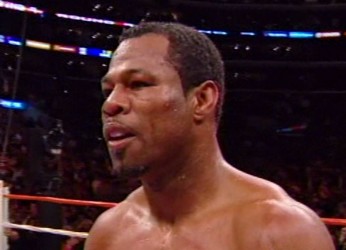 By Ted Sares – Back in July 2006, I wrote an ESB piece to the effect that Sugar Shane Mosley's brutal KO of Fernando Vargas in their second outing was evidence that like a perfect storm, everything was coming together……just the right things in the mix and with just the right timing for him to fight Floyd Mayweather. Team Mosley was running on all cylinders and it seemed unlikely for anyone to slow it down. But that was then.
In May 2007, I wrote in a second piece that asserted Mosley-Mayweather was no longer the perfect storm. I said "…While Team Mosley may be aiming in the direction of the man with the heavyweight ego, the effort does not seem as energized as it was a year ago.. For his part, Floyd said, 'First, I'll beat Shane and then I'll beat his boss [De La Hoya].' Now, it looks like he will have to reverse the order, assuming he does not retire (which is a sound assumption)." I was right in that he beat De La Hoya, but instead of then fighting Mosley, he chilled Ricky Hatton in impressive fashion in December 2008.
While Mosley's many assets are jeopardized as he gets older, his speed, quickness, hand-eye coordination, movement, and putting punches together were manifest in his demolition job of Antonio Margorito earlier this year when he came in as a 4-1 underdog. It was a super win for Sugar Shane in every sense of the word and propelled him back to the top of the welterweight division.
Moreover, the fact Mosley has fought tougher opponents than Mayweather (Vargas twice, Wright twice, De La Hoya twice, Forrest twice, David Estrada, Jesse James Leija, John John Molina, Philip Holiday, Louis Collazo, and Mayorga-whom he knocked out cold in the last second), reflects his old school and macho reputation for never having ducked an opponent. It also compares favorably to the likes of feather-fisted Carlos Baldomir, a somewhat worn Sharmba Mitchell, a Zab Judah who was soundly beaten by Baldomir, a more than worn Arturo Gatti, and Henry Brussles.
However, the wear and tear of these kinds of fights can render a boxer's body old overnight. It can greatly diminish the feints, quickness, and crafty head and body movement that served Sugar Shane so well as he ruthlessly clubbed the once-feared Margorito about the ring with countless huge right hands to the Tijuana Tornado's jaw.
While the 37-year-old Mosley (now 46-5 with an impressive KO percentage of 75) may not be at the very peak of his game, I'm betting his arsenal is still pretty potent; I'm betting the ingredients for the perfect storm that existed a few year ago have now come back, though not as vigorously.
The momentum that shifted in Floyd's favor since 2006 has slowed down. The time is NOW for Mosley to fight Mayweather (who, say what you will, certainly knows how to keep his body well rested). Mayweather is a great fighter, but if he wants to be an all-time great fighter, he needs to fight the very best in his division. Fake retirements and catch weight fights be dammed. In this regard, fighting opponents who are coming up in weight like Juan Manuel Marquez gives him a distinct edge.
And if PBF won't fight Mosley, then Mosley's conqueror, Miguel Cotto, is the kind of warrior who would gladly engage in another kind of perfect storm. Both Mosley and Cotto have earned their way to participate in a mega -purse against PBF because both are warriors.
The memories of other warriors, like Hagler, Hearns, Leonard and Duran (who fought each other in their unofficial round robin), loom in the background. And so with the current great crop of Cotto, Pacquiao, Williams and maybe Berto and Clottey (and possibly even Margarito if he is able to come back), now is the time to make green hay while the sun is shining; now is the time for Sugar Shane and Floyd to get it on.
Visit the author's site at www.tedsares.com