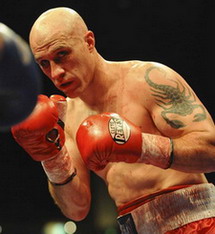 YERINGTON, NV (February 26, 2009) Photo courtesy of "Let's Get It On" Promotions – Twelve days after Reno's St. Valentines Day Massacre in which Jesse Brinkley bloodied and beat Joey Gilbert over twelve rounds, the world ranked super middleweight is looking for bigger fights against boxing's top echelon. "The fight with Gilbert was pretty easy. He never changed his game plan, he kept on moving and I kept on tracking him down and drilling him" said the Yerington native. "He proved that he's not a top 20 fighter, he's a front runner and we're at two different levels." Brinkley and Gilbert were both participants on The Contender, Season One which sparked their animosity.
Brinkley improved his record to 33-5-0 (22KO's) with the dominant decision over his long time rival by scores of 120-107, 120-107 and 119-108. His current seven bout winning streak includes an 11th round knockout of Otis Griffin one year ago for the vacant WBC USNBC super middleweight title. Prior to the fight with fight with Gilbert, Brinkley was world ranked #13 by the IBF..
About his future plans, Brinkley said" I want to fight the best at 160 or 168. Either Mikkel Kessler, Kelly Pavlik or Arthur Abraham. Those are the guys on top and those are the guys I want to fight."
Brinkley acknowledged that although he loved fighting in Reno , he would have to hit the road to face any of the champions.
'I'll be the first one on the plane—just tell me when and where. Germany , Denmark or Youngstown , Ohio , I'll come to your backyard and fight you."
"I'm going to take a few more weeks off and then get back to some light training. When a fight is scheduled, I'll be back in Pawtucket, Rhode Island with Peter Manfredo Sr. We work well together so that's the way we're going to keep it."
In regards to fighting again in Reno , Brinkley said, "I'd love to, the fans there have always been terrific to me and they're support is always appreciated."
Broadcast details of the Brinkley/Gilbert fight will be announced shortly.
Reno, Nevada based "Let's Get It On" Promotions was founded in 2000 by legendary boxing referee Mills Lane . In early 2005 he was joined by sons Terry and Tommy in the operations of the company. Along with super middleweight contender Jesse Brinkley, "Let's Get It On" Promotions also promotes lightweight prospect Bayan Jargal and highly regarded brothers Tyler and Derek Hinkey. They have consistently promoted world class boxing events on a national basis.