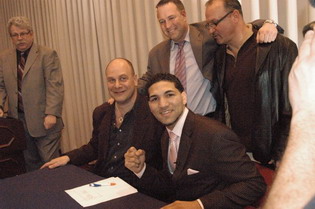 20.02.09 – By Peter Heintzelman, Photos by Peter Heintzelman – Big Time Boxing, in the form of promoter, Lou DiBella, arrived at Mechanics Hall, in Worcester, Massachusetts Thursday afternoon, and signed 23 year old middleweight sensation, Edwin "La Bomba" Rodriguez to a promotional contract, and announcing Edwin's first fight under the DiBella flag at Mechanics Hall on March 19, 2009. DiBella was all smiles.
DiBella, chief executive officer and founder of DiBella Entertainment, seemed genuinely thrilled to be in Central Massachusetts for the signing today, in front of a crowded Mechanics' Hall, with media galore, a host of professional boxers, fans, and the City Police Gang Unit, out in force and in support of their hometown man. "This is a very important and significant signing for me," said DiBella, "Edwin is as good as any up and comer fighter I've seen nationwide.."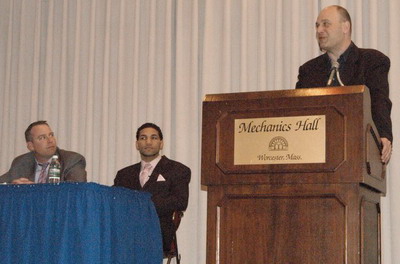 Big words from a big promoter, with a list of impressive fighters with impressive records in the stable, including Andre Berto, WBC welterweight champion, super middleweight, Jaidon Codrington, who many will recall was involved in a fight of the year at Boston's Bank North Garden with Sakio Bika, on The Contender series, Kermit Cintron, light heavyweight, Glen Coffee Johnson, Jermain Taylor, super bantamweight, Dat Nguyen, a New England Favorite, heavyweight, Chazz Witherspoon, Paulie Malignaggi, the Junior Welterweight World Champion, and the list goes on and on!
But not to worry, Edwin Rodriguez won't be lost in the mix: "I think Edwin has the whole package and can be a very big star," added DiBella. "I am making a commitment to keep him fighting, and I hope to show up in Worcester, and New England, and the Connecticut Casinos often for fights, if the Worcester area fans show up for these fights." Indeed DiBella has done marvelous in New York City and other metro areas with his Broadway Boxing series, highlighting some of our generations best boxers, fighting against real contenders, and giving the boxing audience a real bang for their buck. "Edwin is the kind of guy you have to admire, both inside and outside the ring," added the promoter, "he's a terrific family man, and I look forward to advancing his professional boxing career. There is a world champion to my right – – some day, he will be a world champ!" predicted DiBella.
And Worcester, Massachusetts has a lineage of world champs, including the likes of light middleweight, Jose "El Gallo" Antonio Rivera, who retired last year, with an impressive record of 39-6-1, 24 KO's, but only after capturing the WBA welterweight title on September 13, 2008 defeating Michael Trabant in Berlin, Germany, and also besting Alejandro Garcia on May 6, 2006, at Worcester's DCU Center by twelve round unanimous decision for the WBA light middlweight title. Old timers will remember southpaw middleweight, Lou Brouillard. Brouillard, was the first champion boxer from Worcester, MA, having racked up a record of, get this: 109-29-3, 67 KO's, and having won, along the way, the NYSAC world middleweight title, and having fought at, of all places, Mechanics Hall, in Worcester, MA, at least four times, including his professional debut on March 6, 1931 when he beat Baby Joe Gans.
Mechanics Hall, and the Worcester Auditorium, and other Worcester forums, in years gone by, had been a major hot bed of boxing events, where crowds showed up in droves to witness live boxing events; indeed there IS a difference between watching boxing on the tube and watching it live!
"You did a good job," said DiBella to Rodriguez' manager and confidant, Larry Army, Jr., who lined up the beautiful and historic Mechanics' Hall, for the March 19th fight night! "I made the contract shaking hands with Edwin in Mississippi recently, when he fought on one of my cards, but Larry insisted upon signing a contract in Worcester," added DiBella, and the crowd learned, if they hadn't known already, how much Larry Army, Jr., had done to bring big time boxing back to the City. "This has been a long road," added Army. Kudos to Larry – Thank you from Worcester.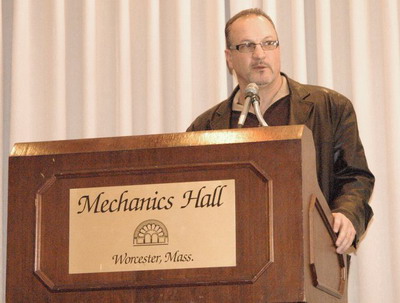 "I'm so proud to be working with this team," added famed trainer, Peter Manfredo, who has been in Rodriguez' corner from the beginning. I'll be on his ass to work him hard, so that when we are done, Larry and Lou will be happy, Edwin will be happy, and most importantly, I'll be happy!" quipped Manfredo.
Manfredo's gym, in Pawtucket, Rhode Island, is a hotbed of boxing activity in the Northeast, when many other gyms, in today's economic downturn, have gone cold. Manfredo works Rodriguez daily, sometimes for up to six hours per day, to bring him to championship form, and the results have shown in Rodriguez short thirteen month career to date, where the middleweight has racked up an impressive and undefeated record of 9-0-0, 6 KO's, in a very short time, fighting both at home in Massachusetts and testing foreign turf victories in Mississippi, Connecticut, Idaho, Rhode Island, and Salamanca, New York.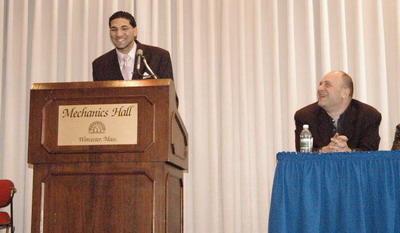 "I'm proud to announce today, my signing with Lou DiBella," said Edwin Rodriguez, dressed in sharp pin stripped suit and tie, "I have so many people to thank for this, including my promoter, Lou DiBella, my manager and friend, Larry Army, Jr., Peter Manfredo, who works me like a dog, my first trainer, Worcester's Carlos Garcia, who always told me to keep my hands up. I need to also thank my parents and my five brothers, and especially to my fiance, Stephanie, for putting up with me, and my two children, who are my inspiration. Thank you to all my fans, and I promise I'll always do my best for you. I appreciate you all being here today," finished the genuinely humbled pugilist. How can you not like this guy?

So now, the talk is done, and on March 19th, the walk is begun. I don't know about you, but I've already started a scrapbook.
Tickets go on sale on Friday, February 20, 2009 for the March 19th fight night at Mechanics Hall, and can be purchased at Mechanics Hall, 321 Main Street, Worcester, MA, or on line at mechanicshall.org Fighters to be announced, all fights and fighters are subject to change. Ticket prices apparently range in price from $150 to $50.00. This one will sell out quickly.