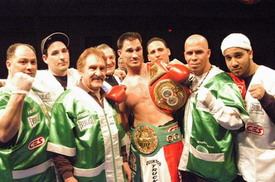 By Trish Kilcullen, Photos by Peter Mark Heintzelman – Promoter Jimmy Burchfield had mentioned, at more than one pre-fight press conference, that 2009 was going to involve a lot of Classic Entertainment & Sports' fighters facing stiffer opposition, and fighting more often. And so it was said, and so it was done.
Before a sell out crowd at the Twin River Event Center, in Lincoln, Rhode Island, some local boys were dropping like flies, and stable mates were battling each other, while a vocal crowd cheered, jeered, and chanted for their favorite boxers – it was a fight night worth remembering. Referees Charlie Dwyer and Joey Lopino earned their paydays this evening, as twenty pugilists duked it up, down, and out. Burchfield had delivered the "February Frenzy" promised..
Headliner, Providence's Joey "KO KID" Spina, had also made pre-fight promises – – that he was re-focused, recommitted, and intended to make a run for the light heavyweight titles this year.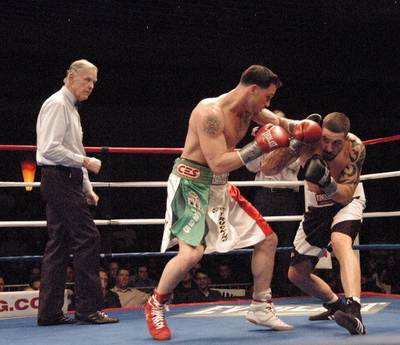 Well, Spina didn't have to run far this night, as he TKO'd his late substitute opponent, Matt Gockel (now 12-10, 7 KO's) of Topeka, Kansas, at 1:55 of the first round! And a controversial stoppage it was too, as he floored his timid opponent.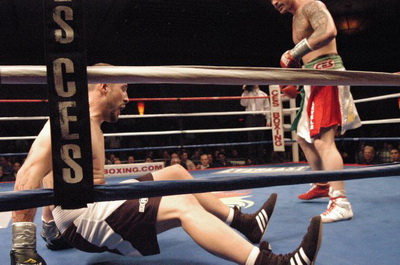 Referee Charlie Dwyer looked into Gockel's eyes, and we don't know if he saw those peepers dilating irregularly, or just trembling in fear. Gockel stumbled up and off the canvas, frowning, unsteadily, at the ref for the quick stoppage. The unsatisfied crowd booed, and Spina frowned in disbelief as well, having wanted to a least break a sweat on his way to the promised land of knockout. The house doctor jumped up on the canvas, and flashed a torch in Gockel's eyes, as if questioning the legitimacy of the stoppage. But the ref's call ruled the roost, and Spina had delivered the knock out as promised: "They don't call me the KO KID for nothing, and he's just another victim."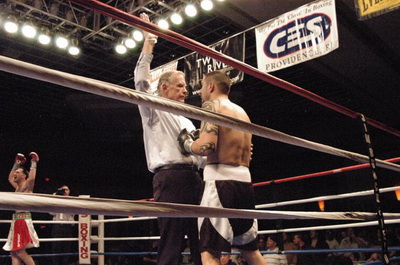 Although the outcome itself was not an upset, it sure as hell upset both fighters and the ticket buyers. Spina broke more of a sweat pacing back and forth during the national anthem, then he did in round one.
With the win, the KO KID improves his record to 24-1-1, 17 KO's, and remains on the hunt for more KO victims.
MCCREEDY BESTS STARNINO!
You know you have a promoter with guts, when he pits two of his own against each other, and such was the case with CES' co-feature event of the evening.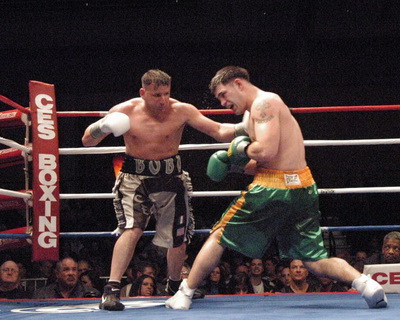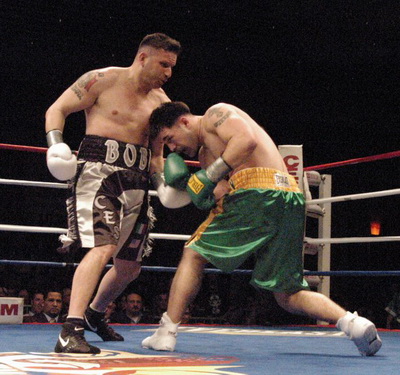 Lightweight stable mates indeed delivered a "classic" promised by the promoter, of an old-time boxing match up between a North Providence Italian boxer, Bobo "The Bull" Starnino, and Lowell, Massachusetts' "Irish" Joey McCreedy, in what may well have been fight of the night.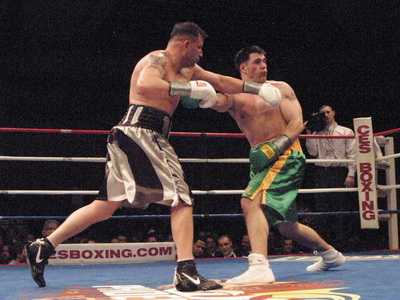 These guys had faced each other before, in 2008 and fought to a thrilling draw that just screamed for a rematch. It ended up being a strong candidate for fight of the night, and the crowd in attendance got their tickets' worth in this co-featured eight round rematch with the winner being belted with the vacant EBA super middleweight title.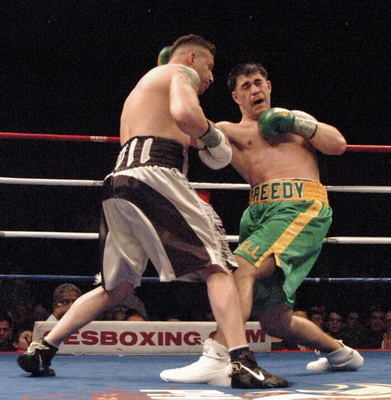 Starnino, training at the Big Six Boxing Academy with Jason Estrada's father, Dr. Roland Estrada, had been put through a reportedly exhausting training regimen, and it showed in his renewed spirit and physique. McCreedy, the younger fighter had been training with the likes of Norman Stone, in the Lowell, MA area, and came in the ring also ready, willing, and able.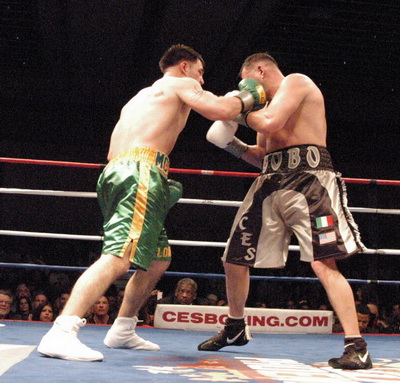 The Italian and Irish fans were both partisan and vocal during the nonstop action of this eight rounder rematch, and the atmosphere was electric. Both fighters delivered, as they traded a significant volume of punches back and forth during the entire fight, hurting their opponent, being hurt themselves, shaking the dizziness away, and giving indeed an old time classic style fight, that left the crowd cheering for more when the eighth and final bell rang.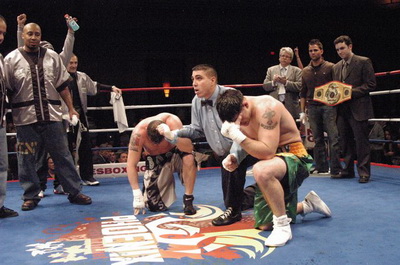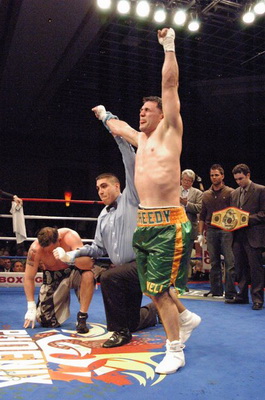 The judges' scores tallied at 76-76, 79-73, and 78-75 for the Irishman, and McCreedy tied on the EBA super middleweight belt this evening.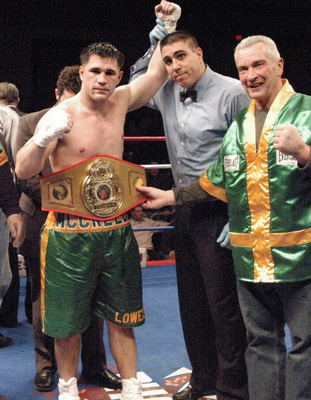 With the win, McCreedy's record improves to 10-2-1, 5 KO's, while Richard "Bobo" Starnino levels to 9-5-2, 2 KO's, but can hold his head high in fulfilling the promise of a fan favorite fight of the night.