By Trish Kilcullen, Photos by Peter Mark Heintzelman – SOTO CAPTURES EBA LIGHTWEIGHT TITLE FROM EKLUND: In yet another fantastic fight, billed as Special Feature, lightweights Eddie Soto, of Pawtucket, Rhode Island faced off with Lowell, Massachusetts' Sean Eklund. On paper, it looked like the more seasoned Eddie Soto would have the edge, but Sean Eklund had been improving from fight to fight under the guidance of Uncle Micky Ward, and was ready to step up against the veteran Soto. Eddie Soto always comes to fight, and looked strong and confident, while Eklund looked in the best shape of his professional career..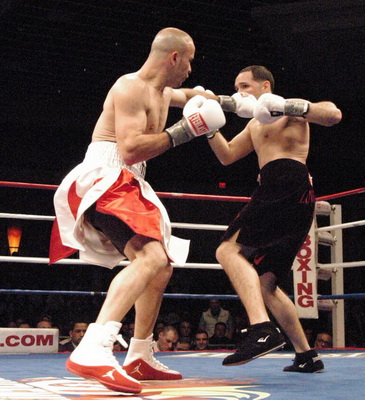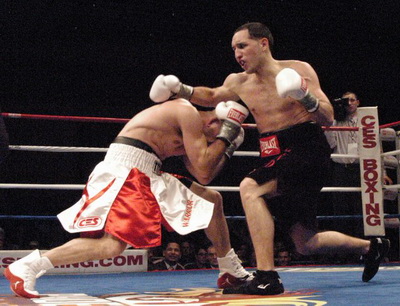 After a very competitive six rounds, where the fighters traded the offensive like the tide coming in and out of Massachusetts' Bay, when the final bell rang, the crowd was well divided as to whom they thought had won the fight, and it was not definitive by anyone, until the judges' scores were read, and tallied up 57-56 to Soto, 57-56 to Eklund, and 58-55 to Soto, who won the vacant EBA New England lightweight title belt this evening.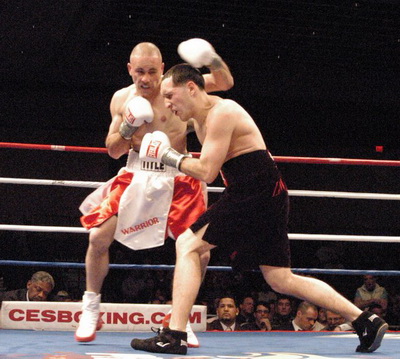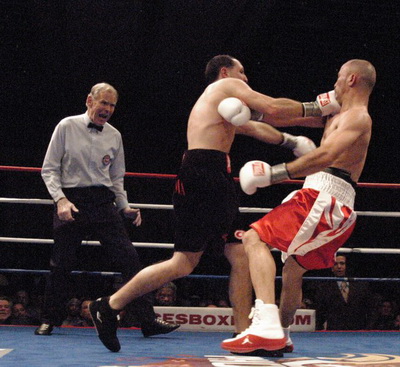 Eddie Soto left the ring with the belt and an improved record, still undefeated, at 11-0, 4 KO's, while Eklund felt cheated out of the close decision, and left the ring with a record of 6-3, 1 KO, and a strong desire for a rematch. This split decision was a fight worthy of consideration for a rematch.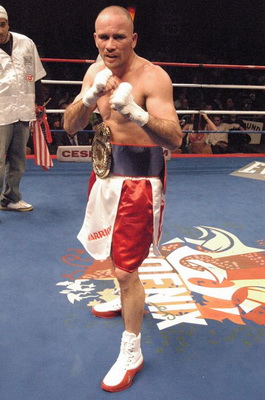 WILLIAMS DEFEATS HARRIS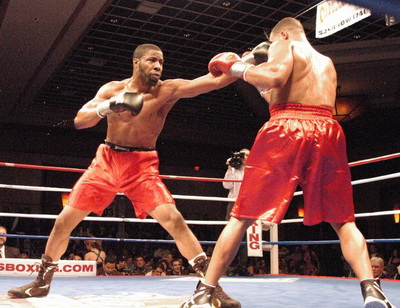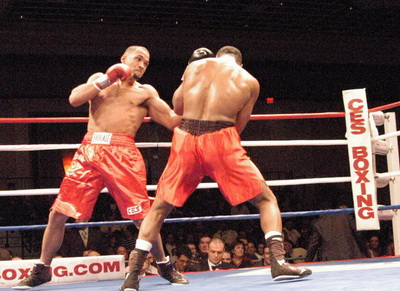 The much anticipated return of Worcester, Massachusetts' undefeated cruiserweight, Adam Harris, was snuffed out by Philadelphian, David Williams, who showed no "Brotherly Love" to Harris, beating him silly in six rounds, and capturing a unanimous decision on all three judges' cards, at 58-57 and 58-56 twice.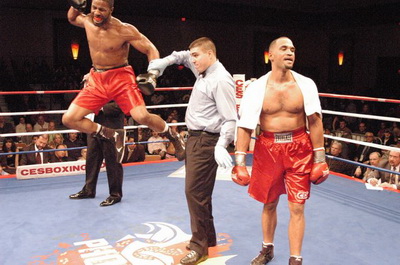 With the win, Williams climbs to 6-2-1, 2 KO's, and Harris returns to Central Mass with his first professional defeat, leveling at 10-1, 7 KO's. Harris had last fought in November of 2007.
CARO KO'S PRESSLEY!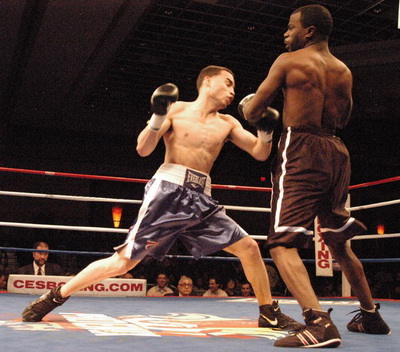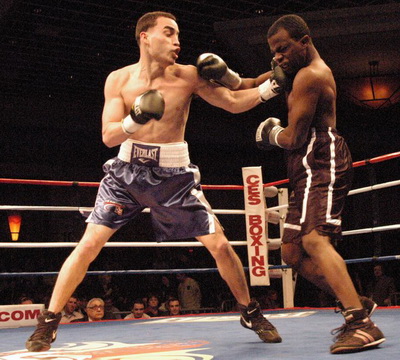 Providence, Rhode Island's Jesus Caro, continues to impress, and didn't need the scheduled four rounds to grab the win from York, South Carolinian, Jerry Pressley.
Caro fights like he trains, in Manfredo's gym in Pawtucket, Rhode Island: LIKE A MANIAC!!
The hours of training, under a grueling regimen of that gym, and has a self-inflicted work ethic of push ups, tread mills, bag work, and sparring (is a story in itself of perseverance), and paid off handsomely for the likeable young man.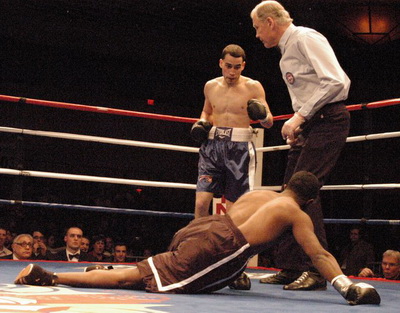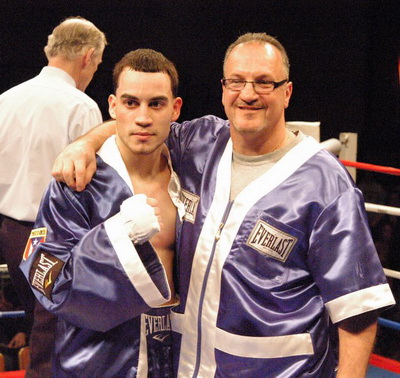 After just 1:55 of the first round of a scheduled four at junior welterweight, the Caro Express suppressed the opposition by TKO! And Manfredo smiled.
Jerry Pressley registered his third loss to no wins, while Caro remains undefeated at 4-0, with all wins being by knock out! Keep your eyes on this kid!
MACY UPSET BY PIETRANTONIO!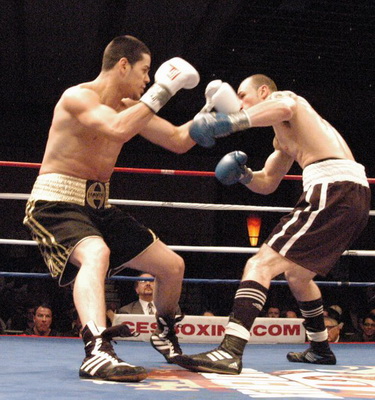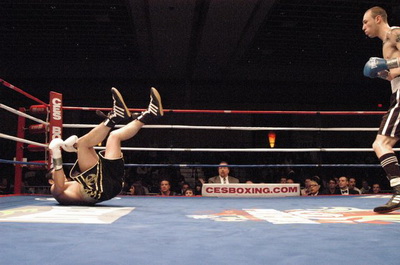 Visitor, Anthony Pietrantonio, of Youngstown, Ohio, introduced Brian Macy to the blue canvas with a flash knock down in the first round of a scheduled four at super middleweight. Macy, of Ledyard, Connecticut, had been on a roll with an undefeated record of five wins and 2 KO's. Macy survived the round, and re-shuffled his cards.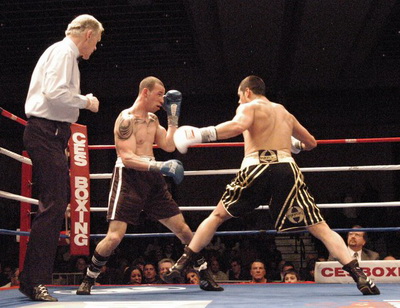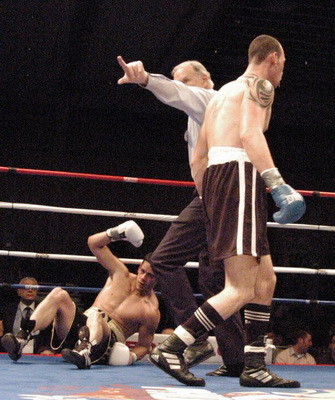 In the second stanza, Macy found himself again on the canvas, compliments of the Italian, and received a standing eight to end the round.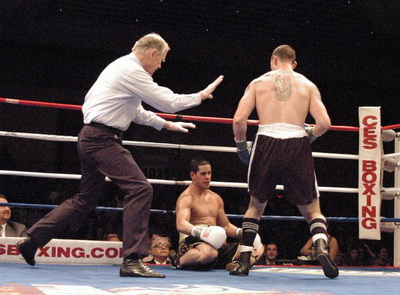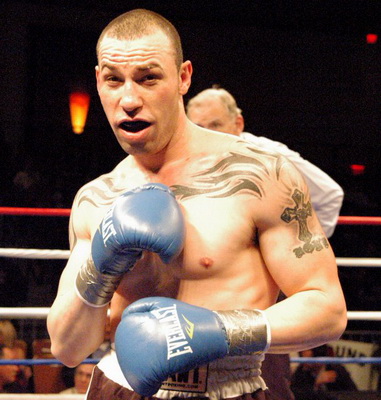 Pietrantonio did not need lady luck on his side tonight, as he finished the match at 46 seconds in the third round with a technical knock out of Macy.
Brian Macy suffered his first loss, and levels at 5-1, 2 KO's, while Pietrantonio style gained a New England fan base, and elevates his record to 6-2, 4 KO's.
MINOR GOES DOWN IN A MAJOR WAY!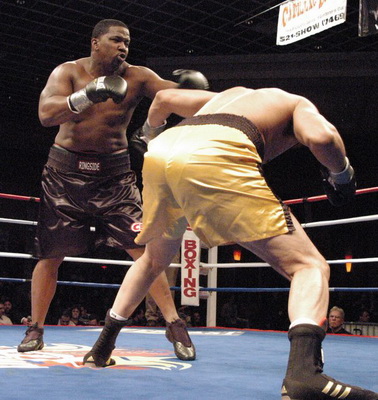 In September of last year, heavyweight Rahad Minor, of Worcester, Massachusetts, won his pro debut by first round TKO at The Roxy, in Boston.
The curse was reversed this night at Twin River, as Minor fell victim, in a major way, to a first round knock out at only 27 seconds of the first round, compliments of the Big Apple's Shawn McLean.
With the win, McClean improves to 3-4, 2 KO's, while Minor goes back to the "think Tank" at one and one.
BEEMAN DRAWS WITH SAUNDERS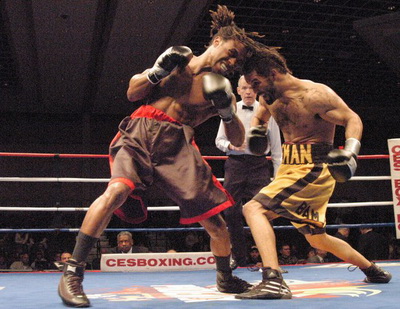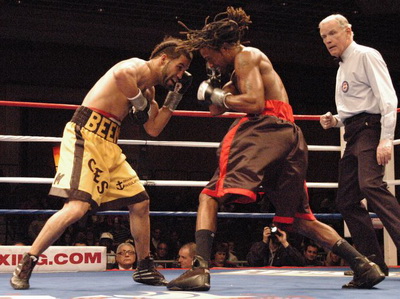 After a three year absence from the ring, junior welterweight, Josh Beeman, of Providence, Rhode Island, had just come off a fantastic first round TKO win in November of last year, when he defeated Scott Paul, at the Seneca Niagara Casino and Hotel, in New York.
But tonight, Beeman's pattern was disrupted by Atlanta's Jamar Saunders, who frustrated Beeman's offense through the first two rounds, trading head shots, causing dreads to fly. It was not until the third round, that Josh found his offense, and turned it on, landing some impressive head shots on Jamar, but not enough to tip the scales in his favor.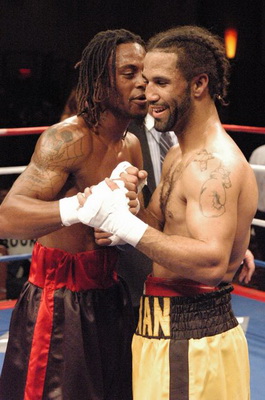 With judges' scores entering at 39-37, 38-38, 37-39, the fight ended in a disappointing, but properly scored, draw, leaving Beeman with a record of 4-2-3, 2 KO's and Saunders at 2-1-1, 1 KO's.
HOLLAND WINS PROFESSIONAL DEBUT!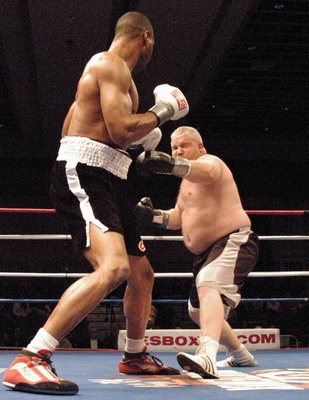 It took Providence, Rhode Island's cruiserweight, Jay Holland, only 51 seconds of the first round to register his first professional win by TKO over a much shorter Kevin Varnadore, of York, South Carolina. The height and reach advantages of Holland did the trick.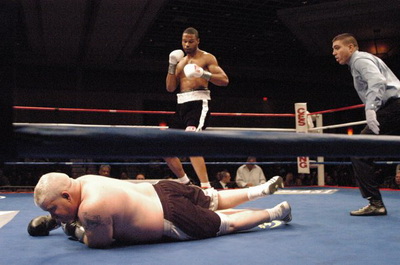 With the win, Holland is 1-0, 1 KO, while Varnadore returns south at 0-5.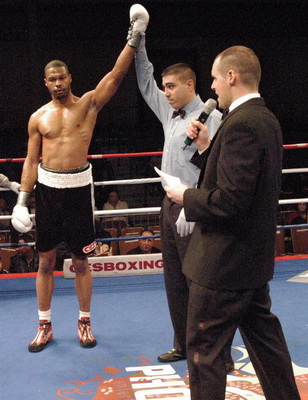 Heavyweight Bobby Harris Enters CES "Ring of Honor"
Jimmy Burchfield and Classic Entertainment and Sports inducted former heavyweight, Bobby Harris, of Worcester, MA, into its Ring of Honor tonight.
Harris, with a professional record of 20-2-1, 13 KO's, retired in 1999, but in his hay day, had reached the U.S. Olympic box-offs, and also held a gold medal in the National Golden Gloves tournament in 1993.
The Ring of Honor was established in order to pay respect to inductees for their special achievements and contributions to New England boxing, and the list of inductees include Rocky Marciano, Vinny Paz, Micky Ward, Marlon Starling, Jose Antonio Rivera, John Scully, Ray Oliveira, Gary Balletto, and Demetrius Andrade.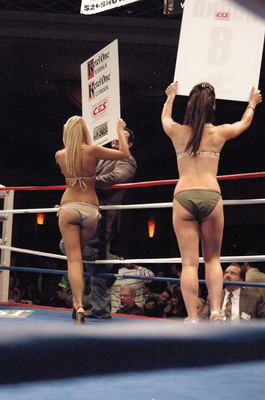 And That's The End